27th day, Helsinki, Finland, Monday, 11th of november 1996, Tavastia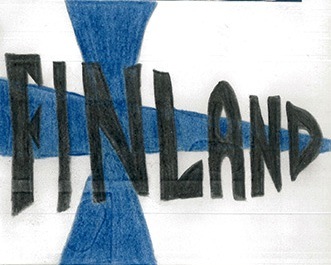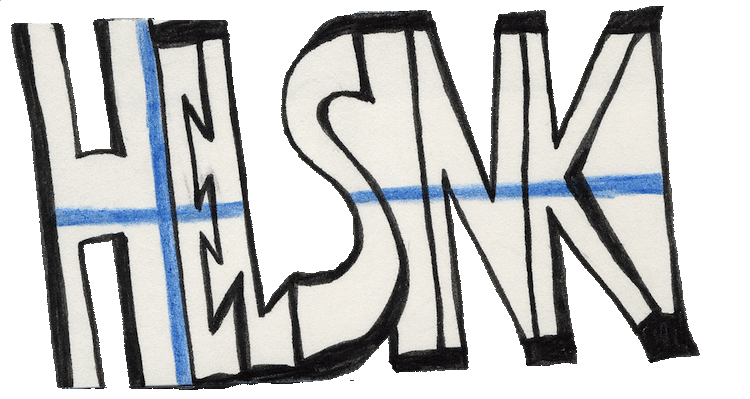 We reach Helsinki in the morning. Shay wake all of us. We're leaving the ferry in the vans. On Jeff Lucas is missing. He's talking to someone. But, that is Rhona, he's talking with. Under applaus from the vans, I go to her, and asking her, if she will come to see our show tonight in Tavastia. I tell her, to put her on the guestlist. She's not sure, if she can come to the show.
At the hotel, we're welcomed with warm greetings from the promoter called Ram. He's origin of India, like Shay.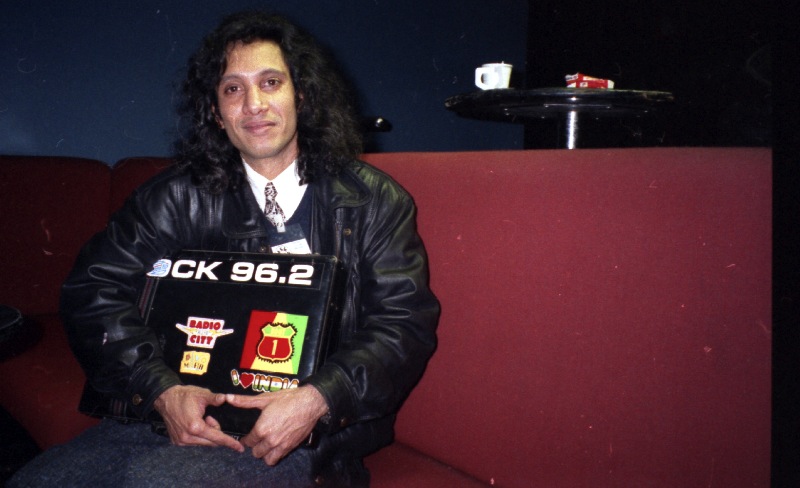 The time in Helsinki will be the best of all the tour. Everywhere, we're meeting new nice people. Ram didn't knew about me, that's why he engaged another DJ. I become a crew member.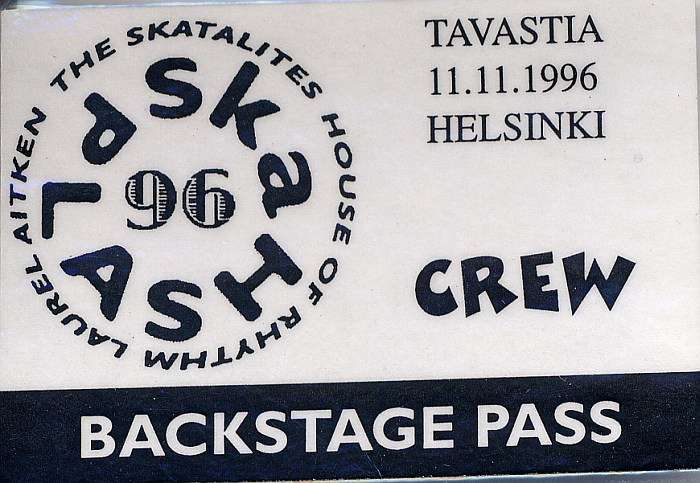 There is only one DJ backstage pass not for me, but for DJ Daddy Roy. He's very nice, I don't feel angry at all. Ram say sorry, but it's really ok. Nonetheless Ram handle it, that I can select after the show.
At soundcheck, Doreen Shaffer, Lloyd Knibb and Laurel Aitken are taken away for a TV interview. Laurel Aitken sais: "I hit first with Little Sheila." Doreen Shaffer sais, that she prepares a new record for Studio One (remember another new album will be released at Grover Records, after her session in Dortmund).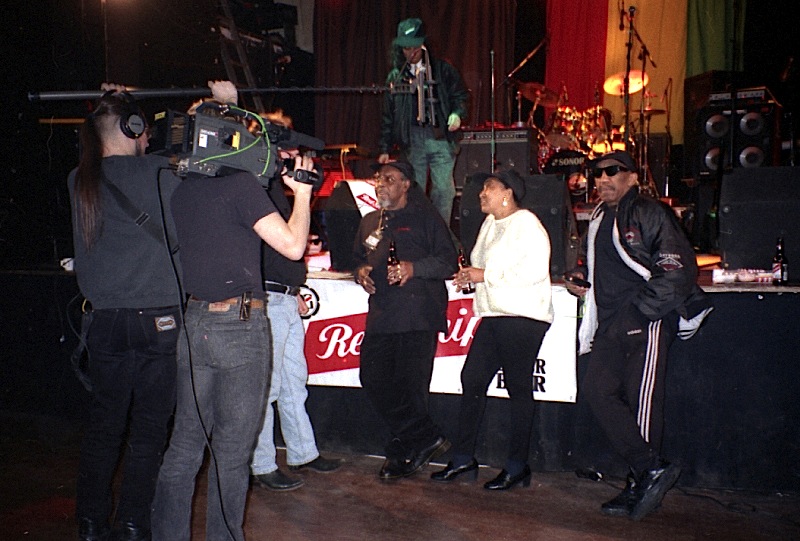 The comercial band for Red Stripe beer is only a little part, of what was prepared, but Laurel Aitken took away those immense banners, because he said, that it looks like Red Stripe is sponsoring the musicians, but in fact, there is not even Red Stripe in the backstage. There is an ordinary beer for the artists. What a bad joke. That is the only banner that is left.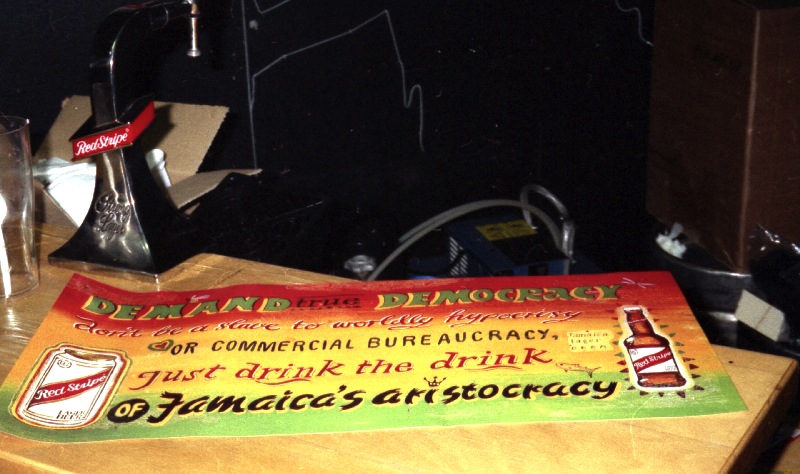 We're inside Tavastia, an absolut phantastic venue. It's hours before our show, but there are already many people inside the club. Everybody wants to meet someone of the band or even the crew. On every sofa is one or two musician with one or two fans talking. Most of the fans are female. Even I can talk with two nice ladies. They're just interested in everything. A real warm and tender atmosphere.
The backstage is too small to be in there. And it's already more than full.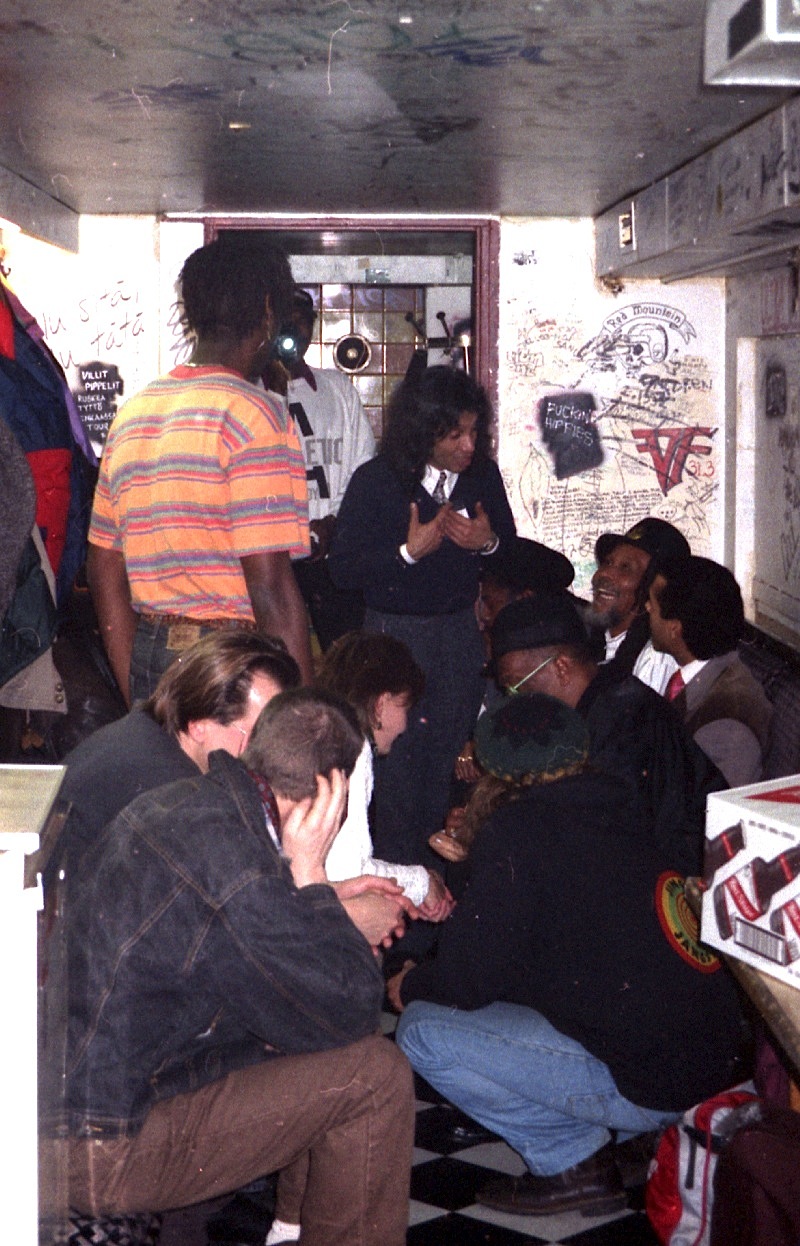 On the left, standing that is Ike Chimes. In the middle, standing, that is Ram the promoter, on the right, that is Lloyd Brevett laughing, on his right hand, that is Julio Romero. In the front Laurel Aitken with fans.
Who is Ike Chimes and Julio Romero? I have some information later on.
The diner is excellent with salmon and a soup. Short after House Of Rhythm is starting their show.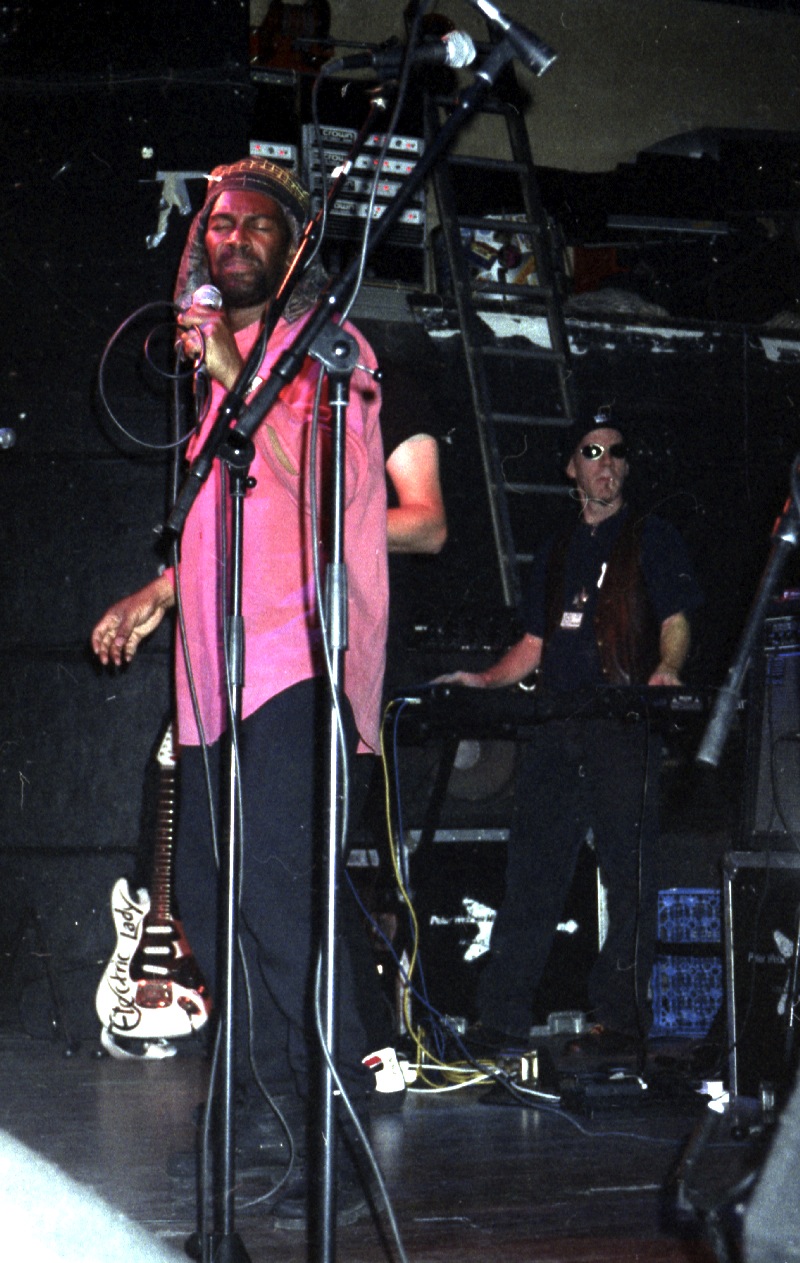 Again, Bill Smith is performing all three shows. What a great effort. And all this just because Denmark has strange passage rules for Africans.
Then Laurel Aitken is taking the stage. All the shows are brilliant and there is a recording. Some of the tracks from this show are documented on the Skasplash 1996 tour CD (Moon Ska Europe).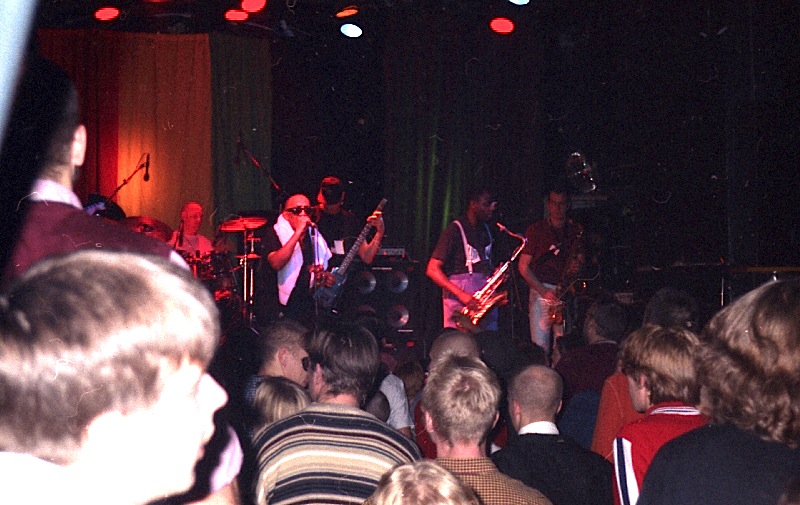 Then it's time for the countdown time. From 10 to 1 and then the word "Freedom" (Nathan asked me, how to say it, that it's clear for everyone, because, we still hear a lot of "Zero").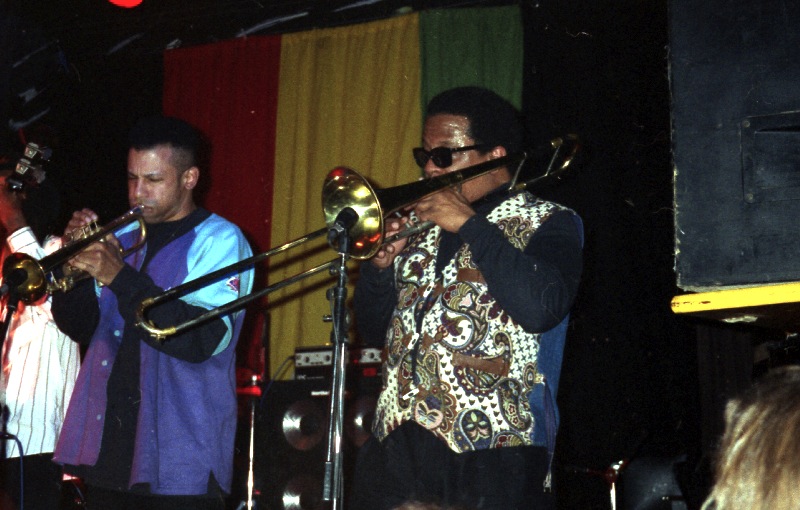 After the second tune, the Skatalites are playing, Cutty Williams is finding me inside the audience dancing. And who is that girl he takes with? Yes, it's Rhona, the scottish hatmaker from the ferry. It's a pity I can't even offer her a beer, because there is none in the backstage. So we're dancing until the end of the show.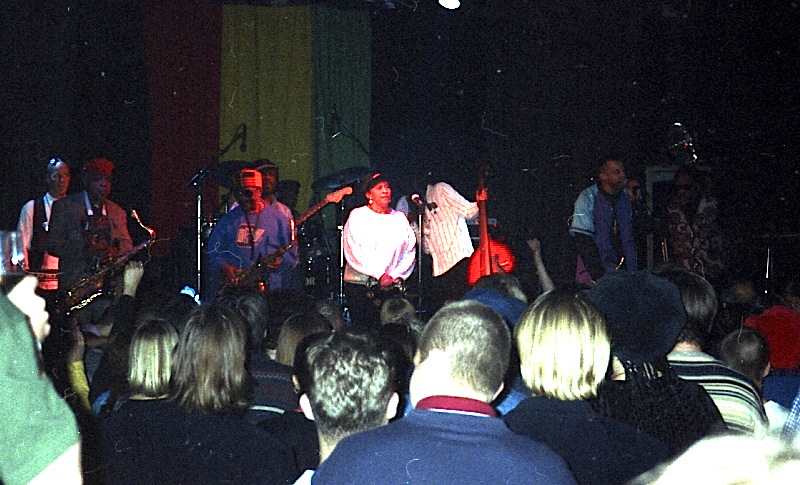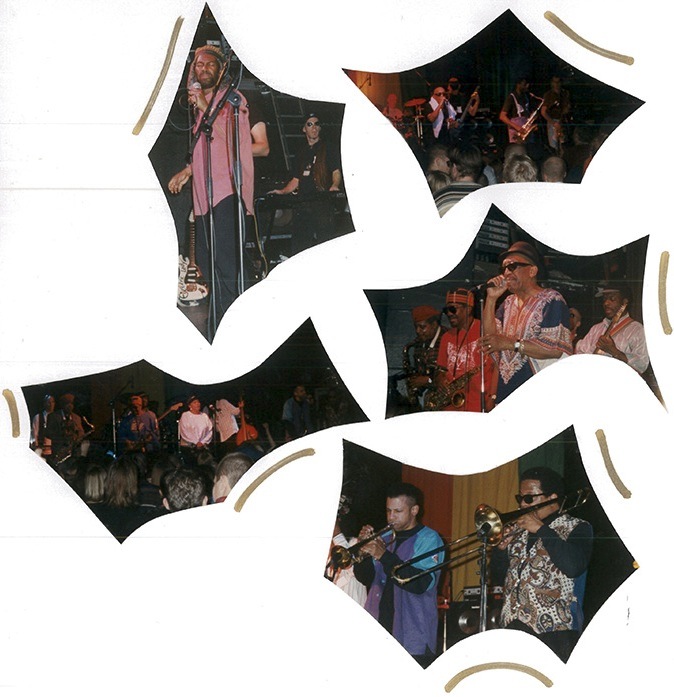 After the show I start my selection. But after only 5 tunes, the club enlight the neon light and everybody is moving out. It was a short selection, but lovely anyway. Everybody is moving back to our hotel where in the lobby is the final meeting point. Rhona is still with me and we go out to walk through Helsinki in the night. We're talking all night long and meet some other people.  I tried to go into my room, but Will is sleepting too deep, no bed for me. But Rhona is funny and nice and the night is very short.
The rest of the story flows into the next day. A day-off in Helsinki.
Overview Helsinki, Tavastia
audience: approx. 550 (capacity approx. 750)
catering: haven't seen anything, but nobody cared, because everybody was so friendly and nice
backstage: full of fans and artists, no quiet place at all
diner: hot, one of the best of all
DJ-set: Daddy T. Roy was engaged, he opened the event, and I finished it, a very short set, but great, 4 channel-mix with two turn-tables and two cd-players
HOR: one world – one love – one great show (again with Bill Smith)
Laurel Aitken: first time in Finland
Skatalites: The Return of the (gig) guns
hotel: only a walk from the audience, party in the lobby, uncomplicated, very very nice
room mate: Will Clark (almost)
no driving the next day, visiting Helsinki
Website today: tavastiaklubi.fi


Come back tomorrow, to find out, what we did on the day off in Helsinki. A little pause, of course.