The Skatalites world tour of 1995 came twice to Europe. In spring and in autumn. I don't have all the dates of the whole world tour, but I was twice as the merchandiser involved in many of these shows. The t-shirt indicates the following places: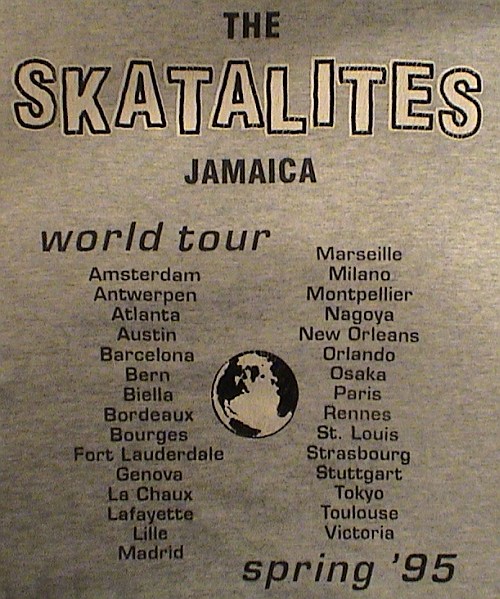 Sunday, April 30th: Bourges (F), Printemps de Bourges festival (only for professionals after Clifton Chenier)
Monday, May 1st: Bourges (F), Printemps de Bourges festival (free outdoor)
Tuesday, May 2nd: Rennes (F), L'Espace, Rockambolesque (warm-up: La Famille Boost)
Wednesday, May 3rd: Bordeaux (F), Krakatoa (plus: Sai Sai & Doudoud Cissoko)
Thursday, May 4th: Barcelona (E), Zeleste (warm-up: Malarians)
Friday, May 5th: Madrid (E), Revolver Club (warm-up: Dr. Calypso)
Saturday, May 6th: Vizcaya (E), Sala Circuito (Mungia)
Sunday, May 7th: Toulouse (F), Le Bikini
After Toulouse I left the tour to went back to Switzerland. May 12th I did a show in Lucerne with House Of Rhythm (from London) where I was the promoter, member of the warm-up band called Peacestreet and organizer of the whole thing (find more about that event here, with a cool picture of mine on the trombone).  I only went back to The Skatalites World Tour to be visitor in Berne, Switzerland
Thursday, May 18th: Berne (CH), Wasserwerk
A few days later some of my friends invited me to go to Strasbourg to celebrate another show of The Skatalites.
Sunday, May 21st: Strasbourg (F), La Laiterie
The tour went over seas. As far as I remember there was Japan and USA on the Schedule. When the tour came back to Europe I was there in Toulouse.
Wednesday, October 4th: Toulouse (F), Le Bikini
Thursday, October 5th: Limoges (F), Salle John Lennon
Friday, October 6th: Ris Orangis (Paris) (F), Le Plan
Saturday, October 7th: Lille (F), Aeronef
Sunday, October 8th: Dijon (F), L'Anfer
I left the tour in Dijon. The band went down to Africa for the first in history. For many of the band it was also their first visit to Africa. Everyone was very exited. After they returned, I was not anymore on tour with them. So for the following shows, I don't have any further informations.
October 10th to 15th: Island of La Réunion, Festival Kaba
October 17th: Lyon, Le Glob
October 18th: Marseille, Théatre du Moulin
October 19th: Montpellier, Rockstore
October 20th: Aprémont
October 21st: Blois, Château d'Eau