32nd day, Amsterdam, Netherlands, Saturday, 16th of november 1996, Melkweg

11:00 am: The end of the tour is coming closer. It was an attractive tour with all that makes music to be the most important thing in live with love. Absolute amazing musicians get together to become one. Relationships between different men with different experience changed from positive to negative and back again to positive. The greatest performances were in those places, venues, clubs, where the treatment was respectful and the food was good. Not old legends but re-born icons took the stages all around Europe. Everybody gets his lesson in rhythm and timing and happiness every night day-by-day. Groove into the bones. Undying improvisations of grandmasters of Jazz and Ska. A festival for dancing shoes and listeners from Skinheads to Rastas, from Punks to Yuppies, Ravers, Models, Hippies, Babies, Kids, Mamas & Papas to Grandparents. From Tours to Amsterdam in 4 weeks and 25 shows.
Don't call em legends, because as long as they're living it's no end. Better use icons.
The drive is not far and we're early enough in Amsterdam to go shopping. I was asked by Laurel Aitken and Lloyd Brevett to promenade.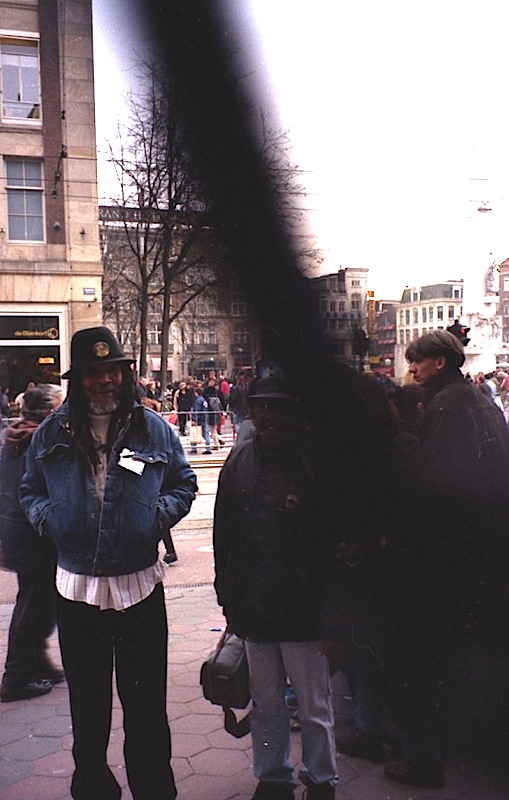 We go into a record store and I buy Donna Lewis "I Love You Always Forever" as a CD-single.  I don't know why, but I like this tune 🙂 And the second single-CD is Apollo 440 "Krupa". Very different music from Ska? Yes. But that is me… just love it all.
Later that evening Lester Sterling is asking me for a souvenir picture of him in Amsterdam. I take a little walk with him, then I ask him if this building in the background would be ok. But he answers that he wants bicycles in the background. Why? That's Amsterdam, he replies.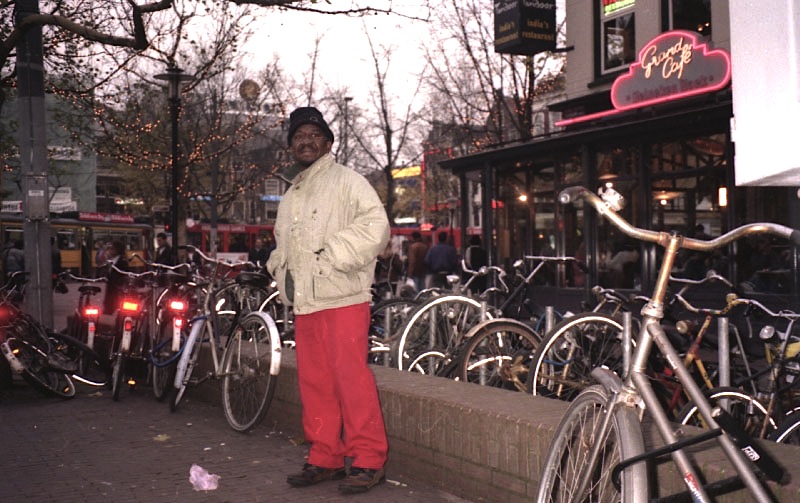 The hotel is only a walk away from Melkweg Max. I see my equipment, professionally. The show will be registered officially for the CD release.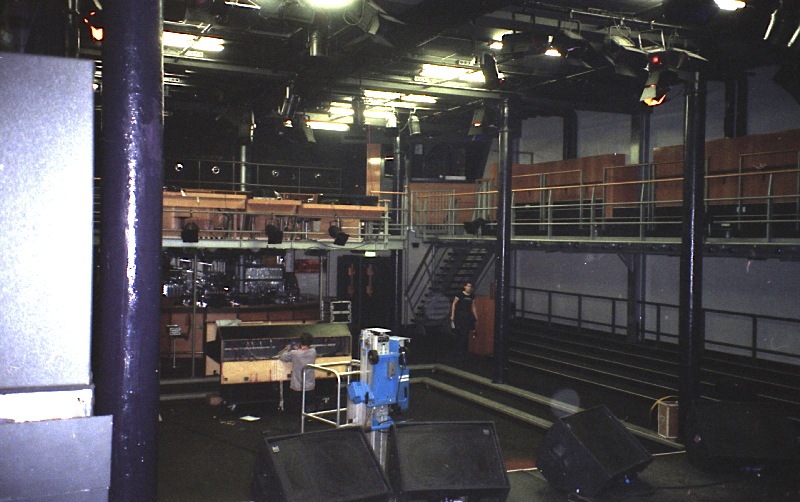 In the background upstairs is the mixing desk for me. I didn't like that position, I was too far away from the sound. In the backstage I meet the friends from my cousin from Munich. I took them onto the guest list. They are very happy, because I introduce them to the crew. And I you've ever been in a backstage with Laurel Aitken, Lloyd Knibb, Lloyd Brevett, Rolando Alphonso, Doreen Shaffer and so many other personalities, you will be a real fan after that experience. That means, that you will enjoy the show twice as much as you could without that experience.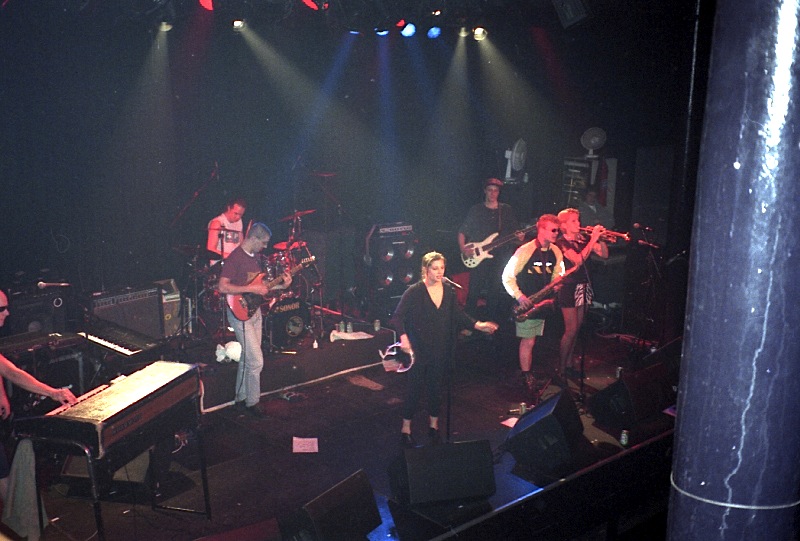 The warm-up band is from Netherlands, I've found this tune on Youtube.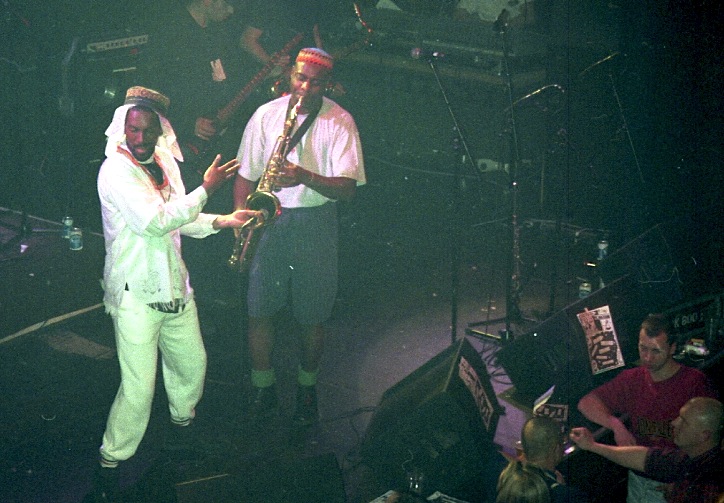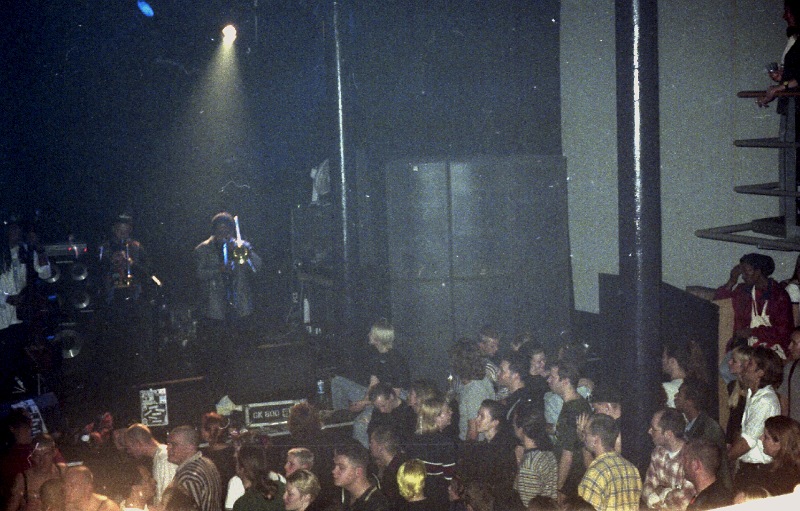 Far right on the balcony you can see, that the show was full packed. Netherlands is a great Ska nation and the parties are all very expressive. The bands didn't play their best shows. A lot of feedback on stage. It is typical for the whole crew, the best shows weren't recorded the recorded ones were the worst.
The Skatalites starting with the count down and
Freedom Sounds (a feedback on Rolando Alphonsos saxophone)
Man In The Street (with a intensive very well Will Clark)
Eastern Standard Time (Rolando Alphonso forget to get into, because he's too busy with handshacking and thank yous with the audience)
Guns Of Navarone (again feedback on Rolandos micro)
On stage is a lot of people walking around taking pictures. Again that journalist from Paris. Plus two other fotographers and two video camera men (have you ever seen any of these recordings???).
El Pussy Cat
Confucious
Simmer Down / Turn Your Lamp Down Low featuring Doreen Shaffer
Come Dung featuring Laurel Aitken
In The Mood For Ska featuring Laurel Aitken (Oh, what happen now? Someone is walking straight before Rolando Alphonso across the stage and Rolando is missing his solo)
Phoenix City (on the CD release, Rolando plays some nice notes into the line)
The Skinheads in the audience are dancing nicely and peaceful.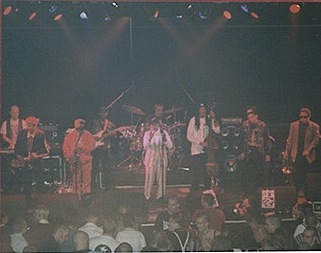 Franziska (one of the guests I invited to that show) writes into my diary: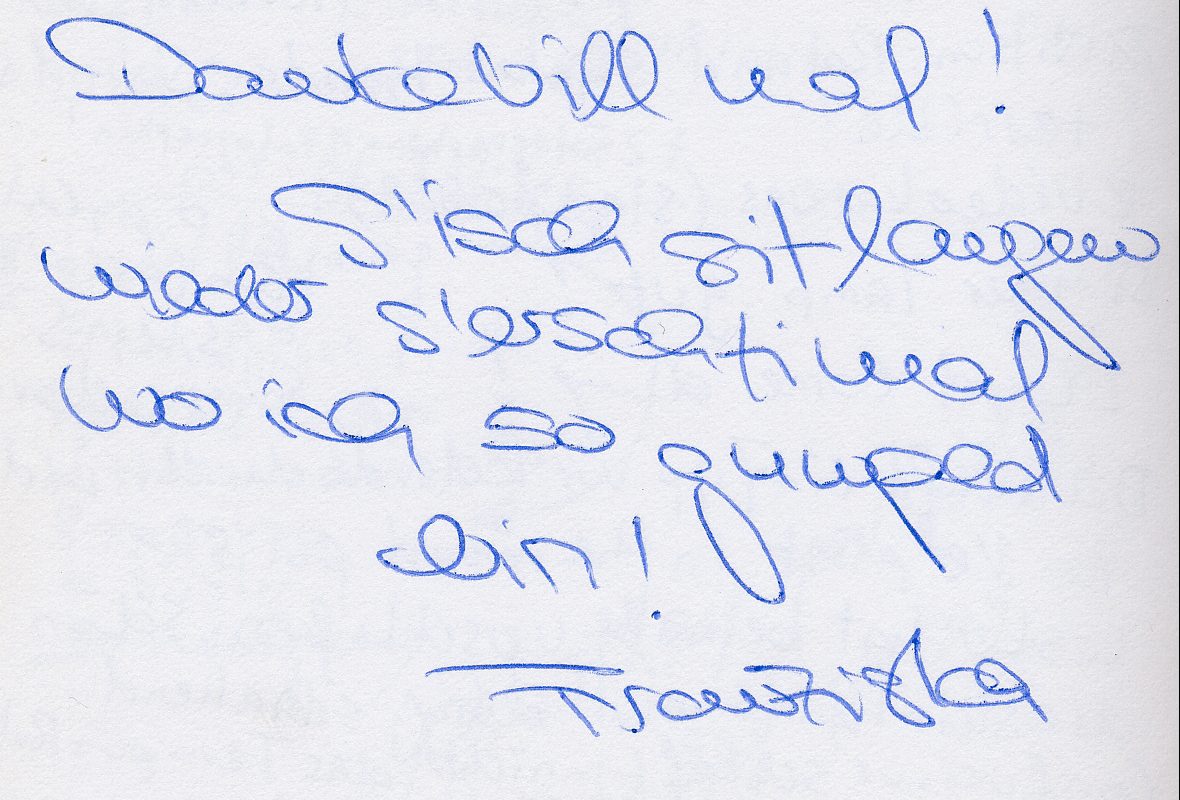 "Many thanks! It was the first time since a very long time I was hopping around." It's in Swiss-German, a funny language.
It's not the first time I hear this from Ska audiences. Dancing is just a great thing. It's free your body and let's your soul getting into the music. Just try it. Here this as an exemple. It's my personal recording from that show from upstairs. Not a good quality, but originally.
The Skatalites, Confucious live in Melkweg, Amsterdam, 1996
After the show Will Clark gives his key to Yasha the friend of the fotographer from Paris. When I get back to the hotel I find this guy in my bed. I say that this is my bed and he goes down to the ground to sleep on the floor. Later Will Clark is coming into the room to sleep in his bed. What a day, what a show and what a finish.

Overview Amsterdam, Melkweg Max
audience: approx. 600 (capacity approx. 700)

catering: before the show good, but nothing left for after-show

backstage: two rooms upstairs, comfortable

diner: out of the club, in a restaurant

DJ-set: have to sit on a chair, upstairs, too far from the audience, not motivated

Recording for the Skasplash CD
Local band: Boter, Ska & Eieren

HOR: all for one show

Laurel Aitken: one man show

Skatalites: one band show

hotel: very close, central, nice, friendly

room mate: Will Clark and Yasha on the floor

driving the next day for the last drive, Duncan's girlfriend is with us, Bill on my place
Website today: melkweg.nl


Come back tomorrow for the last event of the Skasplash tour 1996 in Antwerp.