25th day, Lund, Sweden, Saturday, 9th of november 1996, Mejeriet

9 o'clock in the morning, we're leaving Hamburg. Still in the hotel, Lloyd Brevett wants a picture of the bearded members (Laurel Aitken, Barney, me and himself). Dave Nicholson takes the pictures with Laurel Aitkens camera. I have never ever seen those pictures.
After a few hours, we check-in on the ferryboat from Germany to Danmark. The ship is huge.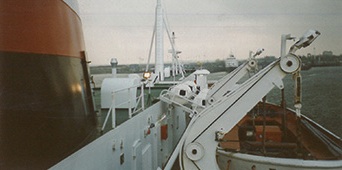 There are many people on that ferryboat. We hardly find a place to sit. I take care on Lester Sterling and Rolando Alphonso, but I can't find a better place, than stairs to sit a little.
Rolando Alphonso is talking about a concert in Jamaica, where he played with Louis Armstrong, and Louis said to Rolando, that Rolando plays like Lester Young. Rolando Alphonso is such a modest man, he's very proud to be named on the same level as Lester Young by the late great Louis Armstrong. Of course, that means a lot and is like a knighting.
Outside it's quite windy and Bessa is funny as always.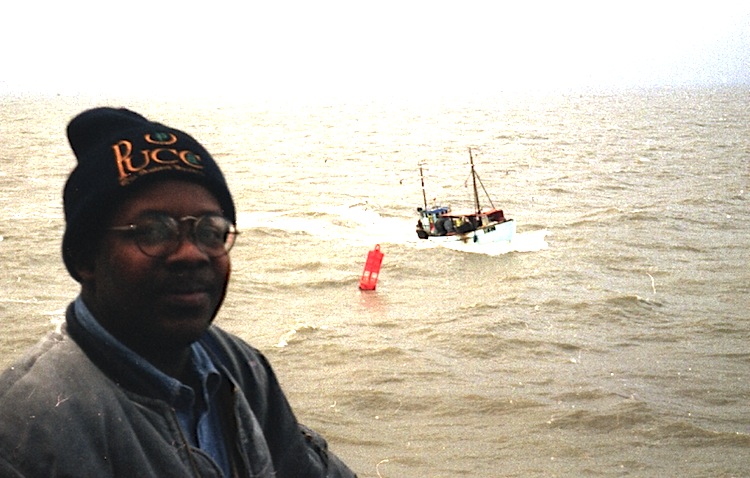 You see Bessa with a smile, but a few minutes later, we all don't smile anymore. Because, the danish frontier officer refuse to let Bessa cross Danmark. We all think that the officer is joking, but he isn't. Bessa is African, with Ghanean passport. And the restrictions for Africans in Danmark seems to be different from Jamaicans, Australians, Swiss, English and US citicens. We're all shocked, because Bessa has all the visa, for Europe, Scandinavia, Switzerland, except Danmark is missing. But we only wants to cross Danmark, no stop a all, tonight is a show in Lund, Sweden. But the officer is strictly refusing. He only offer, that Bessa can take a ship around Danmark and enter from Germany to Sweden. But we can't pay that, so Shay offers Bessa to go back and waiting for us in Netherlands until November 14. That's the way, we're loosing Bessa for a while. Poor African.
Shay is asking Bill Smith to play Bessas part in the House Of Rhythm show AND the Laurel Aitken show.
5.30 PM we're entering Sweden with another ferryboat after a windy and bad viewed passage.
Short after that, we're in Mejeriet, that cult club in Lund, Sweden. I pick up some flyers.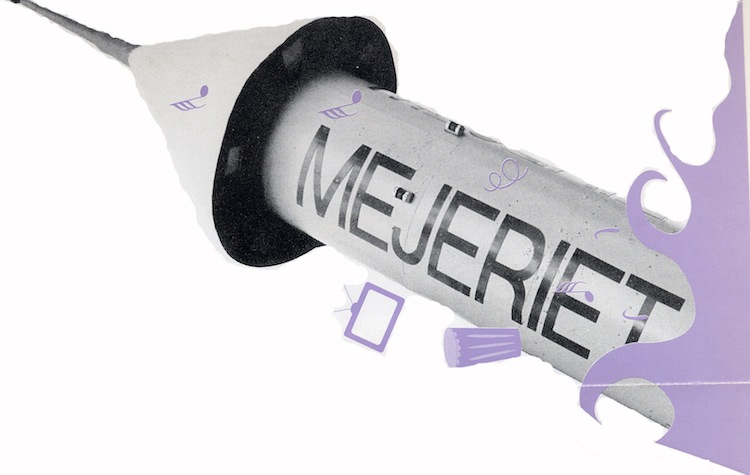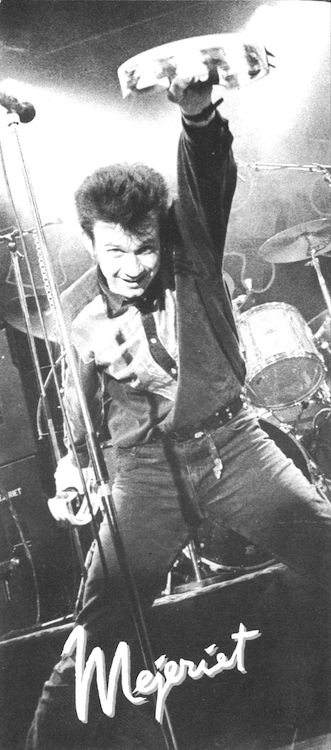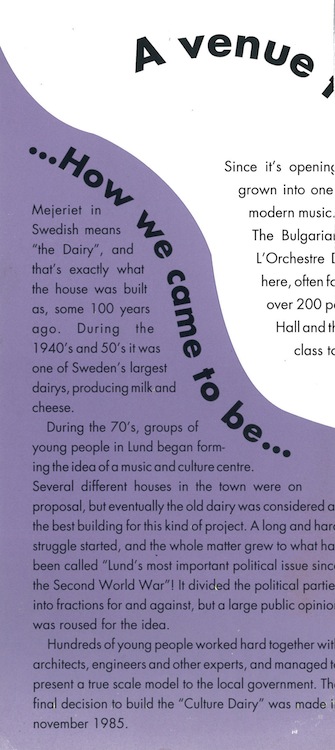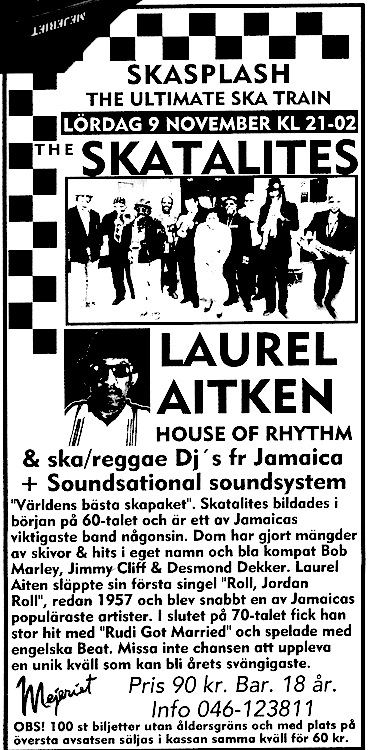 Another time I am DJ's from Jamaica. The Soundsational soundsystem is after the show I guess and as far as I remember in an other location one floor under ground. Anyway, I select truly nice pieces and there are experts around me to celebrate those tune with me.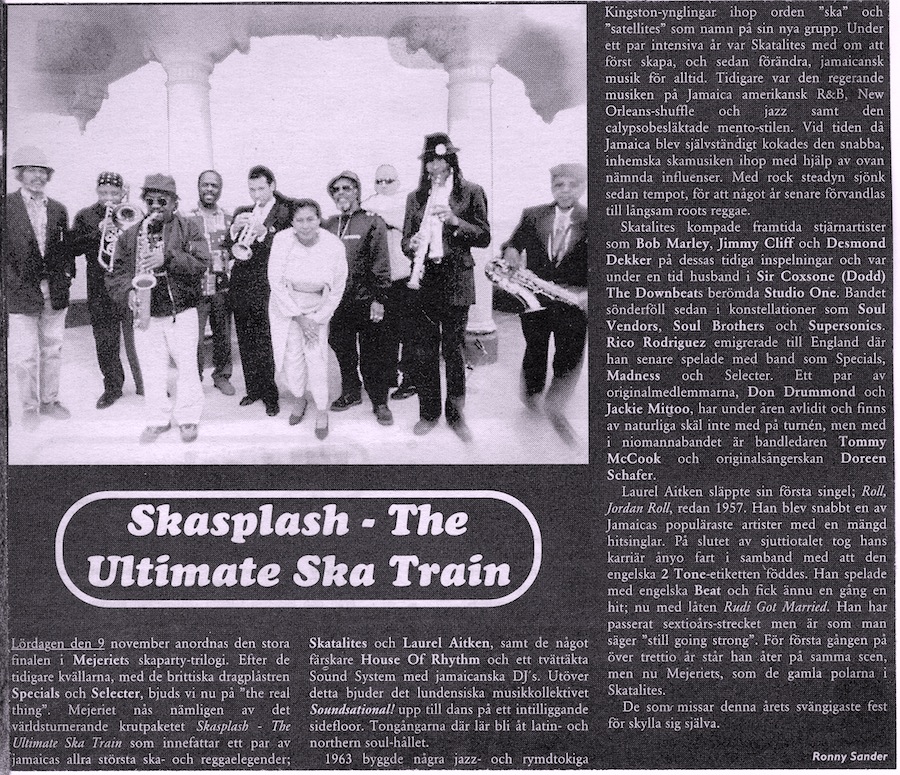 The club restaurant offer us to meet some homeboys and girls. That's why the whole crew is all over the restaurant.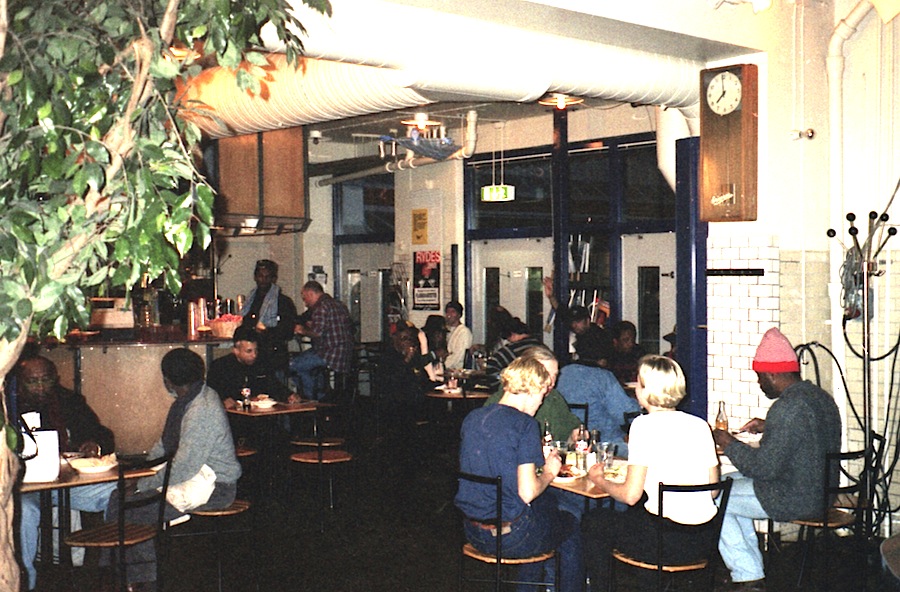 In the front on the left there is Laurel Aitken with Doreen Shaffer. Nathan Breedlove. In the backgroud is Cutty Williams with Jeremy on the bar, the table next to them with Lloyd Knibb, Lloyd Brevett, Bill Smith, Duncan and Jeff Lucas, then Will Clark, Devon James and in the front Kirk Thorne with some swedish ladies.
I take a few into the audience. I don't have many pictures, because Laurel Aitken gives me his camera to take some pictures. I haven't seen them, but I did it. I like the view from my DJ-set to the audience.

I really love this club. It's huge and have a lot of rooms and places to go. The dance floor is wooden and really the right thing to dance. On the gallery there are chairs and tables with a great view onto the stage.
It's such a warm welcome in Sweden. We're really surprised and enjoy it a lot. While the rest of us is having diner, Bill Smith is trained by Kirk Thorne and Jeff Lucas on the House Of Rhythm and Laurel Aitken set.
It's 10.20 PM and I'm really almost too tired for a real discotheque. I drift away with bad vibes and I have no idea, why. But I bring a lot out of the control with that bad mix. Luckily I bring those bad vibes away with the sound I play. And the great soundsystem I have helps me too. An older Jamaican comes out of the audience to me with a coolness I love.
Laurel Aitken tells me, that there are about 50 people too less in the audience. Doreen Shaffer isnt' agree with that. Will Clark is unhappy. What is happen here? We all love this place very much, but the whole tour wasn't lovely at all. Almost all of us are very tired and it's hard to enjoy these great moments.
I play a tune by Shame & Skandal Family (track 18 on Skampler 3) and somebody tells me, that the guitar sounds like Hank Marvin to the Shadows.
But most of all Bill Smith is playing 3 shows! And I'm sure nobody in the audience realizes, that he played 2 shows for the first time. What a brilliant musician.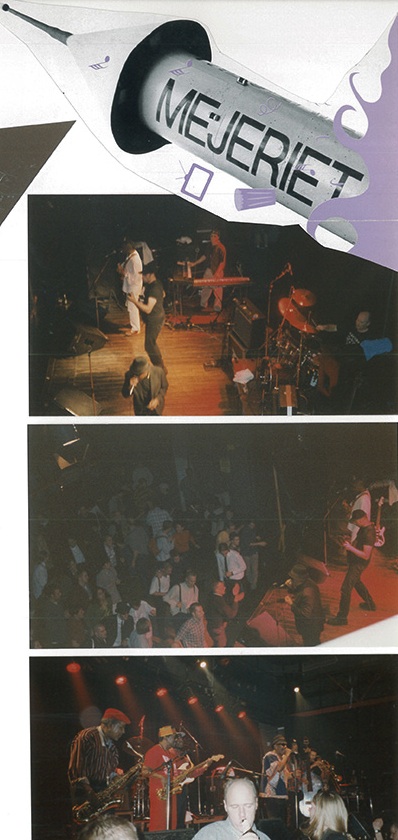 As I said, I had to take the great pictures with Laurel Aitkens camera, only this three shots I did with my little camera.
After the we only had 4 hours left to take a rest in the best hotel of the whole tour. It's a 5 star hotel and there is an electric hair-dryer in the bath room, what a luxury. And Will Clark and I have a two room suite. He sleeps outside the bedroom on the sofas with the television.
Overview Lund, Mejeriet
audience: approx. 400 (capacity approx. 700)
catering: just enough (as it was written in the contract with 20 bananas 😉
backstage: very nice on two floors
diner: excellent, with aubergines
DJ-set: many Reggae lovers, easy for me, love Sweden! 4 channel-mix with two turn-tables and two cd-players
HOR: with Bill Smith on keyboards, great!
Laurel Aitken: his fans are all over the world, they love him
Skatalites: back again number one
hotel: four stars luxury suite, but only for four hours!
room mate: Will Clark
long drive all through Sweden and from Stockholm with fairy boat to Finland
The Star Hotel maybe changed it's name. Guess it was this one here:

Website today: kulturmejeriet.se
Come back tomorrow for the travel day through Sweden…