23rd day, Berlin, Germany, Thursday, 7th of november 1996, SO 36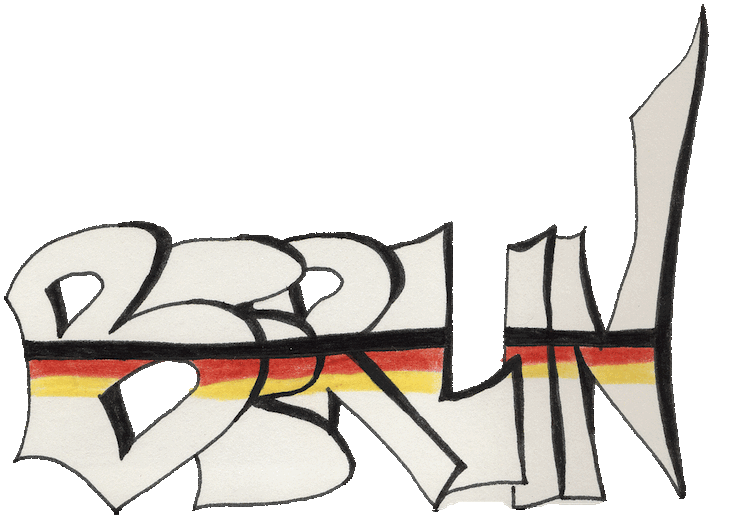 Berlin is my perfered town in Germany, I love it. I've been to West- and East-Berlin when the wall was still a fact of life. The drive to Berlin is not that long and we're arriving in Berlin early enough to enjoy hours of free time. Our hotel is in the previous eastern part of Berlin.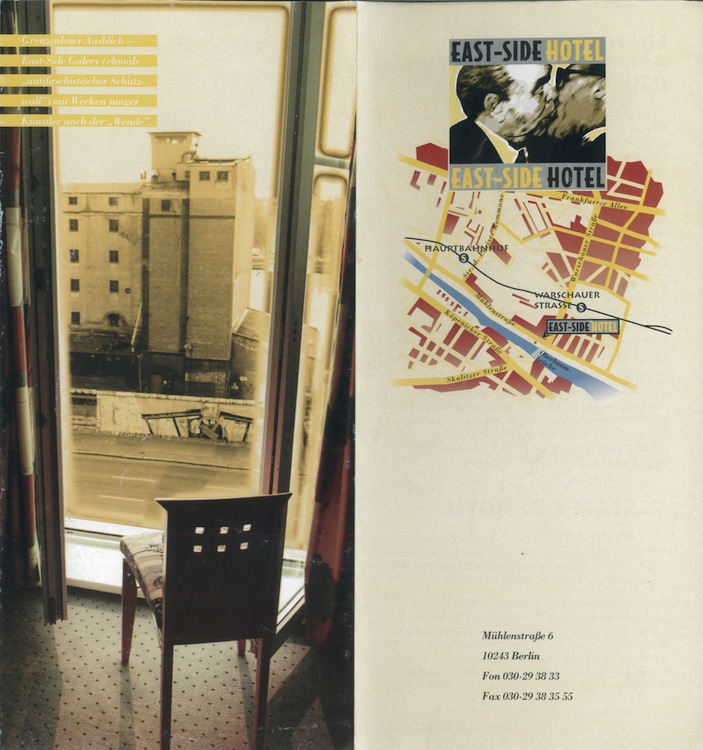 It's quite crazy, that this hotel promote with the view to the wall.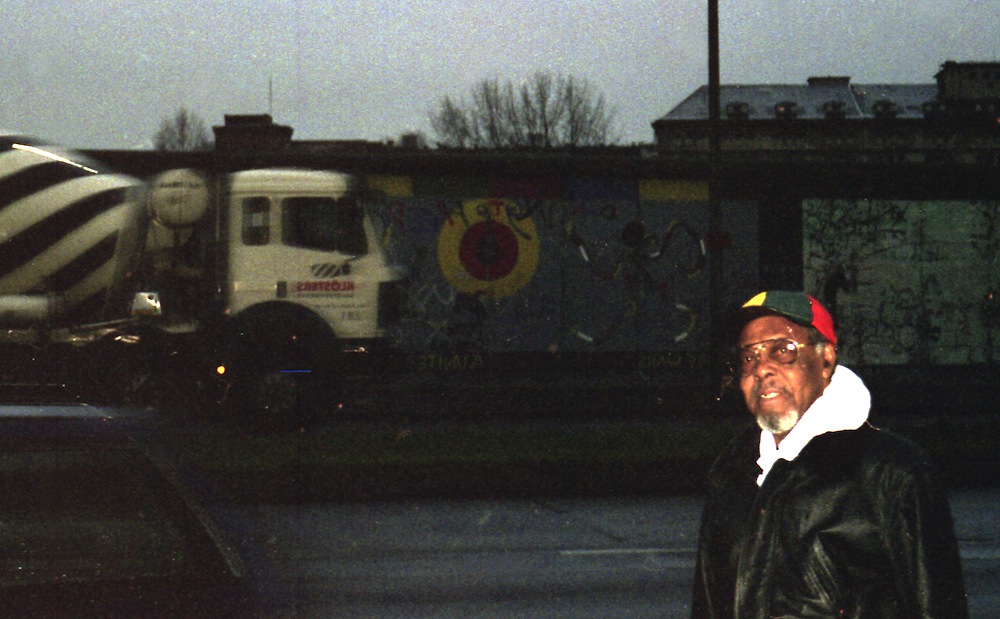 Lloyd Knibb asks me to accompain him to go shopping. He wants to buy chicken and rice to cook on his own little kitchen. Of course I give a helping hand. We're walking and talking along the Berlin wall to the next supermarket, where I gonna help him.
After that I go out to find Downbeat Records store. In 1989 I was in Berlin with my bycicle and Ralph (one of the founders) hosted me in his home. Today, in 1996, I find the store somewhere else, and I ask for Norbert (the other founder), but he's not in the store. He's working for the label (find out more about Norbert here). Everything changed after the wall is falling down.

The SO 36 is cult. They're talking about a show with Einstürzende Neubauten (you don't know them? try this for info or this for sound or this, to illustrates the following story). While the show is running, the manager of the club is sitting in his office aside of the stage behind a fat concret wall. Suddenly there is a massive rock drill just a few centimeter aside his head. The audience just see the band using this big drill, but they don't know, that it's inside the office. Scary band though. I'm sure, the house could tell many stories.
The backstage is locked by the SO 36 flag behind the stage, but it is upstairs and free hanging. And what a nice surprise in the backstage there is Verena better known as Miss Winey (I know her from other occasions in Lucerne, Zurich and Berlin).
Soundcheck with House Of Rhythm is not easy. The nerves are thin and easy broken. Tony Looby refuse to soundcheck because Jeff Lucas is him not professional enough. Dave Nicholson refuse to share his room with Tony Looby and so on.
Lester Sterling tells me, that he wants to play "Bangarang" (what he did a few years later [take good care, this sample is only a few seconds and in bad quality]).
Lloyd Brevett is mouning and Laurel Aitken tells him to build up a band called "Brevett & The Sons Of Negus". Will Clark don't want to play rasta music.
All in all, the mood in the crew is more rude or maybe they just say what they think. I feel a bad mood upcoming. It's raining in Berlin.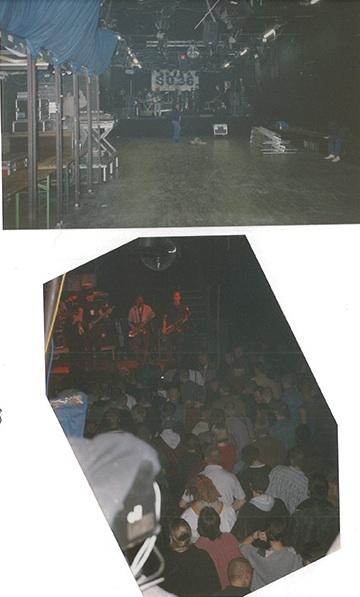 In the SO 36 everything is a bit different. My DJ-set is on a platform behind the engineer. I have a perfect view over the audience. But the engineer explains me, that I can't select between the shows, because he only have the choice between stage sound or DJ-sound and there is no way to change quickly. I can use his CD-player on the mixing desk. What a great challange.
The club is almost empty only the further half is full. Shay is not so well, is he getting ill?
1.38 AM: The Skatalites are performing
Man In The Street
Phoenix City
You're wondering now feat. Doreen Shaffer
Simmer Down/Turn Your Lamp Down Low feat. Doreen Shaffer
Com Dung feat. Laurel Aitken
I'm in the mood for ska feat. Laurel Aitken
Sugar Sugar feat. Doreen Shaffer
Confucious
Guns Of Navarone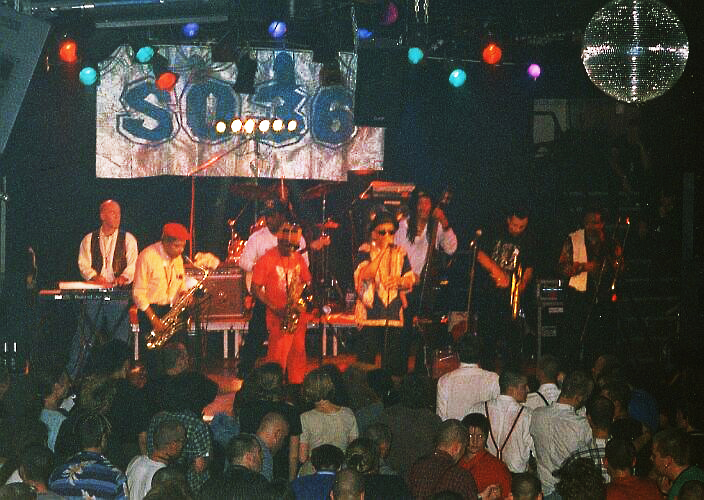 After the show, the engineer don't want me to play the main DJ-system, I don't know why. But I tell him, to give me the recording of the show, because there should be no pirate recordings of the shows around.
You're the first now to listen to this exemple. Hope you'll enjoy.
The Skatalites, Man In The Streets, live at SO 36, Berlin 1996
Solos: Nathan Breedlove, Rolando Alphonso, Lester Sterling, Will Clark
After the show, other DJs starting to play other music. Ska is gone. And so we're gone too.
Overview Berlin, SO 36
audience: approx. 350 (capacity approx. 600)
catering: good, not enough water
backstage: very special, because upstairs behind the stage
diner: good, in a restaurant outside the club
DJ-set: always good, but little frustrated, because the nice DJ-equipment is not available between the shows, after the show there where other DJs to finish the night, I only had 2 channel-mix with two cd-players
HOR: yes, this is a great show with the right audience
Laurel Aitken: very very good
Skatalites: very fast, very hot, very short
hotel: view upon the Berlin wall, in eastern Berlin, especially for artists
room mate: Will Clark
driving the next day is easy
Website today: so36.de
And in the history video (after 25'52") you'll find Skatalites, Laurel Aitken (nothing about House Of Rhythm and C-lector C).


Come back tomorrow, when we're arriving in Hamburg and playing the historic "Fabrik".