22nd day, Chemnitz, Germany, Wednesday, 6th of november 1996, Kraftwerk

On the road again
The highway in Germany is different from the rest of the world. There is no tempo limit. And to drive those routes it is necessary to have routine, but Duncan is very young. He drives well, but sometimes not really save enough for us passengers. Most of the time he uses only one hand for the wheel. He tells me that he lost his father in a car accident. I'm very sorry for this lost, but I also think, please drive more carefully. Meanwhile he's completely overtired he doesn't really relax himself as he should. He have enough possibilities to relax to sleep, but he don't wanna miss anything, I guess. However, I like him much, he drives safe enough, we never have an accident. While he's driving he's eating Kiwi fruits. Just like apples. I ask him, if this is typical australian, to eat Kiwi with skin and hair, but he replies, that this is only because he has to eat them, while he's driving and how else should he eat them?
The landscape is extremely boring. Every few minutes is another roadworks site. I'm still thinking about the matter, why Shay explained me the route when I could talk German and asking the people right away. Whatever the reason is, it's done already. And Duncan is driving without asking me the right way. When I'm writing and don't watch the road, we're missing from time to time the right exit, but we're in Thuringia, Eastern Germany, and we have time enough.
Yesterday, Shay gave the responsibility to Barney, not to me, so Barney had the infos for the wake-up time and the rooming list. But this morning, I was first at breakfast and I had to wake up Barney personally, because he didn't wake up himself. Strange thing, but I don't care. All in all we're not really a team but 21 individuals and each one tries to get the best for himself. Everything is kind of a fight, it's food or comfort. Nothing in life comes easy (listen to that great House Of Rhythm tune).
Arriving Chemnitz
We're arriving Chemnitz. This town is quite socialistic. It looks retarded and poor to me. He get a kind of hotel-flat. 4 people per flat. It's very funny, but at the same time it feels like in student times (I've never been student, but you know what I mean). Bill Smith, Will Clark, Lester Sterling and me are one pack.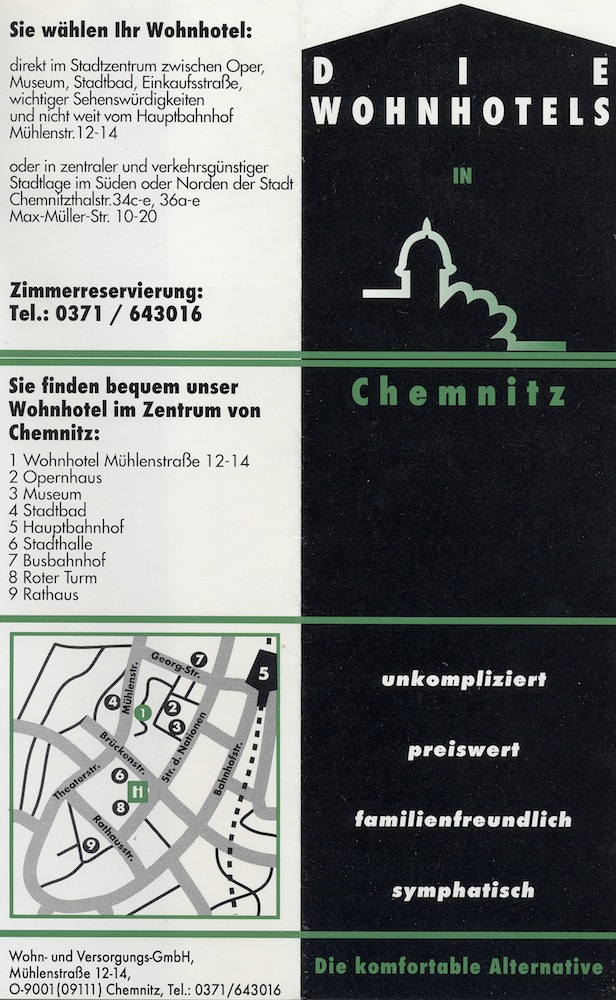 This is the place today:
You wanna take a look into our living room?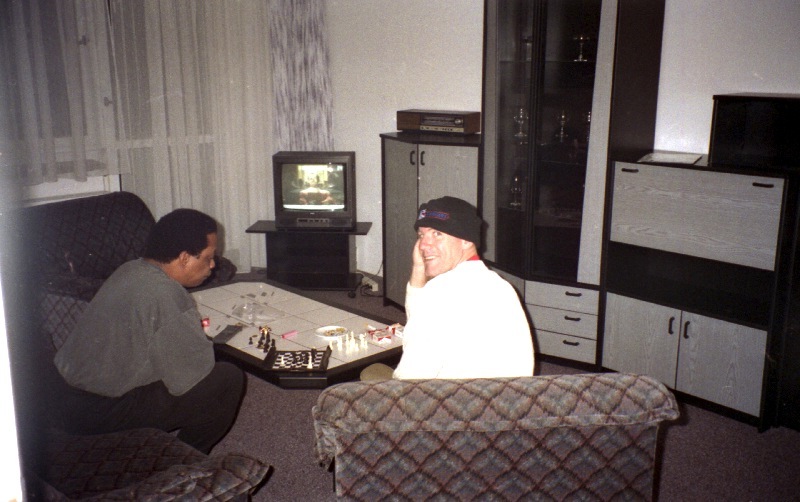 I'm a bit upset because the rooming list is somewhere, but nobody knows where. Laurel Aitken and Rolando Alphonso asking me to bring their suit cases to their rooms, but nobody is left to tell me what's the room numbers. It's kind of a game. Finally I find their rooms and go out for a walk into town. Opposite the flat-hotel, there is the opera. I listen to a classical trombone warming up.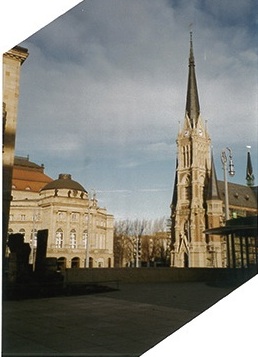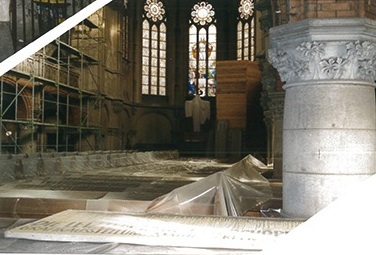 At Kraftwerk
The Kraftwerk is a special place to be. It's a whole house full of history. But it's very empty. I have seen not one advice in the newspapers nor one poster in town. The flyer doesn't look very professional.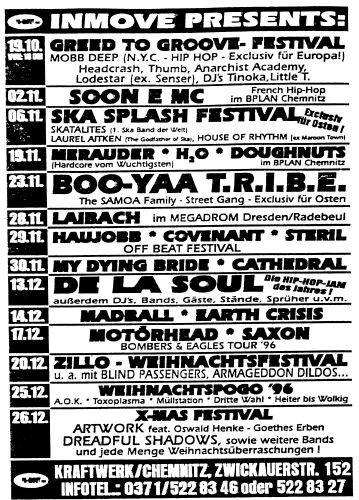 The backstage is rough enough.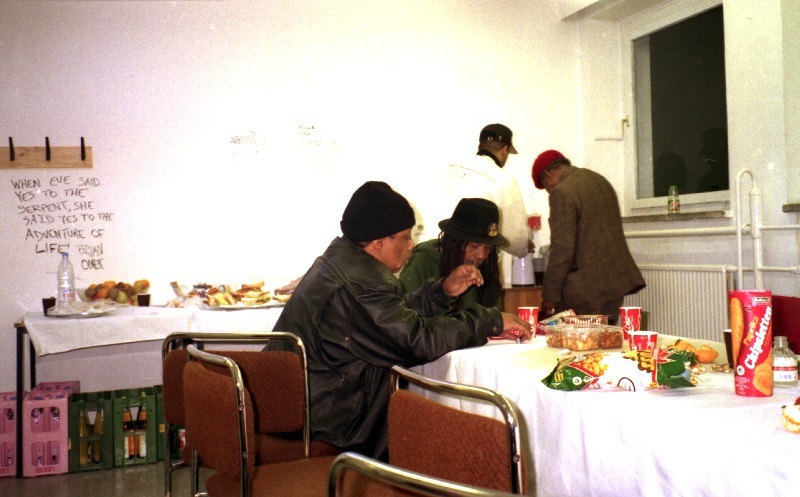 There was food enough in the backstage. And the diner was in another part of the building in a restaurant. I was there with Laurel and Lester.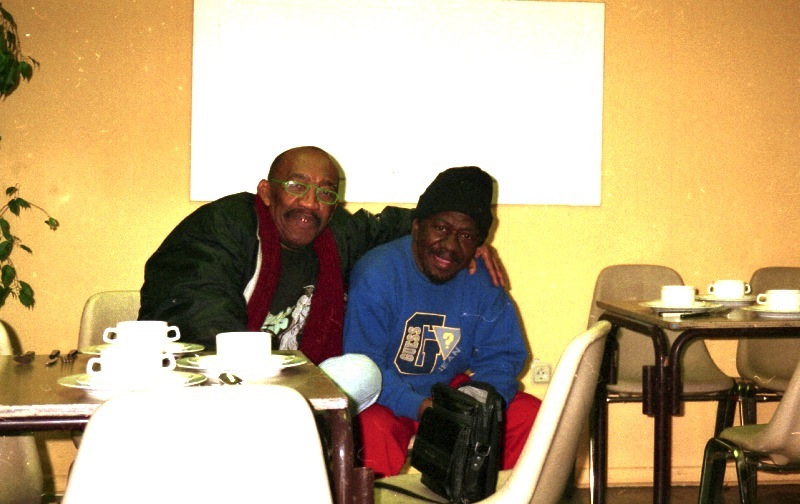 The concert hall was empty. And not only when the crew built up the stage.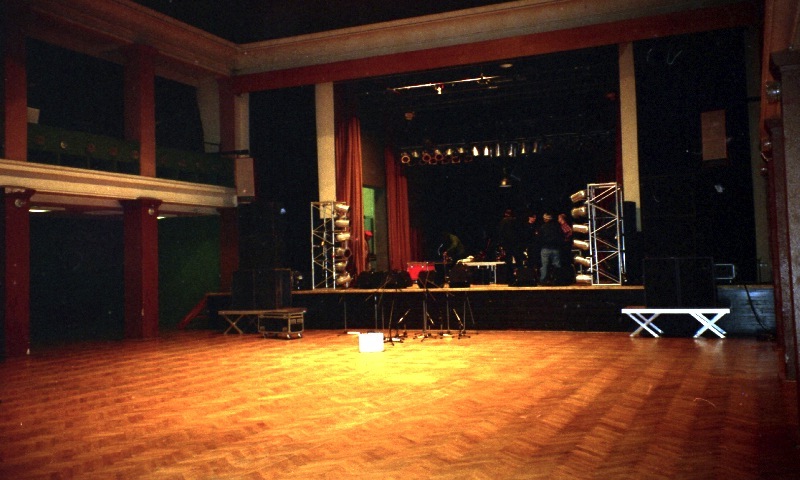 The show begins
While House of Rhythm is on stage, most of the Skinheads means most of the people in the house, went outside the concert hall for waiting of the final of their show. This reggae-styled-ska is truly not their thing.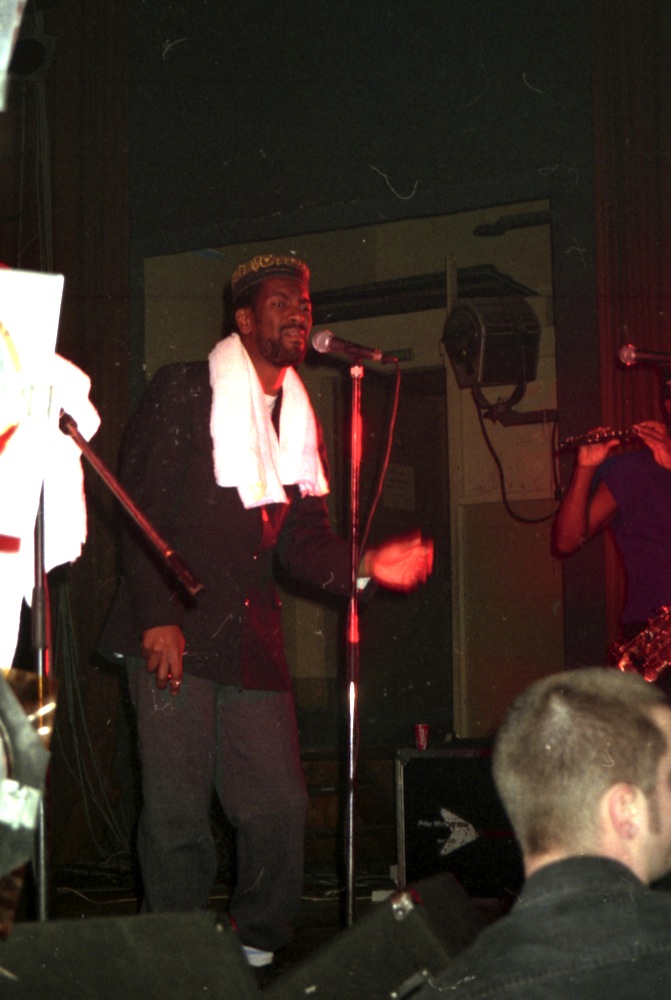 Cutty looks a bit afraid of the situation. They're playing the set faster than ever.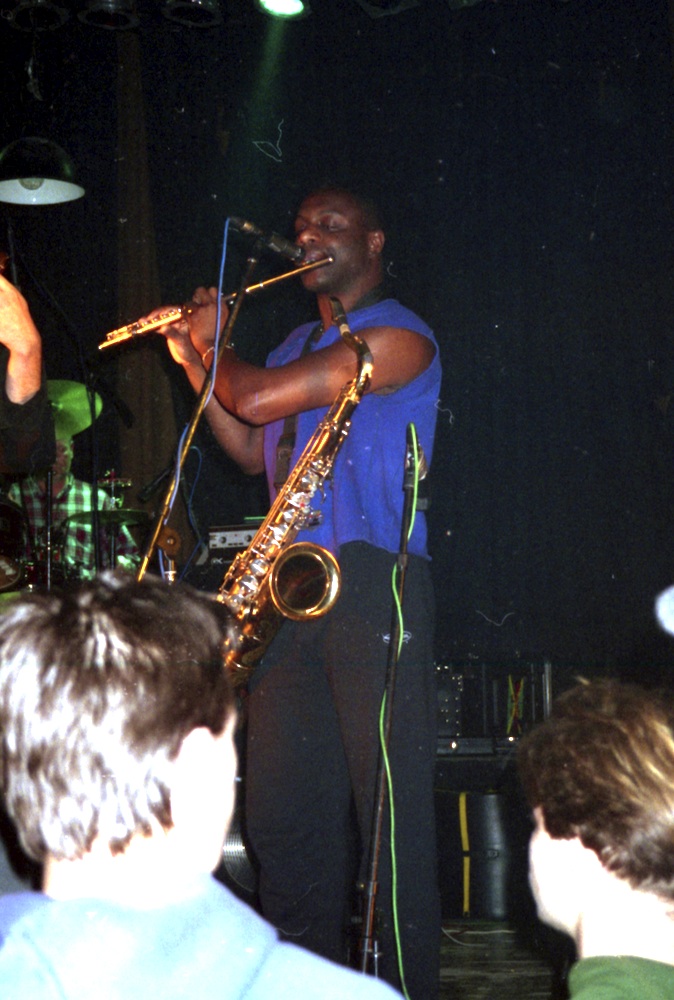 A nice picture of Tony Looby with flute.
I was close to refuse playing some tunes to this almost racist audience. But then I wanted to relax everybody and played some Rocksteady and early Reggae tunes and they like it.
For Laurel Aitken it was too easy to get it. He's Mr. Cleanhead, the Godfather of Skinheads, everybody loves him. It's a wild party inside, I take a rest outside. And a little walk with Rolando Alphonso.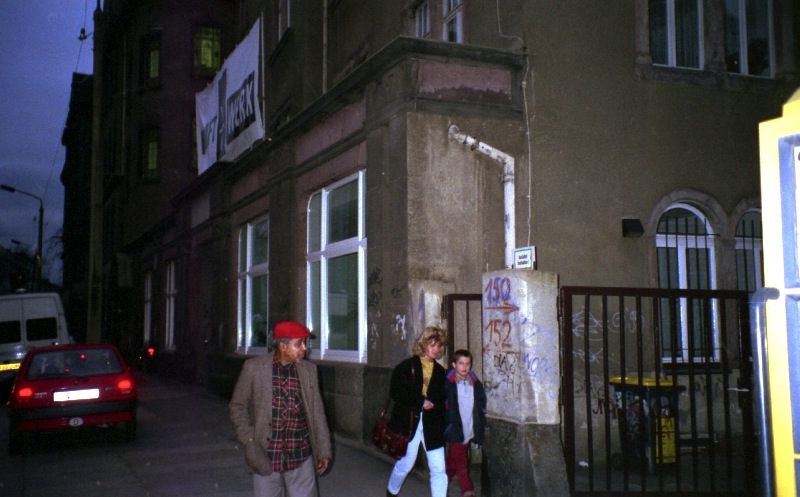 The Skatalites show
Only the final show is missing. Again I'm painting into my diary while I listen to the concert.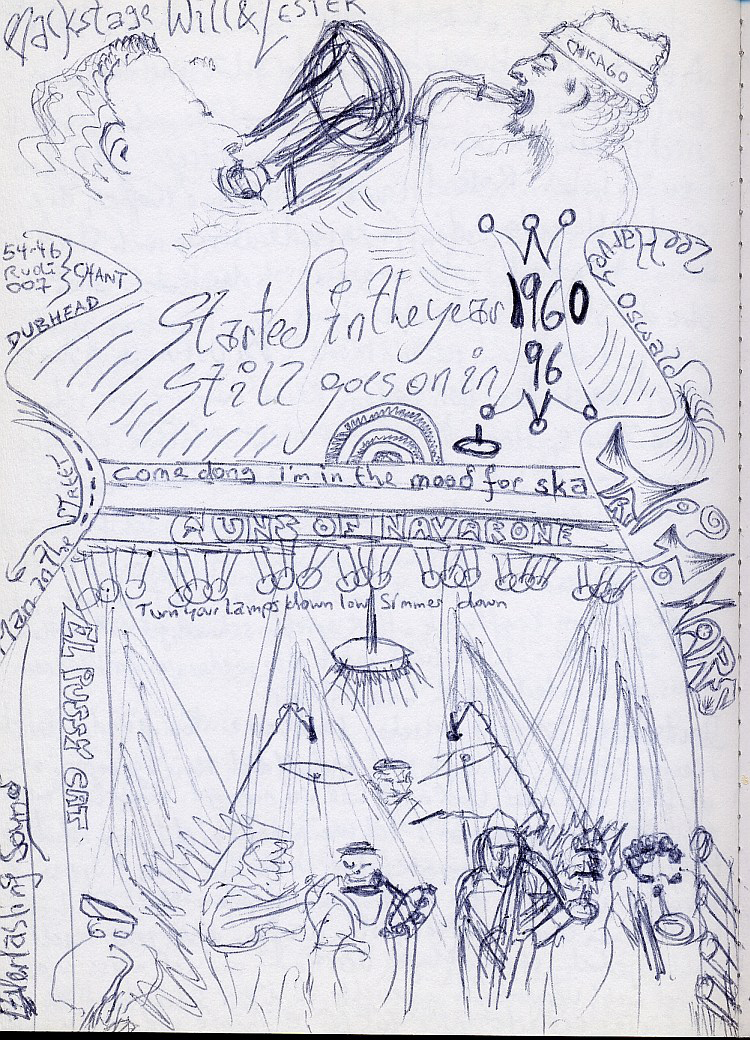 The painting starts with Lester Sterling and Will Clark warming up in the backstage.
Started in the year 1960 – still goes on in 96
The following track-list is documented, all these tunes they played while I was painting.
Man in the street
Everlasting Sound
El Pussy Cat
Simmer Down/Turn your lamps down low feat. Doreen Shaffer
Guns of Navarone
Come Dung feat. Laurel Aitken
I''m in the mood for Ska feat. Laurel Aitken
Trip to Mars
Lee Harvey Oswald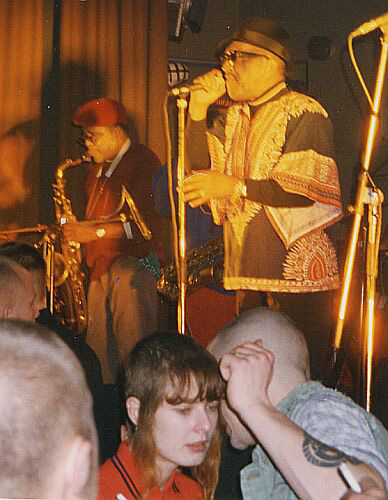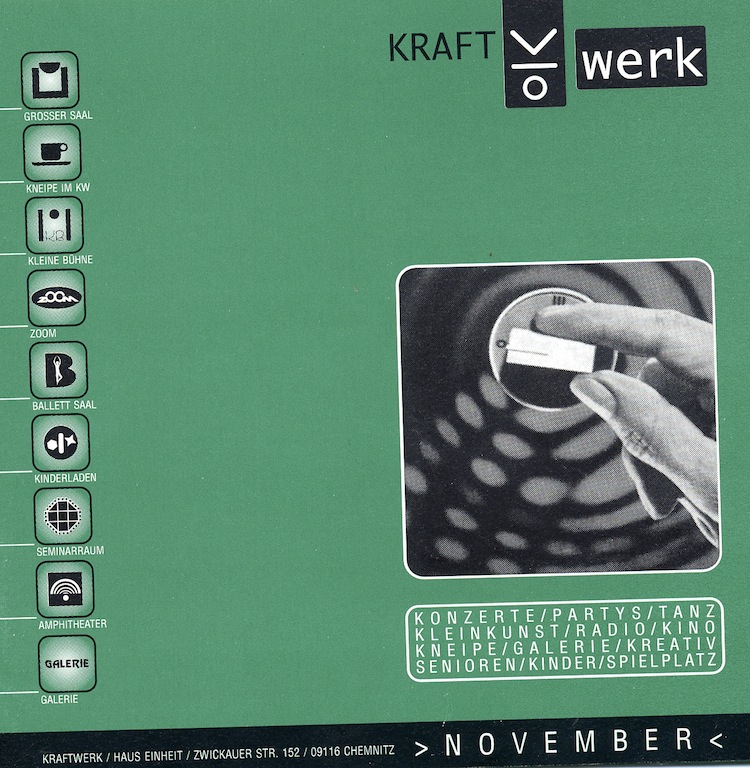 Overview Chemnitz, Kraftwerk
audience: approx. 250 (capacity approx. 850)

catering: good

backstage: many rooms, very special, like an old theatre out of the 50s

diner: small portions, clubs own restaurant

DJ-set: the audience sings every tune (Israelites, 54-46, etc.), I'm with the Skinhead audience (have learned from yesterday!), 2 channel-mix with two cd-players

HOR: no fire in the wire, the skinhead walking away, they don't like 'em

Laurel Aitken: he is the main act in this place, 100%!

Skatalites: this is truly not their audience

hotel: very special, living hotel

room mate: Will Clark, Lester Sterling, Bill Smith

driving the next day on bad roads with many tempo limit controls
Website today: none. The club is no more.
I've found this article from june 2012 in the local TV sachsen-fernsehen.de that the building is burned down.


Oh, come back tomorrow, this will be a very special day in Berlin.