4th day, Bordeaux, France, Saturday, 19th of october 1996, La Lune Dans Le Caniveau

The 21 of us are tired. Almost sick. The procedure of the past few days were enormous. It feels like you don't breath for three days. On the long way from Barcelona we change three times the driver in our white van. Jeff and Jeremy are helping Duncan. The wind is terrible alongside the coast. The wheel heavy to keep on route. And then there is this Danish truck who pass us many times. He's faster than us, when the road is upwards, we're faster, when its down. A van race for nothing.
Laurel is asking me, if I would like to come to England as DJ. He thinks I should take the chance. He knows a lot of people. Perspective? Maybe.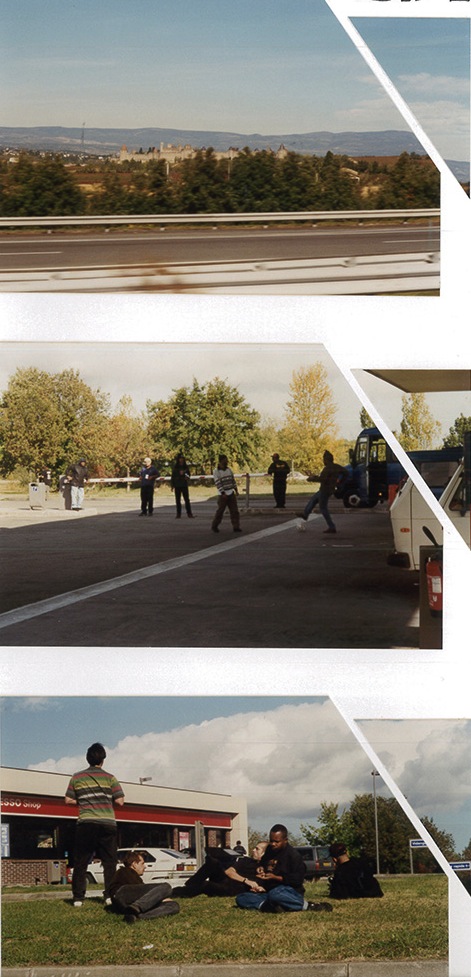 This castle is four times on our way. No place to small to play Soccer. Or lying in the grass with Duncan, Dave Nicholson, Jeff Lucas, Bessa and Nathan Breedlove.
It's Saturday late afternoon, we're landing in the club called "La Lune dans le caniveau" (means "the moon in the gutter" [see movie database]), the name of a movie with Gérard Depardieu and Nastassja Kinski from 1983). The club is just beside the fish market. Again, I can't find no toilet. But everybody loves that club. I've been here in 1995 with The Skatalites.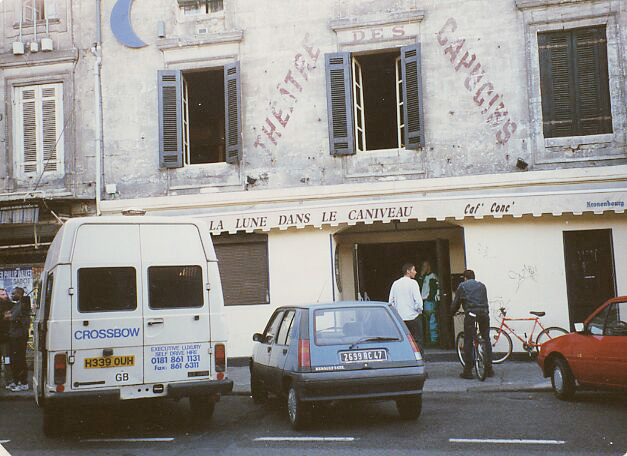 On the left side, that is our white van. At the door of the club, that is Bill Smith.
Everybody is kind of sceptic before we enter the club. But as soon, as we're in, the atmosphere is changing immediately. There is a caribbean cook right inside the club, with a massive soup on the fire. With fish heads inside the soup. Especially Rolando Alphonso and Lloyd Brevett are happy like little boys. They are rapturous.
It seems, that everything is forgotten from the days before. It's amazing how much you are living in the present on this tour. Who cares about yesterday or tomorrow? Nobody.
Because the atmosphere is easy now, it's time to talk. Doreen Shaffer told me, that she calls her friend Phillis Dillon in Florida from time to time. Lester Sterling explains Cutty Williams, that he was in the studio with Bunny Lee, when Bunny calls Lester "Come mek it Reggay". Lee Perry and also the Wailers have been there also. Lester explains, that it was him, playing the first Reggay. Everything starts with the musicians.
I feel bad, because nobody films this tour. And only a few shows have been recorded. It's a pity.
I ask at the bar for a pot of hot water. I prepare my own tea, with herbs I get from René, my natural doctor and bassist from the band I play with. He gave me some bitter tastes. Rolando Alphonso, Cutty Williams and Lester Sterling take a cup of it and the really enjoy it. A bit later, Rolando came to me to tell me, that he truly feels much better now.
The club opens the doors. Many people are coming in. The balcony is locked, because of security. I start my Disco. I have the DJ set on the bar counter. Some people asking me for a beer, others are wondering, what I have inside my pot of tea. Some asking for a cup of it, but I guess, they think, it's Ganja in it. It isn't, of course. Later, a Skinhead girl asking me for Max Romeos War In A Babylon, it will be the next tune, of course.
The HOR show is very well accepted in this audience. They play very well. The first tune is a Reggae tune, there are a lot of Reggae fans in the audience. They love it.

The head on the left top corner illustrates that there where people dancing on the stairs to the locked balcony. This is my view from my DJ-set and I was placed just under that balcony and the stairs.
Anyhow, when Laurel Aitken starts to play Sally Brown, I'm afraid, of getting the stairs to the balcony on my head. I'm just under the stairs, and the people are dancing that wild on it, that the whole thing is shaking in a dangerous mode.
Laurel can see me behind the counter and send me greetings from stage. It's getting very hot inside the club and the walls are sweat. It's a big party going on. And when The Skatalites took the stage, I'm trying to get out for a little fresh breath. I'm walking alongside the fish market that smells horrible, that's why I quickly went back to the club. I can hear "Everlasting Sound" from inside. They don't play every note correctly, but nobody cares about that. Rolando produces a feedback while he's playing "Lee Harvey Oswald", but again, nobody cares. The audience is completely mad. Ska fever is in the air. Between the shows I play other sounds, to bring the three groups' sounds better into a contrast. Otherwise the audience get a Ska overdose. Then Laurel Aitken is coming back on stage with The Skatalites to sing "Come Dung". But I don't know why, but The Skatalites are playing "Latin Goes Ska". Funny about that is, that Laurel is chanting "I'm in the mood for Ska" over that theme. What a combination, what a funny interpretation of these two tunes. A live mash-up. Most people in the audience don't realize, what kind of drama is happening on stage. The final tune for the evening is "Bordeaux City" with "Phoenix City" theme and everyone is singing with Lester Sterling while his solo. Fascination is all around.
My DJ-equipment is terrible. Only one turn-table is working, and only one cd-player is working properly. But the party is perfect, so am I. It's a positive ambience, no aggression. Barney sells a lot of merchandise. Everybody stays in the club after the shows. I enjoy the evening too. Sandrine is coming to ask me, if I could write her to the guest list in Toulouse the day after tomorrow. Of course I can. She is pretty. She asked for Bill Smith. I don't know why, but Bill is already left for the hotel. It's only a little walk from the club. Perfect to stay a bit longer. And also perfect to celebrate private party. Some of the members telling me later, that the ladies were kinky. Bordeaux we love you.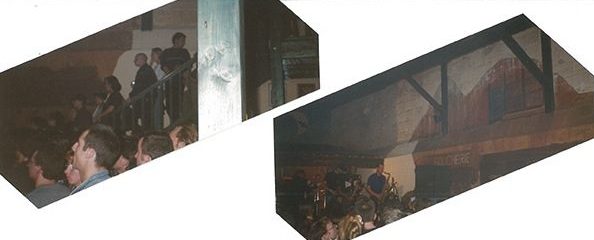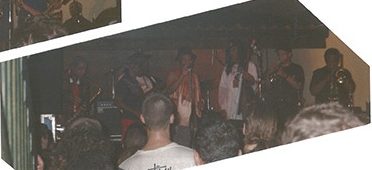 Overview Bordeaux, La lune dans le caniveau
audience: approx. 350, full house, mixed with Skinheads and Rastas

catering: good at arrival, nothing left for after show

backstage: haven't noticed one

diner: caribean dishes, too good, straight after arrival, best food of the whole tour

DJ-set: my best job with real after show party, 4-channel mix, but only one turn-table and one cd-player was working

HOR: their best show of the tour, everything was just perfect

Laurel Aitken: Sally Brown mashed the town and almost the house too, the upper floor was shaking, I was afraid of.

Skatalites: Laurel is singing "In the mood for Ska", while the band is playing "Latin Goes Ska", what a great melange.

hotel: check-in after show, cabin-shower in the room, not too bad

room mate: Will Clark

driving the next day, the same highway for the 3rd time
Website today: none found. It looks, like this nice place is not anymore…
Come back tomorrow, when we're arriving Montpellier. With a great meeting…