FRANCE
1st day, Tours, France, Wednesday, 16th of october 1996, La Pleiade

Tonight, 20 years ago is the beginning of the first SKASPLASH 96 Europe tour and the very first live show with the godfather of SKA & the legendary fathers of SKA music ever
LAUREL AITKEN & THE SKATALITES
The venue is "La Pleiade". It looks very modern, concrete, cold. It won't be the greatest show of this tour, but it will be the first ever.
This morning is the first meeting of all the tour members. Some of them, I know already from other shows, other bands or other occasions. We are 1 woman and 20 men. Wherein are 2 drivers (Barney is also merchandiser, Duncan is also roady), 5 original Skatalites (Lloyd Knibb, Lloyd Brevett, Rolando Alphonso, Lester Sterling and Doreen Shaffer), 4 are new Skatalites (Nathan Breedlove, Will Clark, Bill Smith, Devon James), 1 is Laurel Aitken himself, 1 is from the Laurel Aitken band The Pressure Tennants (Tony Looby), 2 are previous Maroon Town members (Jeff Lucas, Jeremy Holroyd), 4 are hired musicians from London (Cutty Williams, Bessa, Kirk Thorne, Dave Nicholson), 1 is tour manager (Shay) and 1 is myself (Ras Claude) as tour-DJ and helping hand.
The day starts with an early breakfast at the Hotel Balladin. Most of the tour members are too late. That means, they have no breakfast at all. Only Lloyd Brevett, Will Clark, Laurel Aitken, Doreen Shaffer, Lester Sterling and myself are lucky with the timing.
Through the day I meet the rest of the tour members, some of them for the first time (only the 4 hired musicians). There is also an interview for the radio. I only noted into my diary: "Nina – Wadada, Asso & Radio Beton". The receptionist of the hotel explains me the way to the club.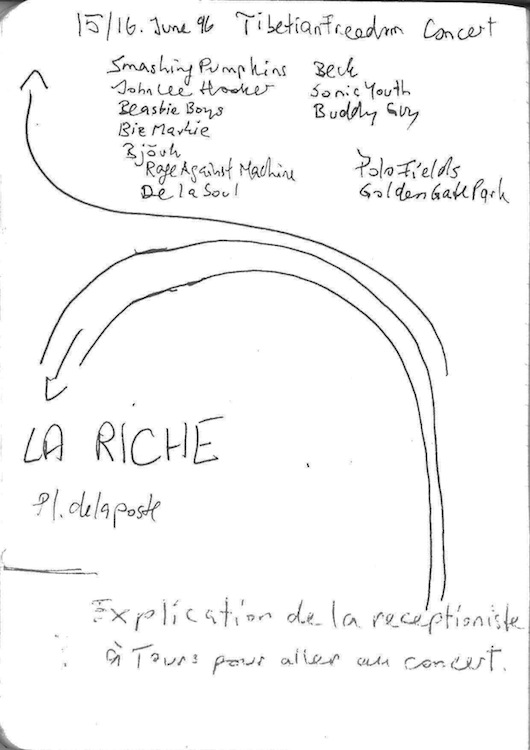 In the upper part of the page, there is all the names from the Tibetan Freedom Concert where the Skatalites have played in front of 100.000 people. Will Clark is wearing this t-shirt. Later on this tour it will be back in the focus (in Helsinki).
The backstage is very nice, the catering good and there are pretty young ladies serving the stars.
I have no DJ-equipment with me, so I always have to take, what's around. Tonight my equipment for the DJ-set is truly improvised and set up on an ordinary tables right in the back of the stage. Two channel mixing desk with two turn-tables one cd-player and a microphone.
The plan is:
20:00 D.J.
20:30 HOR
21:30 Laurel Aitken
22:30 Skatalites
24:00 curfew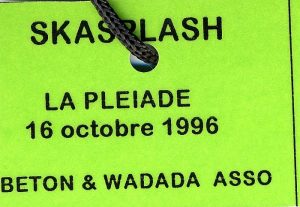 Jeff Lucas of the House Of Rhythm I know quite well, because, he visited Lucerne for my show with Maroon Town in 1993 and with House Of Rhythm in 1995. He explains me, that the House Of Rhythm band was split just before this tour. In a rush he built a new House Of Rhythm. I found this band very interesting. But tonight, this is their very first live performance. Not bad, truly.
With Laurel Aitken's sounds the House Of Rhythm is not familiar. Only Tony Looby is. He is the only Pressure Tennants (the real Laurel Aitken band). This show is also their very first performance with Laurel Aitken.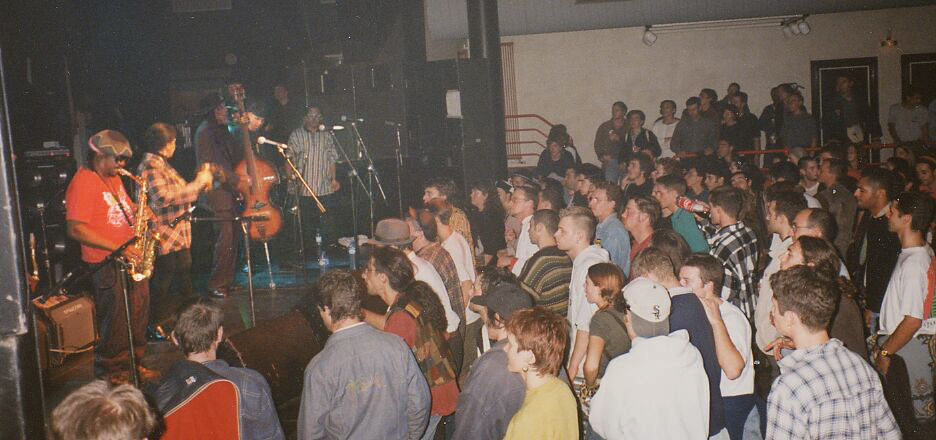 While The Skatalites are playing on stage I'm backstage with Laurel Aitken. Talking about his upcoming very first live performance with The Skatalites. It looks, like he don't care. What a great man. Smart and sexy. Laurel Aitken is changing his outfit every night twice, because, he is Mr. Skinhead with braces and pork pie hat in black colors. And as special guest with The Skatalites, he is a ska star, in glitter and silver.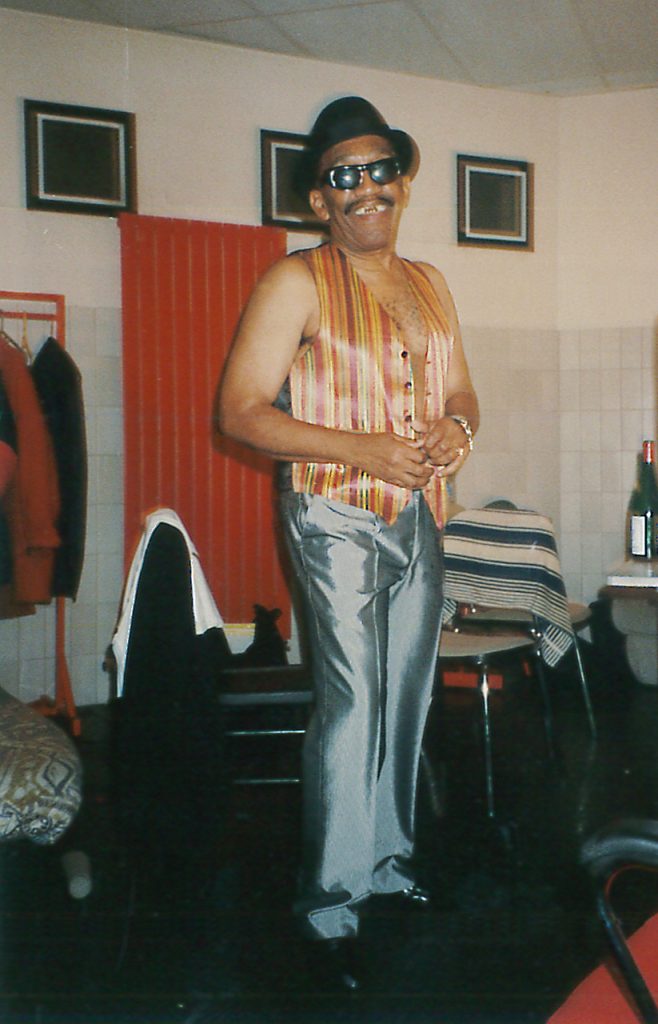 He explains me, that his meeting with the Skatalites in 1963 in Jamaica only was in the recording studios. There was no live performance at all.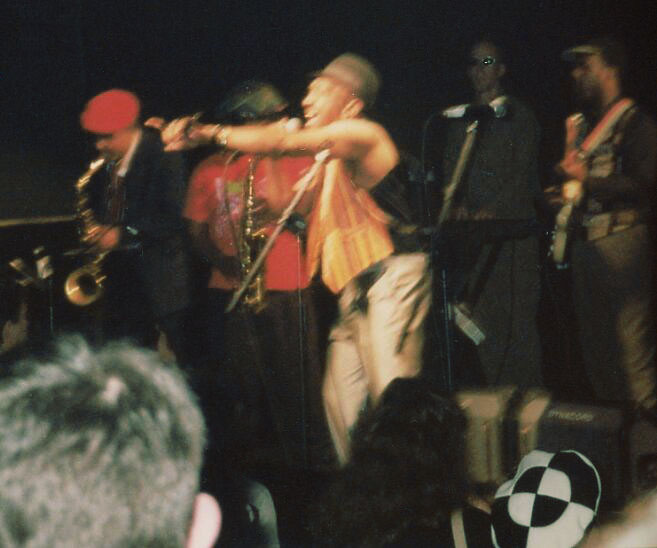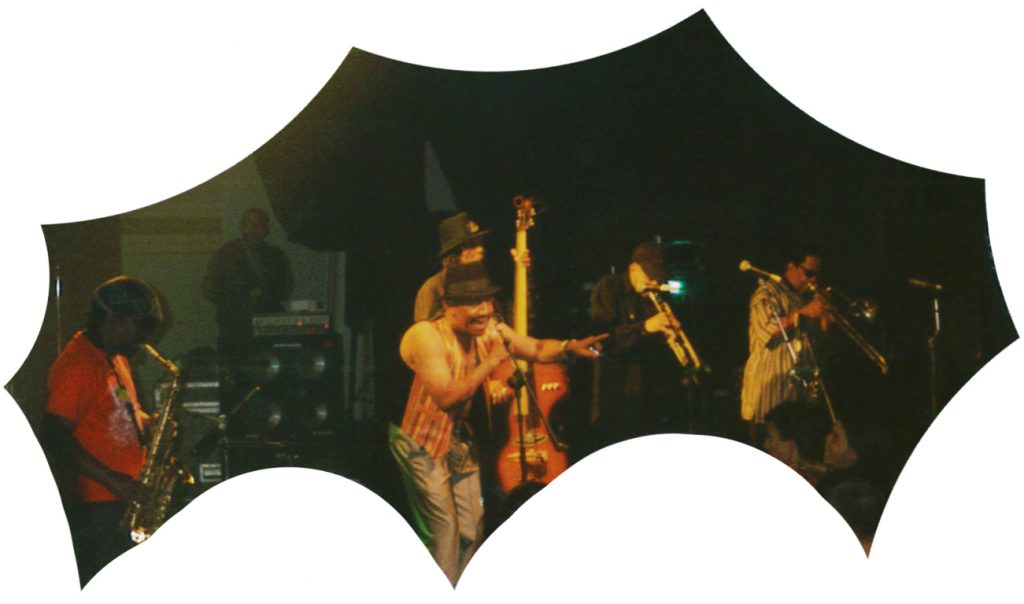 Find more about the club of today and where it is placed: La Pleiade.
Overview Tours, La Pléiade
audience: approx. 350 (capacity: approx. 1000)
catering: standard
backstage: quite pretty
diner: good with women waitresses

DJ-set:

improvised, on tables onstage, 

not easy only for background, 2 channel mixer with 2 turntables and 1 CD-player plus mic (I did the introduction for the first show of the first Skasplash show)

HOR: searching together, very first concert in this line-up
Laurel Aitken: angry about HOR, except Toni Looby nobody knows the Laurel tunes, they did only one rehearsal
Skatalites: very first show with Laurel
hotel: very small rooms
room mate: none (spent two nights in the same room alone)
I've noted: "La Pléiade, 1 rue Leon Bourgeois". The venue's website today: ville-lariche.fr/spip.php?page=pleiade

The Hotel Balladin is still there today:
Come back tomorrow, when The Skasplash tour is arriving Limoges.
Come back tomorrow at 10.17 AM to read about the travel to Limoges and the show in John Lennon Center.