20th day, Munich, Germany, Monday, 4th of november 1996, Muffathalle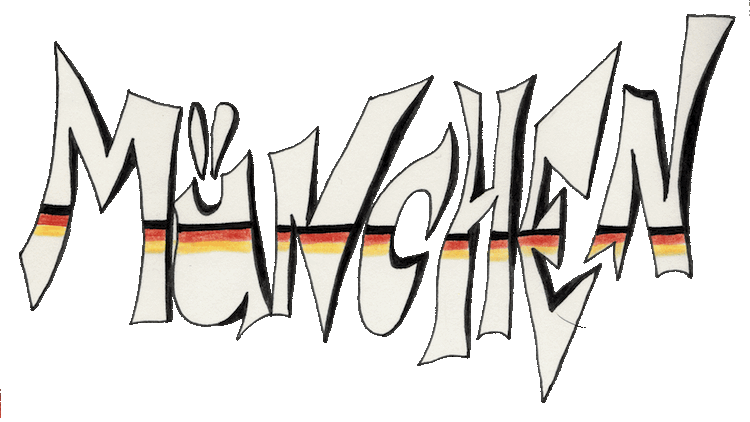 Today, 20 years ago, there was no sleep at all. We started after the show in Torino into that fog. To reach the Swiss border the Italian highway is quiet. I almost have no memory of the part of the travel.
I only made a few pictures of the woke up members of the house of rhythm:




But when the day is looking through the mountains and the sun is rising I feel home.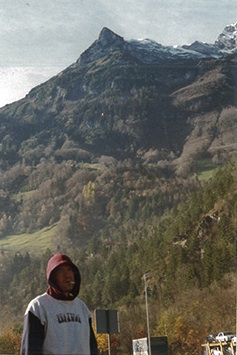 It's 10.26 AM and we're taking a breakfast near my home, in the swiss district called Uri, which is close to Lucerne. And short after that we will pass Lucerne again. What a pity, I will see my home in Root with all my records, and won't be able to take one? No, Shay please. A very short rest at my fathers house a coffee for all and I can take a few other records with me. I know all the records I have already and I need some new stuff. But you can imagine, there is not time nor the interest to do such a stop.
1.11 PM we're soon in Zurich. Another stop. We're all exsanguinated. Mashed. Laurel Aitken is hunting my food bag. Hey, what is that. Laurel you can't hunt for food in MY bag. However, I'm not angry about Laurel, but the tour management. I buy a Ricola sugar with Swiss herbs for Doreen as a little present.
2.16 PM we're at the German border. Bill Smith lend me his Walkman and I listen to Gil Parris & Joe Ferry produced by Bill Smith Vibe 'n' Virtuosity. It's fantastic. I love it. Never heard again.
3 o'clock in the afternoon and we're still behind the blue van. After Torino it's full of new words, the new ones are: "also available in blue" and "Rastaman". Whoever wrote this into the  dirt. Duncan wants to go to the USA in 1997.
4.50 PM we're arriving in Munich. Duncan is very very tired now. I've been talking a lot with him to keep him awake and concentrated. Barney was sleeping yesterday in Torino for 5 hours, what a luck to him.
I'm luckily looking forward for Munich, because I have another cousin who lives in Munich and will come to see the show. After Italy everything looks nobel, but Munich is very nobel. The Hotel Forum is a very nice 3-star hotel. This comfort is truly needed since a long time. It feels so different after all the less comfortable sights.
Lloyd Brevett is in a bad mood. Guess there was no smoke for a long time. It was just too dangerous after all these borders. And in Munich there is a lot of bears, but no smoke. HOR is calling themselves now House Of Reallove.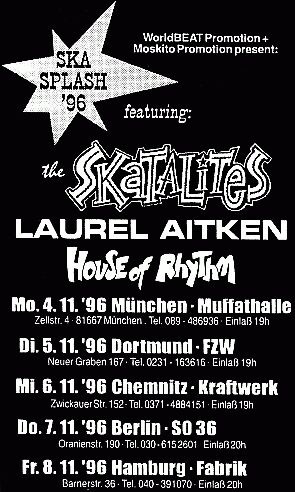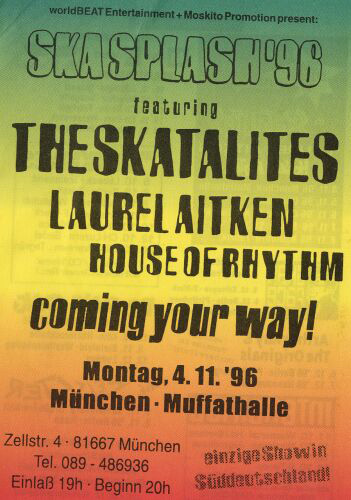 All this flyers and posters are looking great to me, but I'm missing the concept and my name. Vin asked me to be the DJ for the tour, but in Germany nobody knows about me nor a DJ. They're all surprised. I'm upset. But luckily in the Muffathalle they have a DJ-set left of the mixing desk inside the audience. From the hotel to the Muffathalle it's just a short walk.
I meet my cousin and his wife and they give me another name for the guest-list in Amsterdam, I keep it. My DJ-set is nice, and I remember that someone asked me, what a great Macka B version I play of a well known tune (maybe this is not exactly the same version, but almost: Panache Culture feat. Macka B "I don't like reggae"; I carried the maxi 12inch single with me)?
Munich loves Skasplash it's a real happening.
But the audience is getting wilder and wilder,  finally 7 Skinheads enter the stage and Shay is trying to take care of the godfather of Skinheads.

Everybody is celebrating the exclusive show and the undying music and is skanking all night long.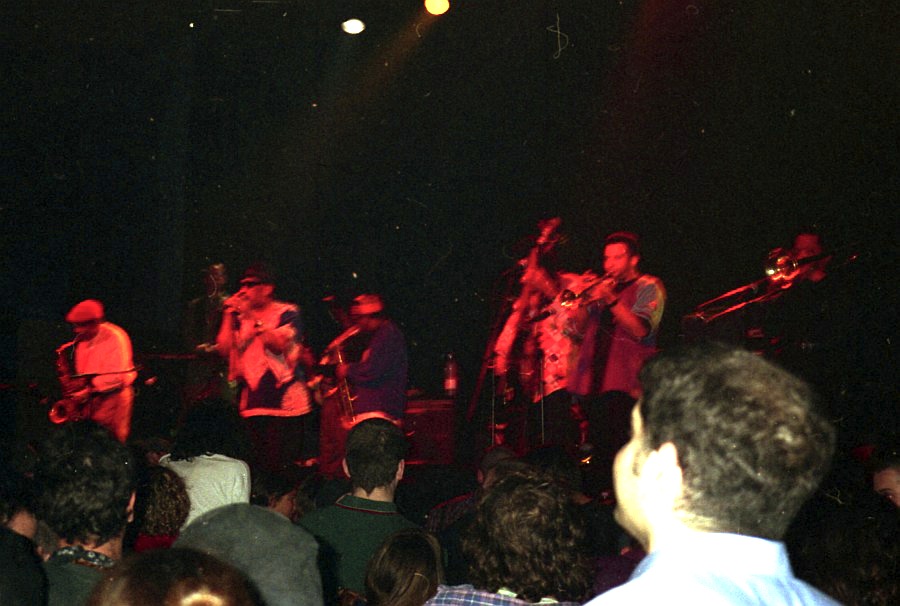 What a great moment. To make music is to load the batteries. Even when Lloyd Knibb looks a bit tired after the show, he's happy and very fit.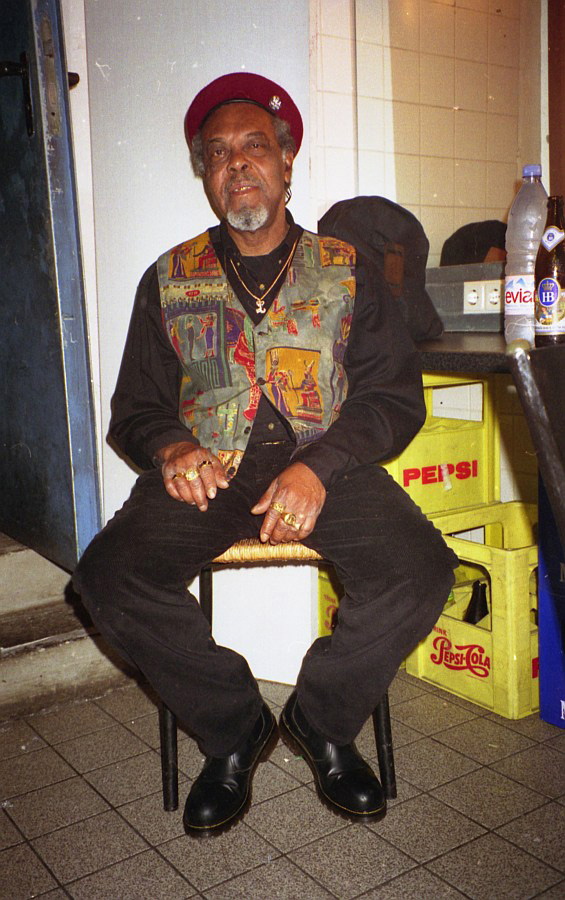 You can imagine, that everybody went as fast as possible back to the hotel after show to fall in a deep sleep. And to finish this blog here are some more promotion materials.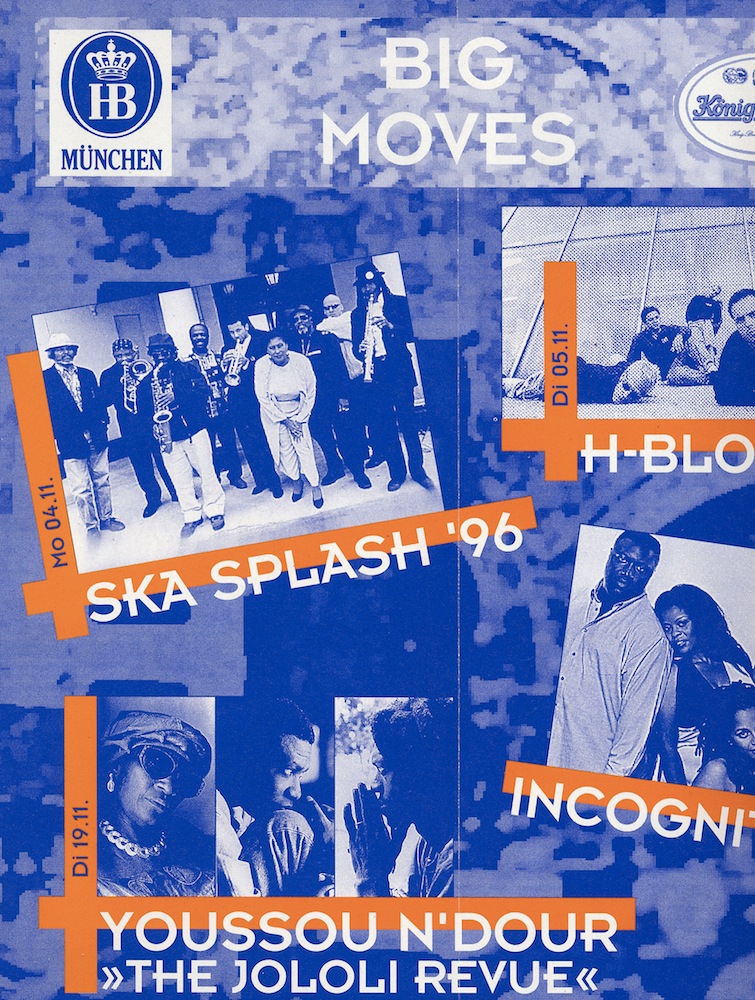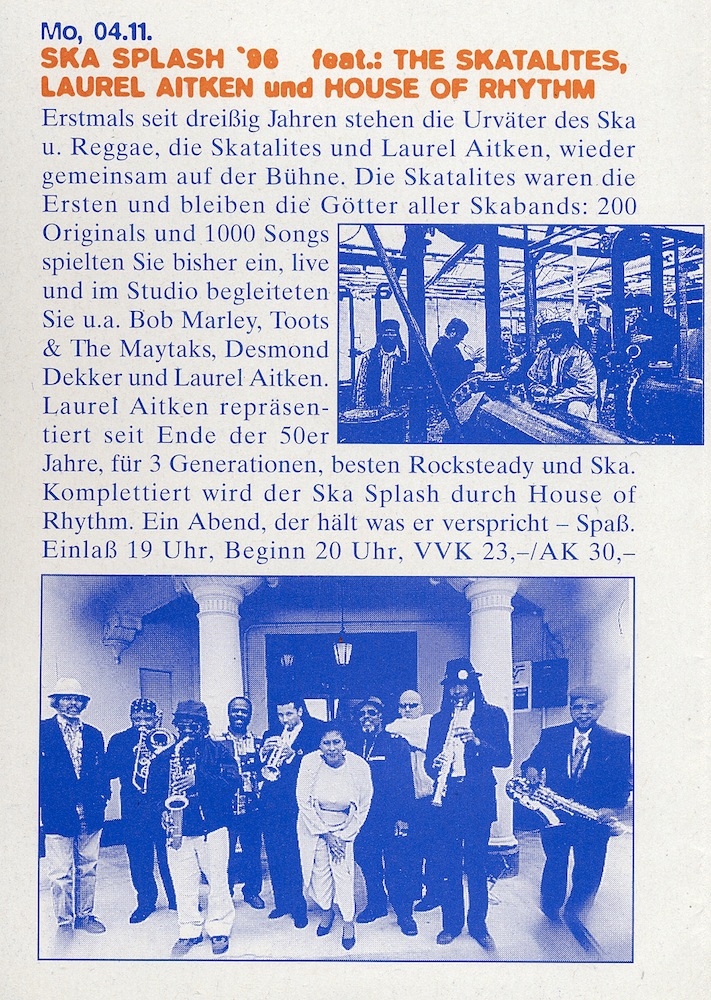 The first sentence of this promo text is not true. Because it's not the first time after 30 years they stand together on stage. It's the first time ever, because 30 years ago they've been only in the studio and not all of them together. Laurel Aitken did some vocals in the studio alone. But they told me, they never showed up together way back in 1964.
Overview Munich, Muffathalle
audience: approx. 450 (capacity approx. 850)

catering: not enough for all

backstage: good

diner: money for self service

DJ-set: I'm inside the audience, 2 channel-mix with two turn-tables

HOR: good enough

Laurel Aitken: almost enough

Skatalites: quite enough

hotel: first class, only a walk from the Muffathalle

room mate: Will Clark

driving the next day, far enough, without Doreen!
The hotel forum doesn't exist anymore. But possibly it is this place:
Website today: muffatwerk.de


Come back tomorrow, we're playing in Dortmund in FZW and without Doreen Shaffer. To find out why, read about it tomorrow.