19th day, Torino, Italy, Sunday, 3rd of november 1996, Barrumba
Today 20 years ago, the Skasplash tour is celebrating its show in Barrumba Torino.
After breakfast in Quiliano we're all a bit upset about the regime of Shay. He gives us not one hour to take a bath in the sea. It's that close and we all thinking that we deserve such a small gesture. But there is nothing to change his mind. So we're leaving that nice place to drive to Torino in Piemont.
3.00 PM: We're arriving in Torino at the Barrumba club. And it's truly too early. The club manager is surprised that we're already here. They are not prepared and that's why there is no catering at all. After a while, they bring us some sandwiches. We're still hungry and angry. So we're walking through the town. Looking for an open shop. But it's Sunday, everything's closed. We're almost alone on the road.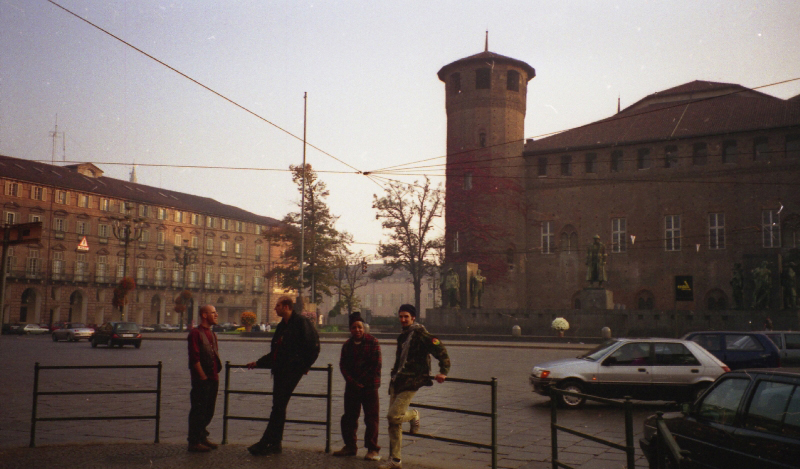 In the background that's the Castello.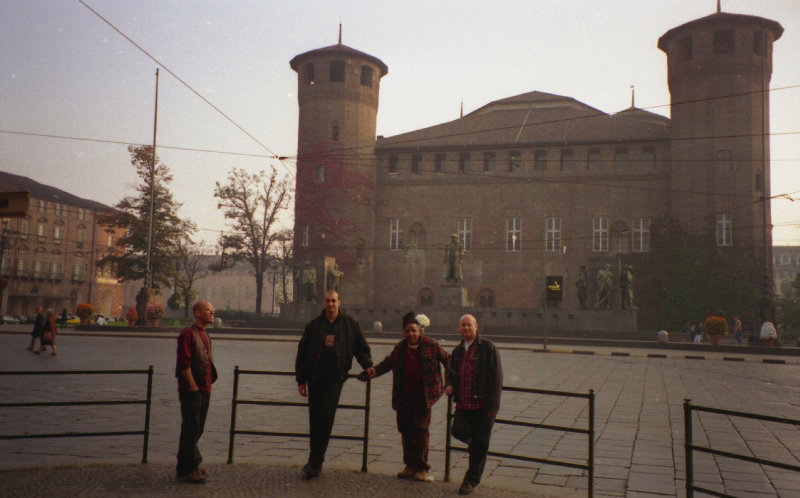 After 30 minutes of walk, we're arriving at the train station. Suddenly there are many people around. And there is some food to buy. On the way back I buy myself a nice necklace.
6:50 PM: We're still hungry furthermore there is no toilet for the artists. But there are 4 beds inside the club. What for? Is this a bordello?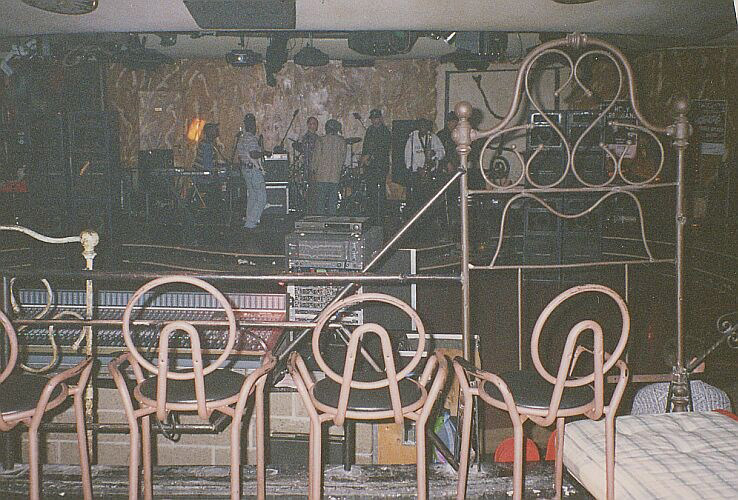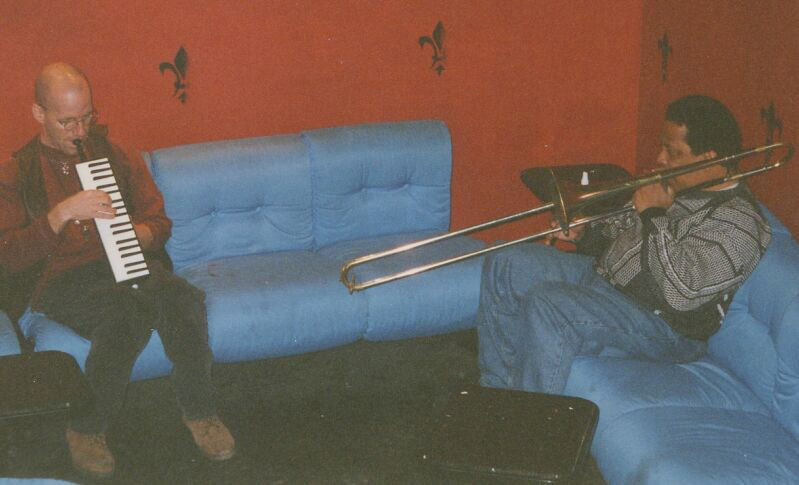 I find Bill and Will not in the backstage, but somewhere in the club. This club is truly very special. Obvious the door is still locked, the audience is coming later.
9.30 PM: The diner was good. The club is a bit scary. There is no real stage. The DJ is comfortable behind the part of the not existing stage. I find a DJ-CD-player for the first time. Never used to use something like that, it's a Pioneer. But I'm trying to scratch and loop my CDs and it works. Cool.
The ambience in this club is more family like than in other clubs. Maybe a bit too much. I don't like to be that close with people I don't know at all. But in fact, we have a great party and an even better time.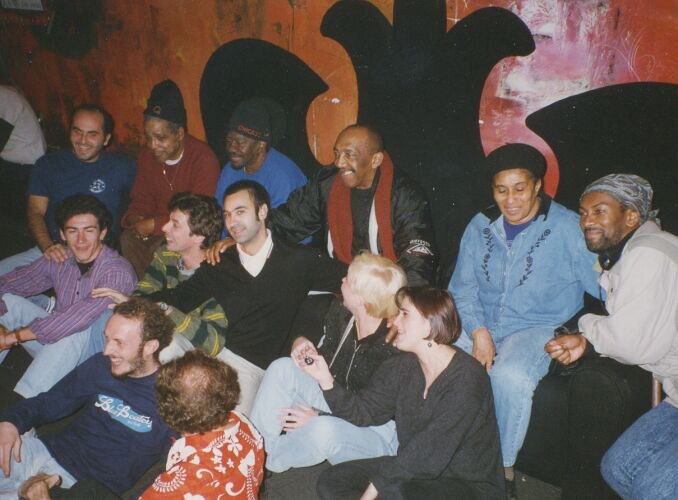 On this picture it's the ambience you can see.  It illustrates perfectly how important the contact to the fans is. All of them enjoying to be welcomed and cosy.
Bessa tells me, that he felt a great spirit when he saw me in Paris. I was fixed for that 5 hours of madness. I was dancing 5 hours. He is impressed. He said: Your soul is african. He is surprised, where I take all this energy from. Bessa is from Ghana and played with Osibisa he lives in London.
Later, Nathan Breedlove comes to me and is talking about lost souls and that this tour is really hard. It's a shame, that the Skatalites have to travel like this. Working this hard is not good. It's just too long we're waiting to finally start the show. Though it's the last show in Italy.
11:50 PM: A real heavy beginning for me. I don't know why, maybe it's just, because the whole day was a bit strange. In the morning we had no time for a bath and then we're sitting around for hours for nothing. House Of Rhythm starts strange as well. The club is quite empty, whenever it's a small club. It's filling slowly and before the end of the show, Cutty liven up the whole thing in his cool move with Tony Looby.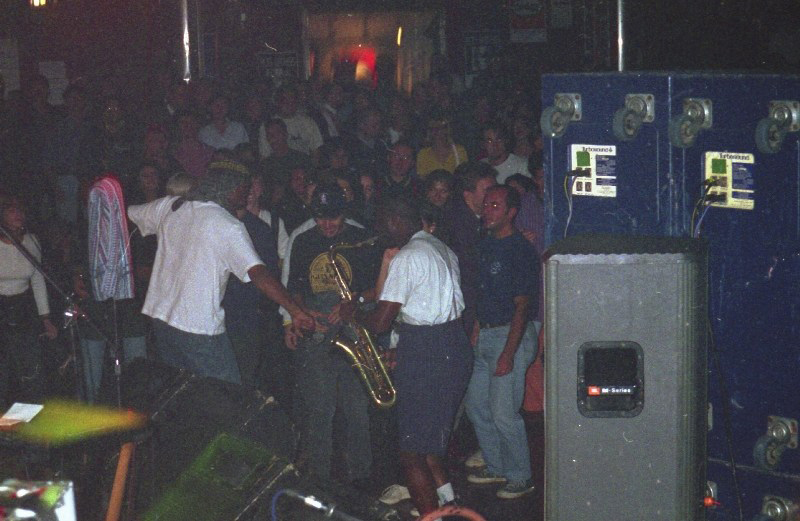 The picture illustrates that there truly was no stage, the audience was extremely close to the artists. And Cutty took his microphone and lead Tony Looby into the audience even deeper inside and Tony following. Unfortunately this scene is shadowed by many feedbacks. This is my save view from my DJ-desk.
0.25 AM: Rolando Alphonso and Nathan Breedlove are sitting beside of me. Nathan is the wise man on this tour. He's a star under the musical heaven. Lloyd Knibb is dancing with a lady it's funny I could cry out load. Will Clark and Lester Sterling are also beside of me in the DJ sector listing to Laurel Aitken & House Of Rhythm. To Laurel Aitken it's an easy game. The audience loves him too much. And he loves to swim inside the people and make a hundred new fans.
1.40 AM: The Skatalites are playing Nelson's Song, then Confucious, then Man In The Street. I can't go backstage, because the backstage is behind the so called stage. My legs hurting me, I was doing to much sports yesterday in the palasport in Quiliano. I'm very tired. Guess I've never been that tired before. There are still not too many people inside that crazy club. Next tune: Bridge View.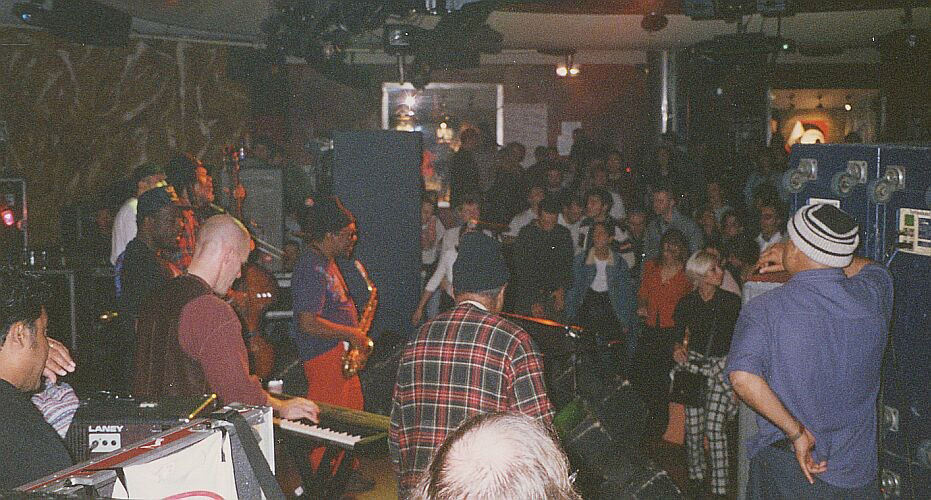 Shay and Barney really have to protect the older Skatalites. Me, I'm locked behind the scene in my DJ-area. The audience is almost on the musicians feeds, but they don't care and playing even better.
After the show, we have to leave Italy for Germany. Another overnight drive.
3.30 AM: Departure in Torino. There is a big fog in the air. We can't see much. Barney can't find the right way to the highway and we're loosing a lot of time, before we're leaving Torino.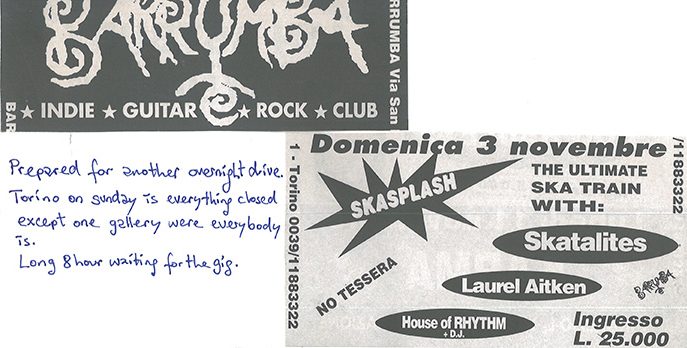 In my foto album is this cut off flyer from the club. 8 hours of waiting, how crazy is this?
Overview Torino, Barrumba
audience: approx. 250 (capacity approx. 350)

catering: not enough

backstage: very small, access only across the stage

diner: in one of the best restaurants from the tour

DJ-set: Italy I love you, great sounds, 3 channel-mix with two turn-tables and one Pioneer DJ-cd-player (with loop and scratch)

HOR: Cutty is walking into the audience with Tony Looby holding the microphone into Tonys Sax

Laurel Aitken: The Master

Skatalites: again they are the cream

hotel: none

room mate: none

another overnight drive
It seems, that Barrumba was closed somewhere in 2007. Therefore there is no website left. www.barrumba.com is not really helpful. I've found my infos here: afterlife.it


We're driving all night long to reach Munich for a show tomorrow. But again, we're crossing Lucerne, my home town. Will there be a moment to meet friends? Come back tomorrow for another story.