NoF-NoF Session is always a nice event
The Skatalites in Germany for the first time
Bicycle ride 160 km Lucerne – Neuchâtel with NoF-NoF Session (including one hour audio documentary)
And The Skatalites at their first ever show in Germany, Duisburg.
This is the beginning of many great events. First I woke up at 6 AM. At 7 AM René and I started to ride our bicycles from Lucerne to Neuchâtel. This is a 160 km ride (Google route planner is talking of 140 km, but I'm quite sure, it was a bit more). At that time I was very fit on the bicycle. In 1989 I drove about 3000 km to Berlin – Munster – Amsterdam and back to Switerland. That was short before the berlin wall was crashed and the German Democratic Republic (see en.wikipedia.org/East_Germany) was settled down. Therefore I had to take the train through GDR. But that is another story. In 1990, 1991 and 1992 I also was riding over 4 Swiss mountains in 12 hours (called the Alps brevet). I was fit enough to ride 160 km to select hours of great music.
Before you hopefully keep on reading. I enclose at this point the wonderful souvenir, NoF-NoF sent me a few years ago. He recorded my NoF-NoF Session that is 25 years old today. To celebrate that day, and our friendship, that is also 25 years young today you find more than one hour of my c-lection. NoF-NoF recorded it onto an video cassette (audio only) and to transform it digitally it took a few years.
What you hear is: Ska Wars (Rico) played by NoF-NoF himself to open the "NoF-NoF Session – always a nice event". The second tune is DJ Clat (= Ras Claude) with Bombo Claat (Peter Tosh), Rootsically (Iqulah) and so on. Finally there is Cleopatra Rock (Skatalites) on it (thanks to this recording, I didn't remember, that I've played that tune. A few days later (on august 23) I asked Tommy McCook about this tune…).
René and I drove along the back country of Lucerne. Somewhere after Willisau we took the wrong way and landed up the mountain called Napf (it's a funny hill, because Napf in English means cup or bowl) before I agreed, that we're on the wrong road. It was heavy to drive uphill until the road was finished. Then we had to drive all the same way back again. So we were tired just after a short distance from our home town. The rest of the drive was nice. The weather was perfect. René and I had a lot of time to talk about this and that (that means, I have no idea about what). Finally we arrived Neuchâtel.
Our bicycle ride from Lucerne to Neuchâtel today looks like this:
I had the address of Alain Salvi and he took us to a nice café, where some of our other friends from Neuchâtel waited for us. Part of the Mad Lighters. We smoked spliffs inside that café and chatted for a moment.
The Mad Lighters is a great Ska and Reggae band from Neuchâtel who have played with Rico Rodriguez for years. And Mad Professor mixed their albums. Yes, it was a few years before that, when I was working in a record store, when their debut album falling into my hands. I loved it from the first moment. On the back side of the CD was the address of Antonello Lubello, the band leader. I wrote him a letter and asked him, to come with The Mad Lighters to play a show in Sedel (sedel.ch) in Lucerne. In 1991 it was my very first concert I promoted. It wasn't a great success, but Alain Salvi came with the band and recorded the show. And after their phenomenal show, they all liked my after-show-records-selection. And that was the point, where the name NoF-NoF came into my life. Everybody was talking about NoF-NoF. And so NoF-NoF invited me to come down to Neuchâtel to play the famous NoF-NoF-Session at the Case au Chocs in Serrières.
The case au chocs at that time was an old chocolate factory, with an absolute great atmosphere. But, before I first met the man himself. Alain took me to his home, where René and I slept for an hour or so. Finally Alain brought me to NoF-NoFs place just a few meters away from the club. NoF-NoF welcomed me with a great table of nice food and his beautiful lady in their amazing loft. I felt like a superstar, just because I knew, that this is a place, where superstars have been around. NoF-NoF told me stories about Lee Scratch Perry, Peter Tosh, Rico Rodriguez, Dennis Brown, Peeni Waali, etc.
I'm not really sure, but I guess, René stayed in the city to welcome the car from home. In that car, there was my brother Roger, his girlfriend Caroline, Katrin and Hortu (our saxophone player and the driver). They brought the music with them. I guess met them straight at the club. NoF-NoF started the show with Ricos Ska Wars (theme of Star Wars), a rare 12inch maxi single with Rico's signature (many years later my record dealer Markus gave me the same for working one day in his shop.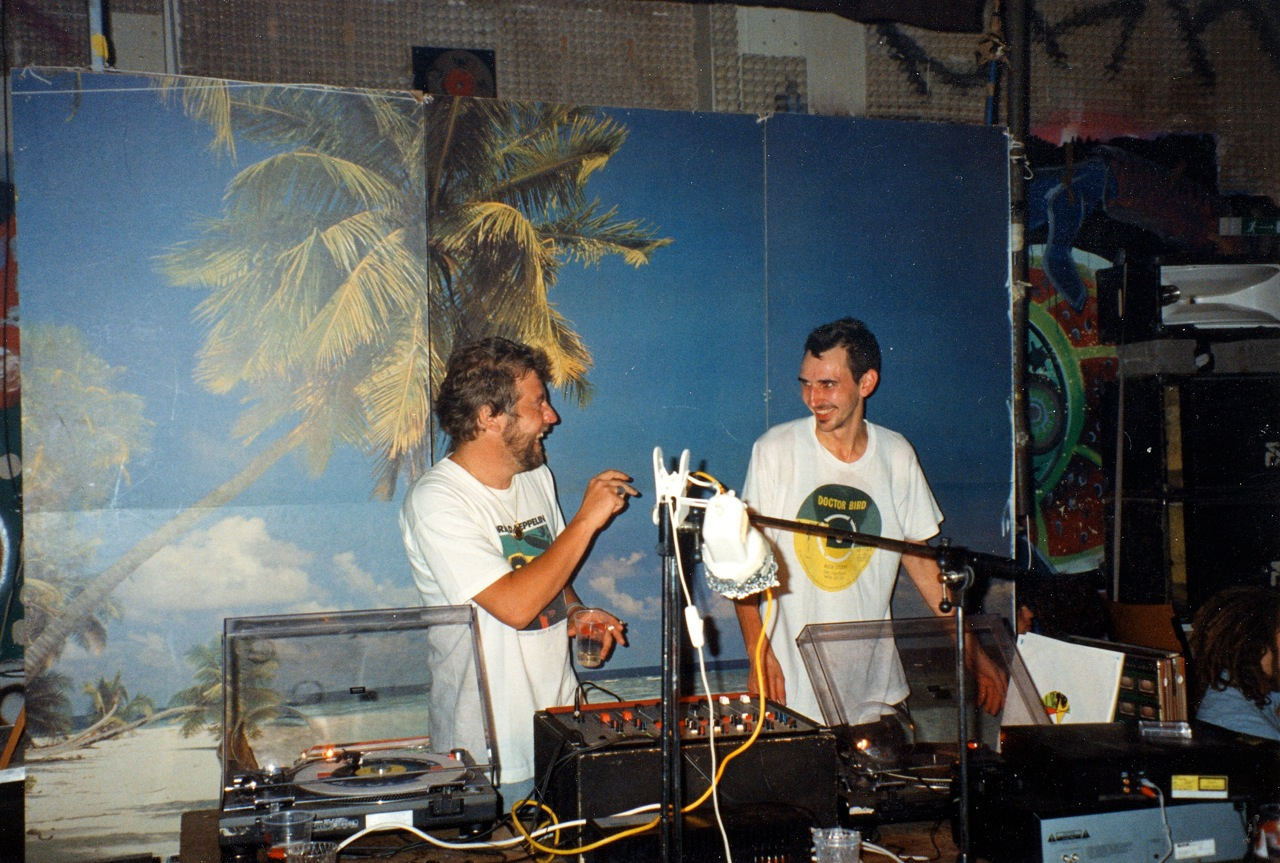 Oh, yes, I loved this shirt with the Doctor Bird label (Rocksteady by The Fugitives was the tune, one of my favourites). Great is also to see the record aside the turn-table. It's a rare Rico & Friends that you also can hear on the audio on this page.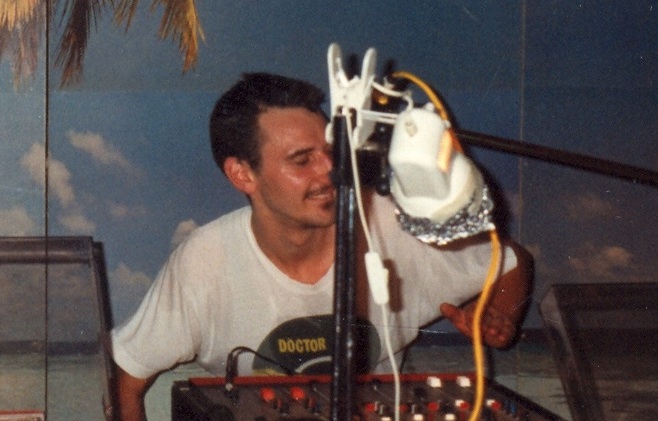 The Session was announced from 11 PM to 2 AM. After the party, – it was a wonderful and great party!!! – a NoF-NoF-Session is always a nice event! – my friends from Lucerne went back home with the music and they took René and his bicycle with them. I said bye bye to them. I remember, we went back to Alains place with a little group of people. Alain took some of the hottest and rarest sounds and we danced along (about 4 or 5 people and two young ladies). I was very shy at that time and I wasn't sure, if there was one of the young beautiful mademoiselle for me or if this was just in my fantasy. My french was very poor at that time (and still is :-). However, while Alains selection kept on, I felt in love with one of the young ladies, but I was too shy and toooooo tired. So I asked Alain to finish his session to take a little rest on the sofa in the living room. I was very tired at about 4 AM.
What a day.
What a memorable day. Since that day, I love Neuchâtel sincerely and deeply. It's a beautiful town with very special habitants and still a lot of friends. The young lady I have never met again. I don't know her name.
One year after, in 1993, I played the second NoF-NoF Session at the same place. That one was very different. I was hosted straight at NoF-NoFs place. But that again is another story. And the last two years (2016 and 2017) I played two NoF-NoF-Sessions at the FestiNeuch (festineuch.ch). But now back, today 25 years ago.
That same night, The Skatalites played in Duisburg at the Beach Festival. That was their very first German show.
Beach Festival, Duisburg
This event is not easy to refined, all I've found is this address of the place, where probably the festival was held.
The Skatalites made about 170 km from Brasschaat to the Hotel Ibis in Duisburg.
Looks like the Hotel Ibis is still there:
One article on a German website documents this a little bit: