This is the day when The Skatalites played their very first concert in France
The first thing I did today, 25 years ago, was to buy a camera. That's why I have no pictures of the whole tour until this day. Don't worry, it was the time long before digital cameras and each picture was one dollar to get it. That was awful, but on the other hand, the number of pictures was limited and does a lot of pictures make anything better?
And still, I wasn't taking pictures on that second day with The Skatalites. I was too shy and I didn't want to disturb them with my presence or cheap flash light. I don't remember the circumstances, but when I went to the hotel The Skatalites have gone already. I was quite lost in the empty hotel lobby. I went back to the festival area, but no Skatalites there as well. Luckily Vin gave me a festival pass.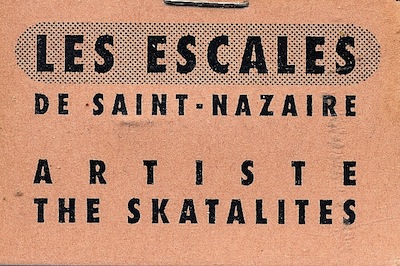 With this pass, I asked the festival director where to find the Skatalites. He checked it out with his walkie-talkie, but no one knew, where they are. He said, they aren't on the festival area for sure. I went back to the hotel, where I found them. Soundcheck was made already.
Later on we went back to the festival with the taxi-bus. I felt like VIP to drive through these hundreds of people. In the backstage, was my first time I met Nathan Breedlove and Luis Bonilla, they both went individually to Saint-Nazaire and took the two days off for personal things. I remember I was talking to Luis in the backstage and told him, that I play flute and trombone and that it's a mess with my lips. He told me, that he is playing the flute as well. And that he's also playing with Lester Bowie's Brass Fantasy (I had this CD and knew that amazing band already a bit, here is 19 minutes of Lester Bowie including Luis Bonilla). Then a few Ska fans from south of France went into that little backstage to ask for autographs and pictures with the legends. Especially Tommy McCook was asked to do so. Before the show started, I asked Vin again for the Festival pass, because he had to use it as well for himself. I wanted to record the show from inside the audience. With that VIP pass, it was easy to get outside into the masses and to find back backstage after the show.
It was great to get outside and feel this solitude. Inside of thousands. Then a big fireworks shines into the night sky. It was crazy, but I saw a bicycle racer with all his luggage heading to the mixing desk inside that open tent. I asked him, where he's from. He was from Germany. So we talked a little.
Then The Skatalites entered the stage and mashed the whole place completely.
Tracklist from 11.30 PM to 01.00 AM: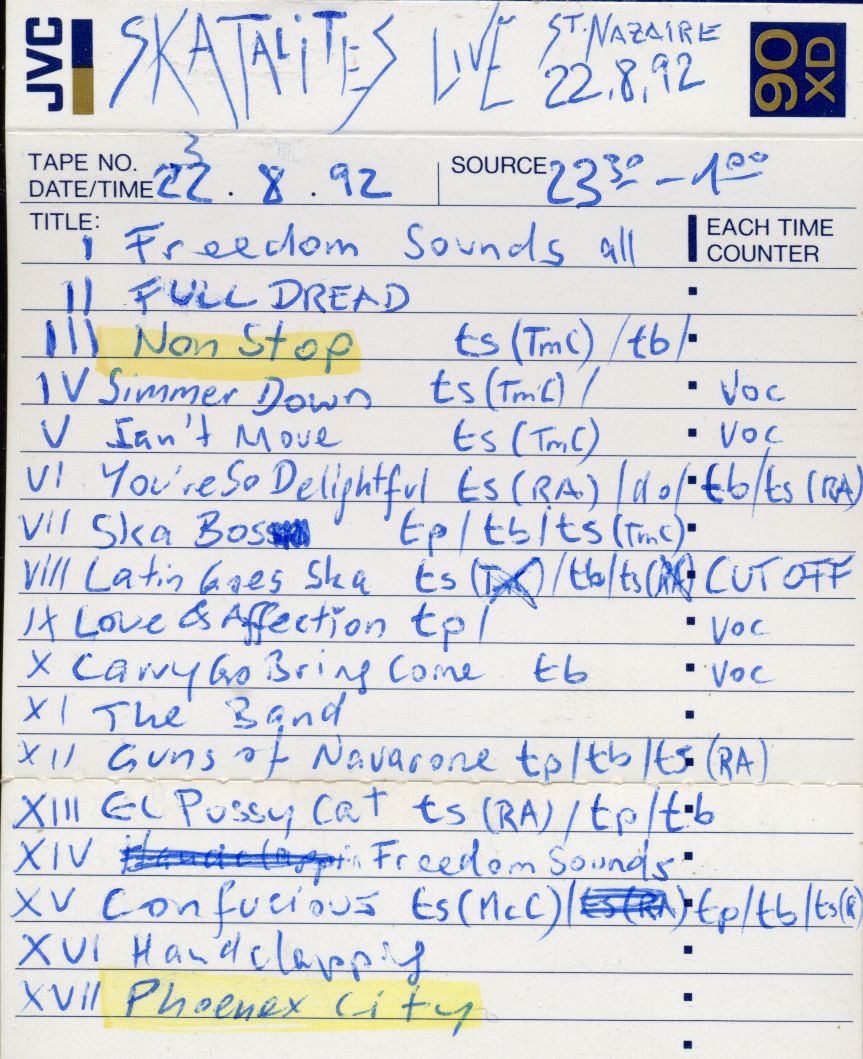 Freedom Sounds
Full Dread
Non-Stop (with solos by Tommy McCook and Luis Bonilla):
Simmer Down
Turn The Lamp Down Low
You're So Delightful
Ska Boss
Latin Goes Ska
Love & Affection
Carry Go Bring Come
Introducing the band
Guns Of Navarone
El Pussy Cat
Freedom Sounds Reprise (end of the show)
Encores:
Confucious (with solos by Tommy McCook, Nathan Breedlove, Luis Bonilla, Roland Alphonso):
Phoenix City
I'm very sorry, but I only publish some examples of this show. The quality is poor, and it's only a souvenir. But I guess some of the solos where some of the very best I've ever heard.
After the show I went backstage where the party already started. It was a great pressure before the show, but now, everything and everybody was very very happy. The show was the great final of the tour and also a huge success! Because it was the very first show in France, the fans came from far. Nobody wanted to leave. When we get back into the taxi-bus, it was completely different from before. Outside were  lots of fans looking inside the bus and applauding or just yelling. It was a heartbreaking scene. And I was inside it all. Back at the hotel I said goodnight and walked back to my hotel.