12th day, Thiers, France, Sunday, 27th of october 1996, Festival des R

5.50 AM, still on the road to Thiers. This is the first stop after Saint-Brieuc. Coxsone Dodd had big dreadlocked bodyguards way back in the 60s. He sent them, when somebody didn't work well.
9.40 AM, Jeff and Shay took the wheels, Barney and Duncan are completely tired. Even I had a view quick naps. There are still about 280 km until Clermont-Ferrand. The blue van have more graffitis now. «DES CHIENS» (dogs) from Bordeaux, «SKA» from Paris and «ROOTS» from Saint-Brieuc. But all these graffitis are only made with fingers in the dirt from the street.
7.50 PM, only 10 minutes to go for my DJ-set. I will start my show at 8 o'clock. Our hotel is very nice, the food was fantastic. I'm still sharing my room with Rolando Alphonso. He told me, he was very sick in 1972 and left Jamaica for the USA. He always thanks to «The Master» for giving him this second life. Still the warm-up band is on stage. I should start soon. But they play one more after another. I guess this group is quite famous in France. A rap crew from Paris. The audience is completely out of sense. The kids love them. And this modern place is full of kids. This group is still around (facebook)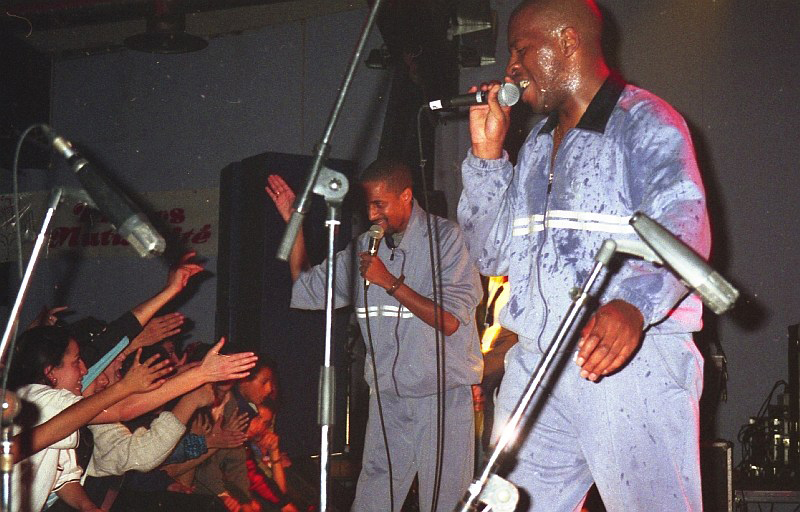 It looks like, this is the main act of the evening. But we are the Skasplash and we ain't started yet. Shay send me to the stage to unplug the crew for DJing and preparing the House Of Rhythm. I have to unplug the sound on stage, to get the sound on my DJ-desk on stage. I wait until a good moment, but when I unplug them, the audience buuhs me out. And the rapper still have their microphones on the PA. They start to diss me. But then I start with Shaggy «Oh Carolina» to calm them down. And when I play the next tune Khaled «Aisha» the audience is singing the lyrics. It's the actual number one in the french charts. I'm safe.
I'm truly happy, when HOR starts their show. The kids like them. And HOR is bigger than ever. Specially Cutty breaks the ice with his beautiful voice and his cool introductions.
I'm surprised that these kids are Laurel Aitken fans. His fans are everywhere and in every age. Maybe there where some hidden fans in audience before, but now they are in the front and dancing and moving all they have.
I'm very sorry, but I have no pictures of these shows at all. Guess, that it was too much for me, the dangerous situation with the rap crew.
The Skatalites are on stage now. It's too late for a lot of the kids. And the Skatalites sound  is to complicated. The kids have enough. And while The Skatalites are playing their tunes, the audience gets more and more empty. At the end, there are about 50 left.
But nobody cares about that. It was a long trip. A hard day and a long night. But we all know, tomorrow is day off. We all are looking forward to it, because Thiers seems to be a nice and lovely village in the mountain side. Only our hotel is quite far away from the main village. But, this is the story for tomorrow.
Overview Thiers, Salle Polyvalente, Festival des R
audience: approx. 300 (capacity approx. 500)

catering: female servants, very lovely

backstage: three rooms, more than enough

diner: in the hotel with a wonderful buffet

Local band: D Abuz System & Expression Direkt, a rap crew from Paris, the kids loves them, but they're playing too long

DJ-set: started, after I had to throw away the warm-up band, 4-channel-mix with two cd-player

HOR: no easy job, after the rap crew, but they won the kids

Laurel Aitken: he's the star, he get the kids as new fans, fantastic

Skatalites: too difficult, the kids are tired, maybe they have to go home, at the end of the show, it's only a little part of the people left

hotel: previously checked-in, comfortable, special breakfast, great to stay for two nights

room mate: Rolando Alphonso

no

driving the next day, another day off
This Festival des R doesn't exist anymore. Only this old MySpace-Page is still left: myspace.com/festivaldesr
The Salle Espace is still there. It's a governmental place, without real website.
Come back tomorrow, when we enjoy our second day off.