11th day, St. Brieuc, France, Saturday, 26th of october 1996, Festival Art Rock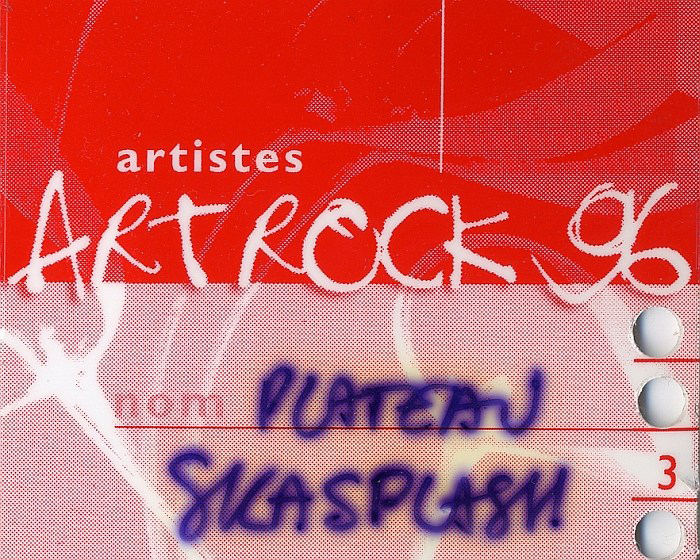 Still in Paris there was a female photographer who wanted a shooting with The Skatalites. After a little walk we found a nice place for the shooting. While she did her pictures. I made this one.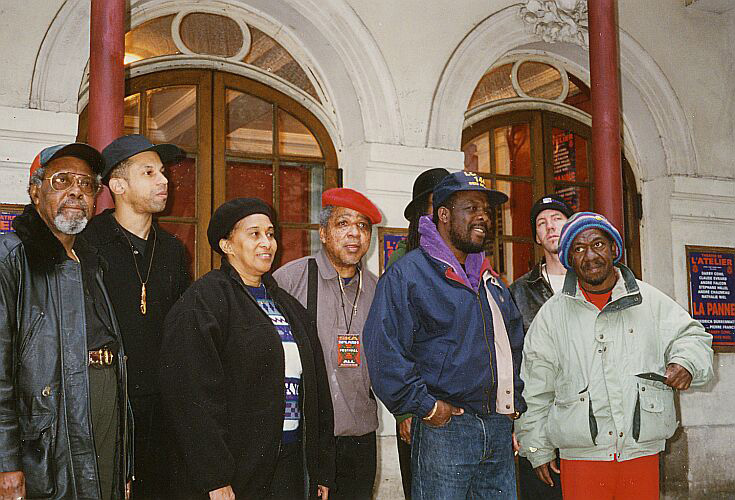 Left to right: Lloyd Knibb, Nathan Breedlove, Doreen Shaffer, Rolando Alphonso, Lloyd Brevett, Devon James, Bill Smith, Lester Sterling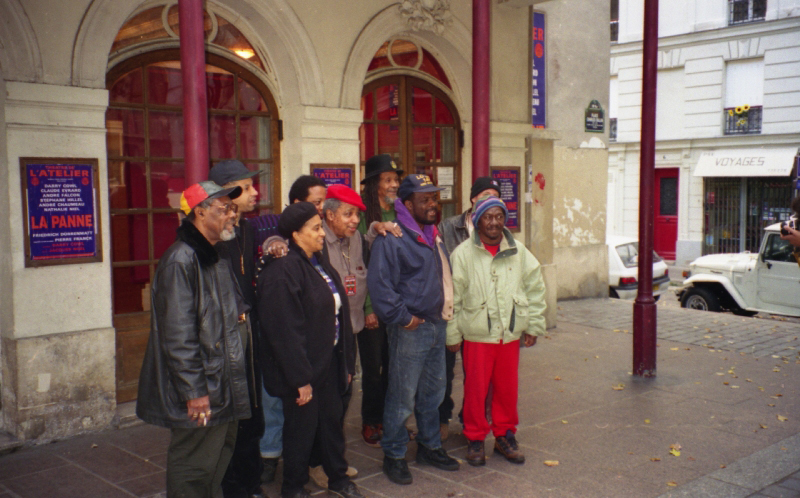 After the shooting, we're driving to the Selmer store. Rolando Alphonso wish to buy a new saxophone from the original Selmer, Paris.

Shay has the money in his pocket. The 21 of us enter the Selmer store. After a while I hear Rolando playing a new saxophone. But finally he doesn't want to buy it. But Bill Smith buy a melodica. What a great idea!
We are leaving Paris. The way to the Bretagne is far. On the route, we have seen trees growing very strange, because of the wind.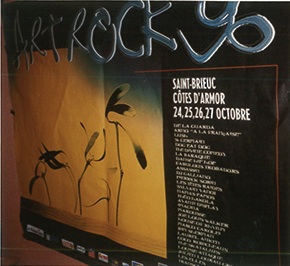 Late in the afternoon, we're arriving in Saint-Brieuc. 5.30 pm we check-in the hotel. It's nice. Again, I share my room with Rolando Alphonso. The musicians can take a rest. Shay and I went to the Festival. Because the Festival is quite far from the hotel, Shay is leaving me alone back at the Festival. I have to start as DJ all alone (means without the others, but the audience is not empty at all). I have a tribune opposite the stage in a huge hall. I have to fight, to get two cd-players. Finally I get one. I play a few hours, before House Of Rhythm is arriving. While I select some tunes, I take my flute and playing live over the sound. I can see the people. Only a few realize, that I'm playing live over. Most of them, don't realize it. 
The local warm-up band Marousse is not a Ska nor a Reggae band. There are about 1000 or 1500 people in the hall. But I guess only about 200 really listen to the show. It's a funny show. I enjoy it.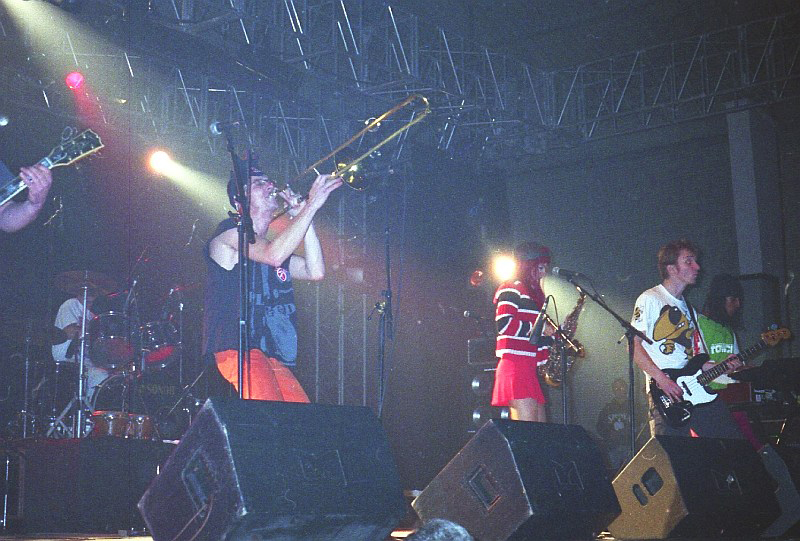 The food is in a tent. Shay took me there, while House Of Rhythm is playing.

When I walk through the festival I see fire pucker, jugglers and a lot of other artists all around. It is quite cold. And I remember that fog, you can't really see anything.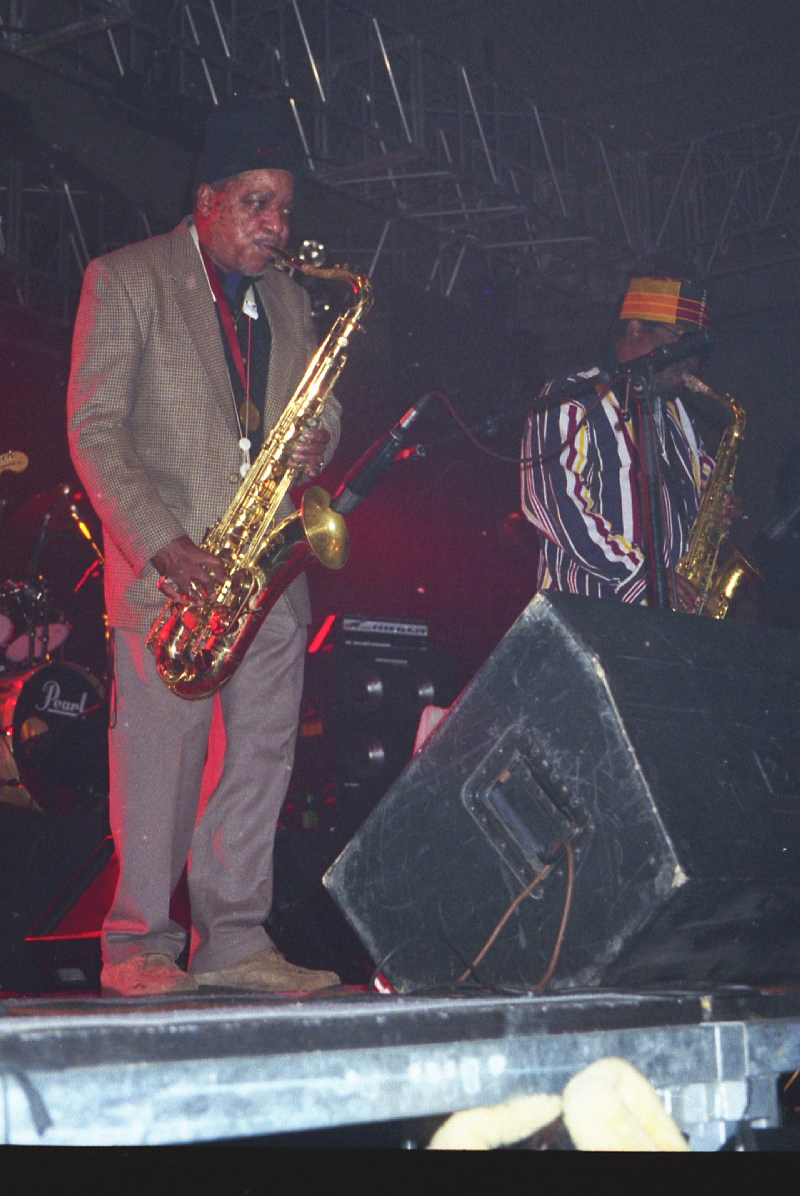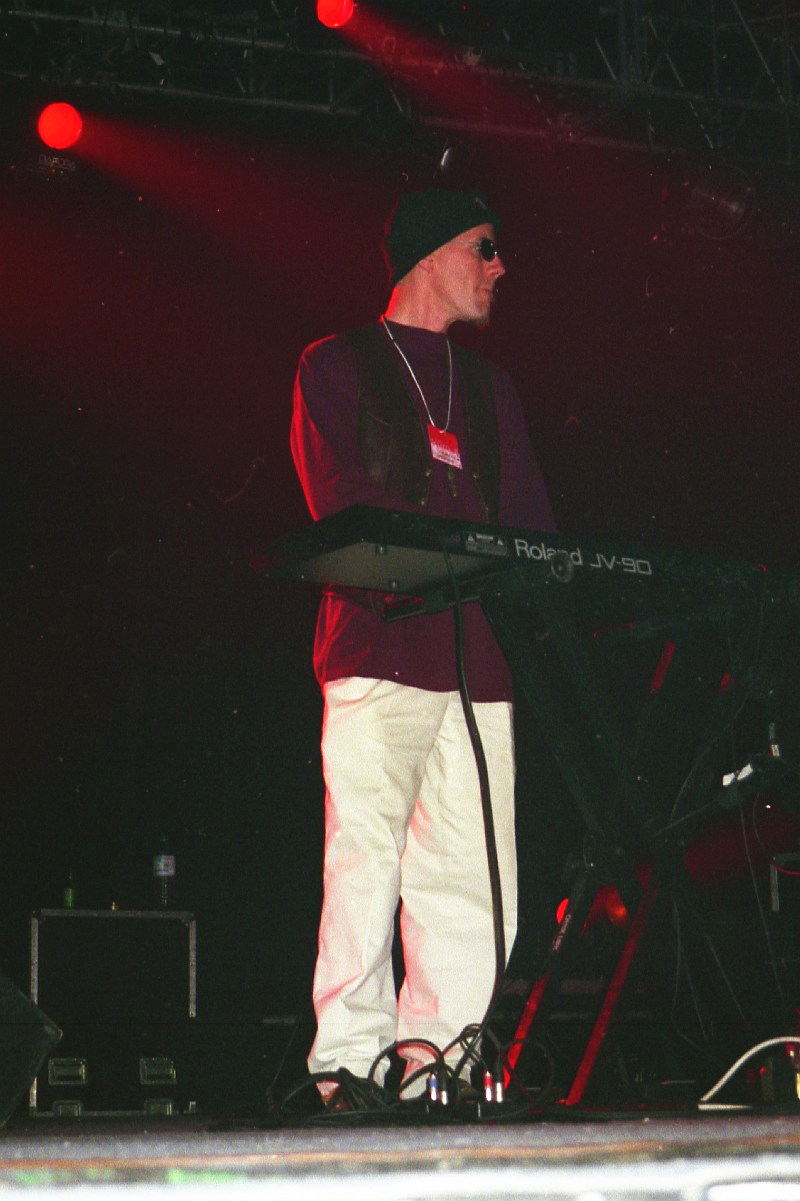 The stage is huge and the audience must look upwards to see the band. In front of the stage, there is a empty space for photographers. I took this picture from there.
2.34 AM The Skatalites are playing "Rockford Rock", then "Guns Of Navarone". A lot of people are leaving the audience. Just to see other attractions outside the hall. Lloyd Knibb is playing more than brilliant and Rolando Alphonso soloing just godly. Lester Sterling is very happy and is jumping on stage like a youngster. 2.56 AM "El Pussy Cat" with feedbacks. I see the engineer recording the whole show. I tell it to Shay and he gets the tape. Before the show, the engineer told me, he couldn't record the show. But I can observe him from my DJ-stand.
4.03 AM we're backstage. Now the schedule of the evening says, that Bim Sherman should be on stage, but he isn't. Then we return to the hotel. I'm in the Skatalites van, because HOR already went back earlier. I only see the bassstand falling down straight on Rolando Alphonsos head. Oh my god. He's crying a lot. Luckily he is not really blessed. Lloyd Brevett excuses his fault. I'm sharing the room with Rolando, so we go into our room. He gives thanks and praises to the master for that nothing worse was happening. Then Lloyd Brevett comes into our room: "We gwaan down". So we go down. No rest at all. Overnight drive – across France, down to Thiers this time.
Overview Saint-Brieuc, Festival Art Rock
audience: approx. 1500 (capacity approx. 2500)

catering: more than enough

backstage: trees and sofas, but not enough chairs for everyone to sit

diner: festival restaurant exclusively for the artists

DJ-set: I played for hours, my only set with live flute, I enjoyed a lot, two channel-mix with two turn-tables, one cd-player and microphone

Local band: Marousse (not Ska)

HOR: hard job, but France like this kind of ska-reggae

Laurel Aitken: always successful

Skatalites: people are leaving the hall, they had enough, too jazzy maybe too late

hotel: except me, everybody was resting in the hotel before the show, small rooms, but we didn't stayed over night

room mate: Rolando Alphonso (I was in the room for five minutes)

overnight driving shortly after the show
Website today: artrock.org
Come back tomorrow, after this first overnight drive. The Skasplash tour was invited to another Festival in Thiers.