9th day, Apremont, France, Thursday, 24th of october 1996, Le Grand Duc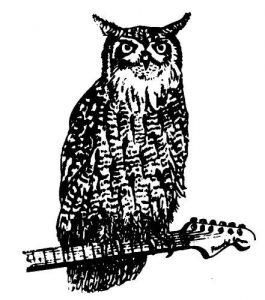 I love this place. It's that far from nowhere, it invites to party. Le grand duc looks great. Outside you can't believe, what you'll find inside.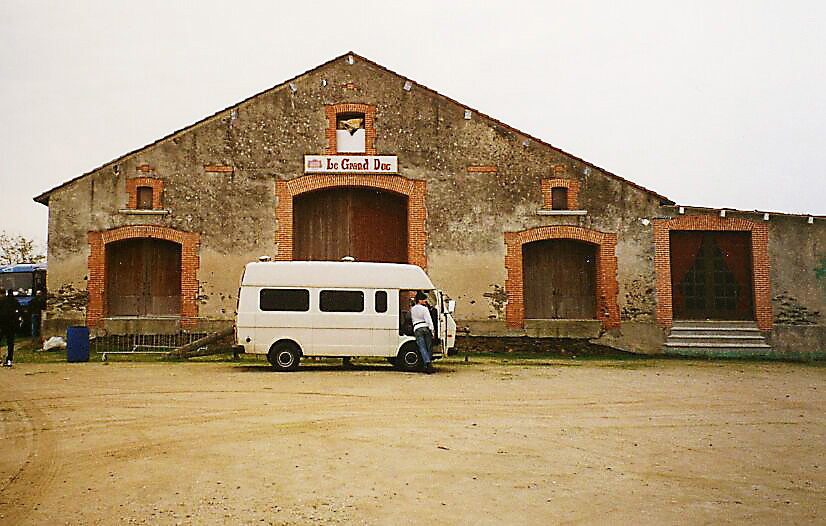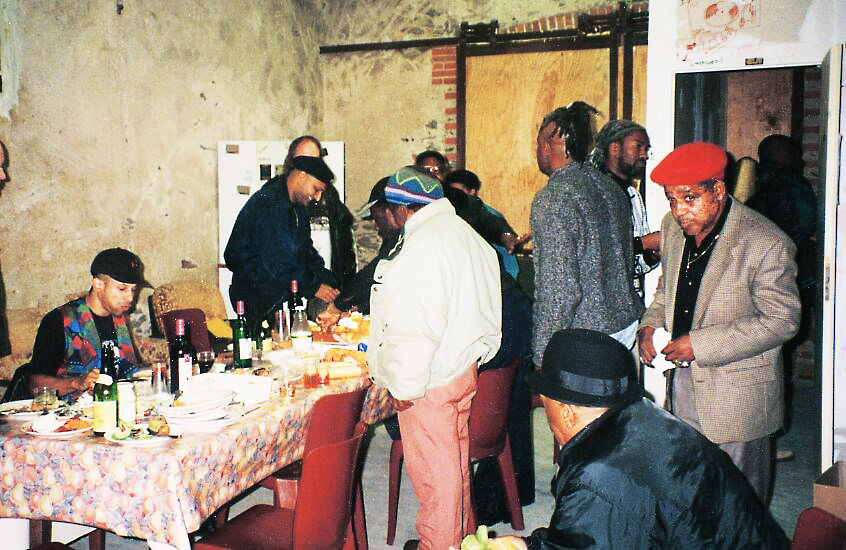 From left to right: Nathan Breedlove, Shay, Barney, Devon James, Lester Sterling, Lloyd Knibb, Doreen Shaffer, Laurel Aitken, Kirk Thorne, Cutty Williams, Rolando Alphonso. This is the absolutely best catering on tour, with avocados, salads, fruits and enough for everybody.
In 1996 there was no Google nor Google Maps and to find Apremont on a map, you needed a big mag of France to find. The house inside have two parts, a modern dancehall, typical Discotheque in 80's style, prepared with lot of love plus the long bar and the big hall is for the concerts. With a lot of paintings on the walls. Dogs are everywhere. They are dancing in the still empty concert hall.
Impressions from inside the concert hall at Le Grand Duc, Apremont 1996

The crew from the club, the engineer and other helping hands, they don't speak English. We have plenty of time, and the soundcheck endures over long. Some of the musicians are a bit pissed, because it seems not to be professional. This moment is taken for a jazz-jam-session with Will Clark on trombone, Bill Smith on keyboards, Jeremy on drums and Duncan on bass. Tony Looby and Bessa are watching and listening to this.
In the audience, there is no DJ-set, that's why I only use the PA with a cd-player. Because the soundcheck is too long, the people get hungry and a bit angry. Finally Cutty Williams is singing for the soundcheck: "Them belly full, but we're hungry and close to get angry" with reference to Bob Marley.
After soundcheck we're all driving back to Apremont to a restaurant. It's really always the same with the rude boys, treat them bad and they are soft, treat them good and they are rude. I felt ashamed, because almost everybody had troubles in choosing the meal. In fact it was quite easy. Two menus: steak with chips and salad or spaghetti with tomato sauce. But the first one wants the steak with spaghetti, the second the steak only with salad. I know this is not untypical, when someone asks for your wish. But it was funny, because the waiter didn't speak English. Again, this procedure endures too long and still everybody is hungry. Finally the food is great and everybody happy.
The audience is well packed. The ambience great. Party time. The backstage is full of young ladies. All the shows are great.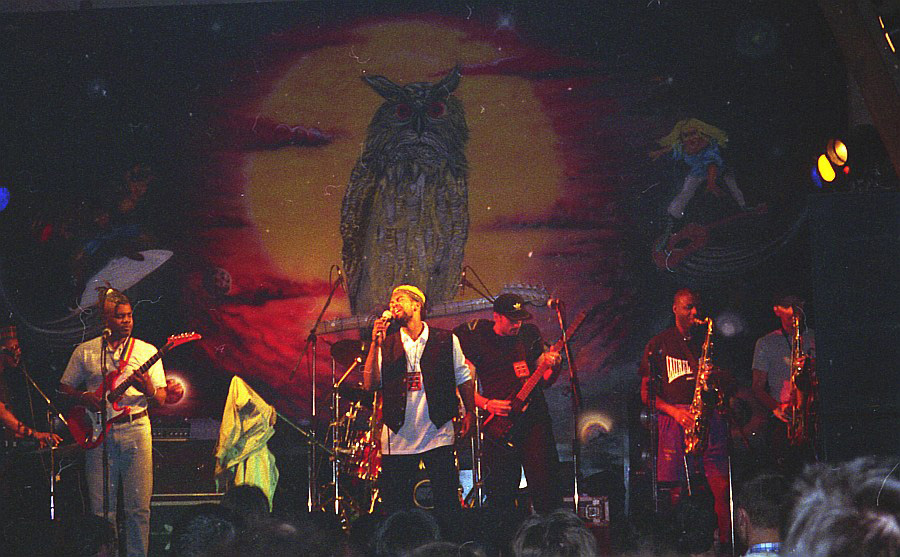 From left to right: Bessa, Kirk Thorne, Cutty Williams, Jeff Lucas, Tony Looby, Dave Nicholson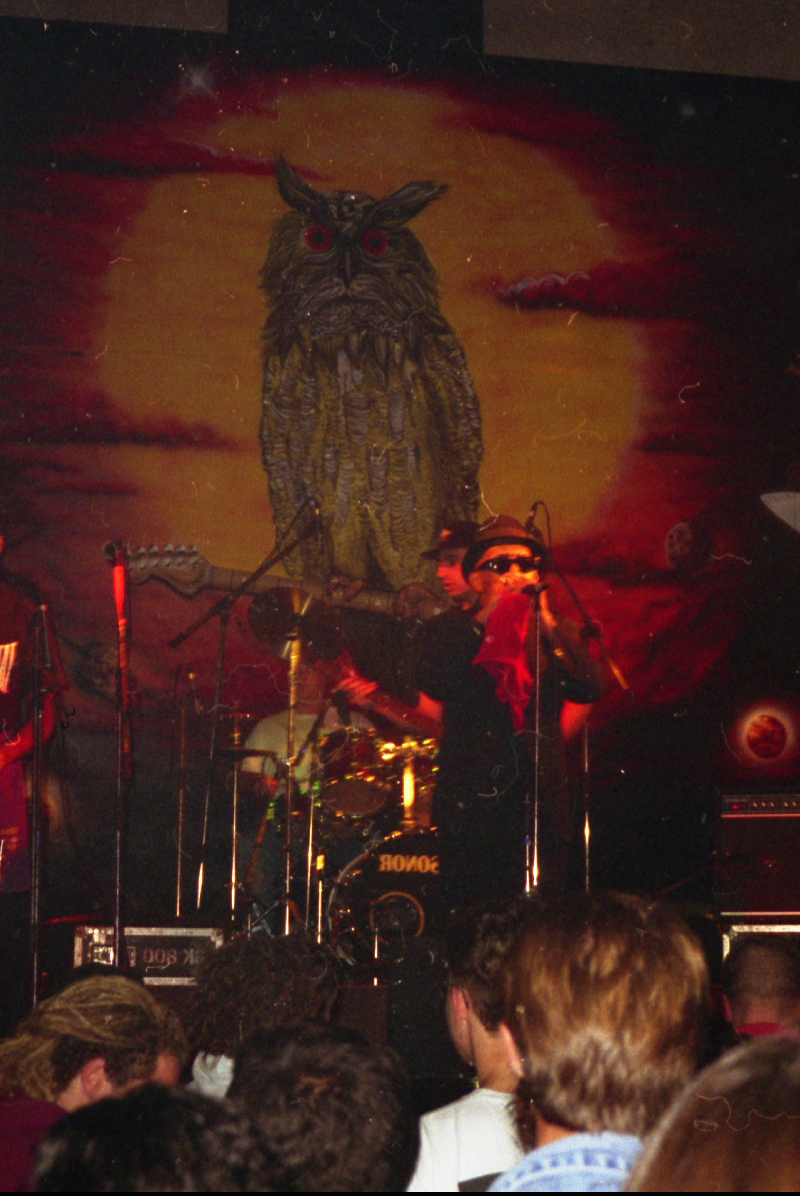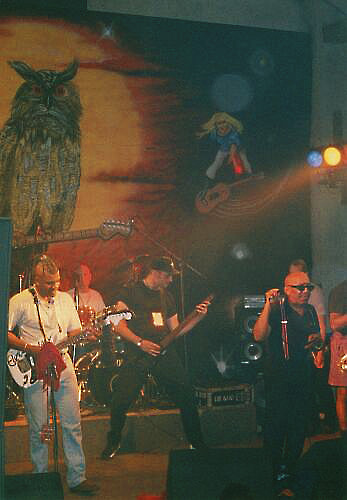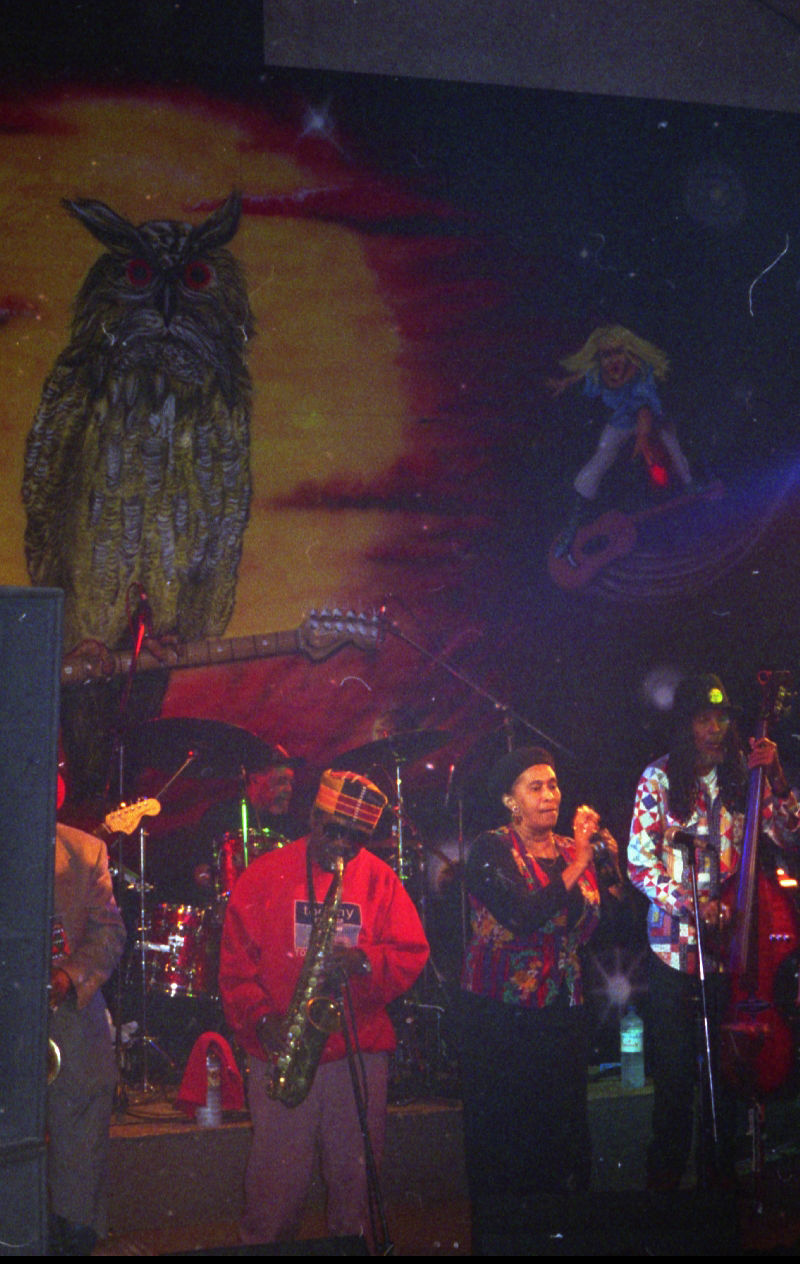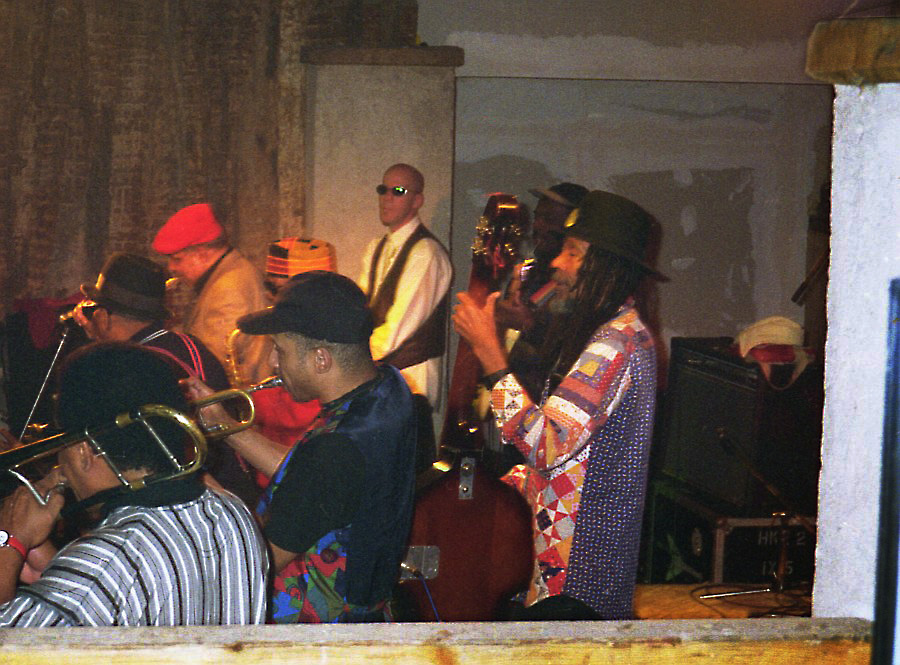 King of this evening is The Skatalites again. The solos are fantastic, the team is close together. The program is perfect:
Freedom Sounds

Man In The Street

??? (I wasn't sure, then… I haven't recognize it. I guess it was Two For One or Lee Harvey Oswald or Skandy)

You're Wondering Now with Doreen Shaffer

Simmer Down / Turn Your Lamps Down Low with Doreen Shaffer

Com Dung with Laurel Aitken

Phoenix City

Sugar Sugar with Doreen Shaffer

Bridge View

Freedom Sounds Reprise

Guns Of Navarone

This was Will Clarks event. He just played from outer space.
At 3.42 am I'm back in my bed. 8 o'clock wake up. Last night I lost my shirt with sunglasses.
Overview Apremont, Le grand duc
audience: approx. 400 (capacity approx. 800)

catering: one of the best with salads, avocado, bananas

backstage: kind of cult, great

diner: in town, in a restaurant, individual orders, took a lot of time

DJ-set: only one cd-player, straight from the house-desk

HOR: getting better and better, audience loves them

Laurel Aitken: charismatic, he gets every audience

Skatalites: rutined in this archaic ambience

hotel: the chief came to the show, loves the musicians, great ambience

room mate: Will Clark

driving the next day into Paris with a whole lotta traffic
Website: not found… is this club still active? A very nice club, far away from nowhere…


Come back tomorrow for a big surprise. We're arriving Paris. What a great event. Don't miss it, it's a scorcher!