INTERVIEW WITH RICO ON SATURDAY 25TH OF MARCH 2000 IN NEUCHÂTEL by C-lector C
Rico Rodriguez is a legendary musician. His trombone became a standart in modern music. His solo-work on houndreds of records sounds magically. To name but a few:
Bob Marley, Specials, Selecter, Police, Joan Armatrading, Paul Young, Linton Kwesi Johnson, Steel Pulse...
1976 Island records sent his band on world tour with Bob Marley & The Wailers - he played with Police in Canada for over 80'000 people.
"Rudy, A Message To You" is THE Ska-Hymn #1 - his solo work on "Love of the common people" for Paul Young is still sadly overlooked. But let him tell you all this in his words:
The interview was made with the very thankful help of Alain Salvi and the Mad Lighters Family, in whose rehearsal room this interview was happened. Pre-story: After the fantastic Friday evening live performance by MAD LIGHTERS WITH RICO at Rocking Chair in Vevey. Rico who lived at Cesar's place in Neuchâtel for some time, was somewhere else, and nobody did know where. But at 7 pm Rico was calling Antonello asking for me, to do this interview.
Please note: My English is very simple. I left Rico's words in it's original kind, maybe I'm wrong, some Jamaican slang words I don't understand and I don't know it's correct spelling - so please further information about this interview are very welcomed. Please The indicate # numbers are taken from the MD, all in all over 5 hours of talk on 90 minutes recording. [in these brackets are my complements] Notes are made for better understanding. So let's start with the beginning...This interview is a great honour to the man from warrika hills - and there was that magic feeling of something very special...
C: What about the beginning?
One time the Rhythm 'n' Blues was the most popular music and also the Rock 'n' Roll. Most people didn't want to play Jamaican music - but the ones who loved it kept playing it. And by playing it regular - it has emerged - as one of the best music of the world. Rock 'n' Roll can't save your soul, but Reggae can. So, people who play that music - workin' very hard for it - then they never give up that sound.
Don't care to try bring in the D.J. music. The first Jamaican music was singing and instrumentals, so the D.J. is just the next part of it. Music goes round and round. It works like that. But now they want back the Heptones, the Mighty Diamonds and all the singing groups are coming back for the people love that.
What goes around comes around
Note: Jamaican Music is not = DJ music - before that Ragga-DJ-thing there were the instrumentals and the singing groups, they are coming back on scene. When Bob Marley sang "What goes around comes around" in 1969.
#3 Grounation:
C: What was in the beginning?
In the beginning is just Rasta drums, meditation, they call it grounation. Mystic Revelation of RastafarI. They were just playing for little parts of the area, not for money, for culture. For culture more than for money.
A note of that the music becomes strong. Ras Michael is very strong in the western section of Jamaica, he represents Rasta drums from the west. And from the east it's Mr. Griffiths from RastafarI [Mystic Revelation]. That was the first music I know in Jamaica, away from that it was American music that was played in the bars.
In Jamaica they call it bars. [here we call it clubs]
Note: This was in the early 50's.
#4 Calypso
C: Before Ska there was Calypso?
Local music was like Calypso. By the Calypsonians, they were from Trinidad. Jamaica loved the Mento music that merged together and sometime they used to have contest from Trinidad, Jamaica, West Indies.
Calypsonians used to come to Jamaica for Calypso contest. So we get to know: Sparrow, Lord Melody and lot of these great singers from Trinidad.
#5 1st recordings:
C: What about the beginning of recording?
The recording didn't start until when Derrick Harriott made "come on little....". So the first recording that was made in Jamaica is by Derrick Harriott one of the most famous singers of Jamaica and then after him was Laurel Aitken making "Judgement day". Higgs & Wilson they make a tune called "The Robe". So these were the first recordings. I was lucky to be on those records.
Note: Theo Beckford "Easy Snappin" is also with Rico from that same period, but his first solo on record is heard on "Over the river" by the Jiving Jrs. as Rico said.
#6 Jiving Juniors:
C: Derrick Harriott was singing with the Jiving Juniors?
Yes, the Jiving Juniors, they made the first recording with me. That time we didn't have Duke Reid & Coxsone we just have Stanley Motto. So we did the first record in Jamaica in Stanley Motto's studio. By that time we also had Khouri. Mr. Khouri had his own studio. We didn't go to Khouri studio. He did just Calypsos. So the first time the R&B music come was through Derrick Harriott. He still going now.
C: Derrick Harriott is alive?
When I go to Jamaica now, I was going to Rockford, it was a rainy day, yunno, when rain come in Jamaica is like "flots". So I was walking through the rain, and he [Derrick Harriott] saw me and tell me he was going for his children. His children are going to Excelsior collage. He drive me onto Rockford. He's still doing very very well. And he came to England in the 70's with Marcia Griffiths.
Note: The Derrick Harriott tunes came out by Coxsone, but in fact these were Harriott productions.
#7:
C: Marcia Griffiths came with Derrick Harriott?
Marcia Griffiths and Derrick Harriott came to England and made a hit song. She made this hit song before she become a member of the Wailers. She's been in for a very long time. Well loved. She did: "Young gifted & black".
Note: She made "Young gifted & black with Bob Andy as Bob & Marcia
#8:
C: What's your ever first recording?
So Derrick Harriott the first song that he made that time was "Over the river, over the river..." I'm playing in it yunno. Sometime when I'm in Jamaica after so maybe 35 years, I go back to Jamaica they play it on the Radio yunno I get a "bos" it's very nice to hear that, yunno. The first record I made in Jamaica was "Over the river" Derrick Harriott with the Jiving Juniors and I play the solo. Just like "Easy snappin'" and "Judgement Day". Those were the first records.
Note: Later that day, Rico said, his first solo was played on "Over the river"
C: About what time was this?
That was after the Calypso. Calypso was for the regular recording in Jamaica. Calypso was the only original music Jamaica has at that time, but they call it Mento. Calypso is a feeling music, riddim.
Note: "Over the river" was released in 1962, "Easy snappin'" in 1959 - because the producer kept back the release for exclusive running on his soundsystem, the discrepancy on issued records comes from there.
#9 Count Ossie Pt. 2:
C: You were working with Count Ossie?
After I heard a few Calypsos then I met Count Ossie and I discover most Count Ossie you could. You could "arguelift". You could play everything you want to play, there wasn't any lines drawn Ossie was the control. Just play everything come to your head. You just listen to the drums, so the developement comes more from the drums than from the sheet music. Cause I was teached in sheet music in school. To have come to meet Ossie is the first I feel musically the developement through the drums.
Note: This was around 1953, when Rico went up Warrika Hill.
#10 source:
C: You've been teached in sheet music?
Classical sheet music we all taught in school. The most common sound in Jamaica at that time was the Calypso. The Americans sent the recordings and the sound system used to get the records. And they start with the sound system dance and you're hearing Trombones and Tenors and nice playing yunno. And then you got an interest in what you hear. But the first music really in Jamaica was Calypso. All the bars and clubs played Calypso.
Note: The alpha boys school teached sheet music, on the streets they were playing Calypso and then came the soundsystem with the Rhythm & Blues from America. So the young musicians were growing up in this mix.
#11: C: How can I imagine these Calypso bands?
Small groups, three people.
#12 Alpha Boys school:
C: Who was in Alpha Boys school with you at that time?
In my school we had for instance: Bra Gaynair, he is one of the best players of the Tenorsax, and we have Joe Harriott, which is world class, just like Gaynair, and we had Dizzy Reece and we have one in France [Sonny Gray] so much great players. Those were the forerunners. #13: For me yunno, I came when Drummond was the best. And like Johnnie Moore we were studying together and Sterling. Lester Sterling. Not a lot of us still play. I can remember very well when Donald Drummond and myself and Lester Sterling and Johnnie Moore were playing together, but a lot of them musicians they didn't continue with it. Like Tony Brown. He don't play anymore, but he was one of the best tenor / alto.
Note: Thanks to Brian Keyo for corrections: "In the Rico interview I noticed this. Brackenaire is Bra Gaynair. That is short for Bobby Gaynair. Bra is short for brother. Bobby was the younger brother of Wilton Gaynair, also a top saxman from way back. Older than McCook and Val Bennett."
#14 Joe Harriott - Bammie Rose:
Joe Harriott also good at all. The ones he taught went excellent but a lot a them change from Alto and going to Tenorsax. Joe Harriott didn't change from alto. If you're going to England and your going to the library you find some music by Joe Harriott. He was playing with Toots Allan Band. My friend plays with them yunno, Bammie [Rose] plays Saxophone. But he [Joe Harriott] wasn't able to do the gig, so they get a youngster to do the gig and he [Bammie] played alto, and he was so good, when it was finished I said to him: "You sound very good". So I said: "Who's your favourite musician?". It was a great surprise to hear him say: "Joe Harriott". He reads Joe Harriott. And if you listen how he plays he sounds like Joe Harriott. Many people don't know of Joe Harriott in the world, but he was my school mate, and one of the forerunners, like Don Drummond to me, so we adapt their style. We loved them very much, them become our idols. Then after that we started hear the American jazz musicians....
#15:
C: But who is still playing music?
The only ones still playing now is Johnnie Moore, Lester Sterling, from my time, the rest a them I hear nothing about that.
#16: Lester Sterling & Johnnie Moore:
C: I heard it was you introducing Lester Sterling into the studio field?
Well to be honest. Music was such a thing in Jamaica because when you leave school there's no work. Me and Lester used to sitting with Allan to play and dough we go to Count Ossie with Mystic Revelation to play and we go west, so we used to travel all over with our horns, play for the people, so we become the most popular musicians in Kingston, because we were playing for the people, not for the....we were playing in bands. And if the sound system dance was keeping' we go to the DJ and said "turn off the sound system, we play" and the crowd listen both of us. We were...
I went into the studio before Sterling, but because he was my good friend, I introduced him to Coxsone and then he become a regular member of the studio work. So Sterling is one of the closest friends of mine. Even in the Skatalites, he's my closest friend and Johnnie Moore, yunno.
When Johnnie went to America he didn't play so much. Because going to America is not like Jamaica. It's big and they know other musicians than you, so you not counted. But in Jamaica Johnnie is very looked up and very great, yunno. And good musician, abroad it's not so easy. Me and Sterling is the only two of us keep it up the rest a them give it up.
Note: Johnnie Moore is back with the Skatalites, after his world tours in the Bunny Wailer Band. And this summer will be a huge festival in Wembley Stadium with RICO, THE SKATALITES, amongst others...
#17: Rasta
C: Rico is a Rastaman?
The Rastaman them no Jamaican them have a culture, yunno. Them play drums, day - night - morning - continues - so that was the only function people like us who wanted to play hard was the Rastaman forever. If you wanted to play in a band it was difficult, yunno. There wasn't any studios around, yunno. There wasn't any recording studios. Just to play it was more appropriate, yunno. So me and Sterling break a barrier into the music scene. Me & Lester Sterling
Note: Rico explained me hours later, that a Rastaman have to know Amharic (Ethiopian language) to be full accepted in the Rasta community. He spoke Amharic to me. What a wonderful voice and the sound.
This is the first part of an interview with outerview...click, for the next part...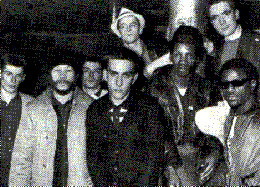 ...RICO online... click here for RICO HOMEPAGE