PEACESTREET

Lichtbild von Claude by Rene
Ska-Funk-Reggae-Bossa-Combo 1992 - 1995
Release:
Members
Pictures / Movie
El Nino De Ringo released on SKAmpler Vol 2 - 1995
1992: Rene (bass), Simi (drums), Rene (sax), Claude (flute / trombone), Reto (guitar)
Live movie, Schuur, 21 september 1995 as opening act for The Trojans (thanx to Roland) (see mpg movie, 426 kb)
Recording session at Schweinesound-Studio 1994
1995: Rene (bass), Simi (drums), Rene (sax), Claude (flute / trombone), Marc (keys), Alex (guitar / vocals), Marc (vocals), Jonas (trompete), Nonsi (guitar)
Full list of performances
Additional live musicians: Papa Dennis - toasting and singing, Lady P - introduction and vocals, Jackie Song - tap dancing, Living People Gospel Choir - A Tribute to Bob Marley, Tommy Mendel - guitar
Guestbook done at Peacestreet 1992-1998 (click this)
Das Peacestreet Gästebuch 1992-1998 (click hier)
Additional session musicians: HP Fuchs - drums, percussion, keyboard, bass, Pasqual - violin & harmonica, Iris - vocals, Kay - bongo
Peacestreet Photos / Fotos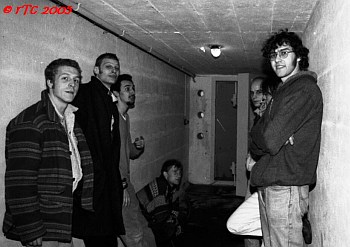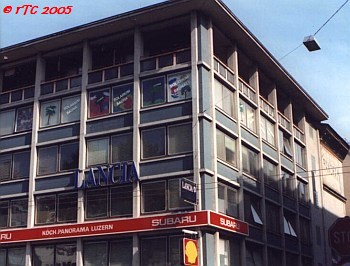 Peacestreet ca. 1994 - Friedenstrasse 5 ca. 1995
My room 1994

René introduce himhelf on toilet

René in livingroom

Living room

Living room with Sami Hoffmann painting and René with Juliette

My room 1994

Jackie Song with Sami Hoffmann painting 1997

Collage of some Peacestreet memories 2001

Early Peacestreet conference at Peacestreet with René "Hörtu" Hort, Simon "Simi" Gut & René "Hiob" Frey ca. 1992

Das letzte und sicher interessanteste Bild des 5. Stocks der Friedenstrasse 5 in Luzern (vergebliche Suche auf dem Stadtplan!). Seit 1997 gibt es keine Friedenstrasse 5 mehr. Stattdessen steht jetzt die Stadtbibliothek Luzern an dieser Stelle. Allerdings kann niemand die Aussicht geniessen, die wir dort 7 Jahre genossen (es sind nur noch 4 Stockwerke!).

Auf dem Balkon sieht man die Jamaika-Flagge, das Konzert Plakat für das Laurel Aitken und das Trojan Konzert sowie zwei Poster welche ich gezeichnet habe.

Peacestreet is not just a musical band, but a way of living. Situated at Friedenstrasse 5 (Frieden=Peace; Strasse=Street) in the touristical center of Lucerne city in the heart of Switzerland. A place no longer exists, find instead the new culture centre of Lucerne (www.kulturforum.ch). René Frey (find links at The Roots Connection: Frey&Gsund, Shame&Skandal Family, Der Transformer) lived at Friedenstrasse 5 for 7 years, where he started with a living room musical project together with René Hort and Reto Stettler in early 90's. Into this sessions I C-lector C came to talk about music playing, when René asked me to play with. From then on, the band started to play regularly. Finally René Frey found Simon Gut as drummer. Simon had a rehearsal room. Shortly after new members came and gone. In 1993 the line-up was:
- René Frey: doublebass
- Simon Gut: drums
- René Hort: tenor saxophone
- C-lector C: flute, trombone
- Jonas: trumpet
- Alex: vocals, guitar
- Marc Piano: keyboards

Mostly instrumentals like "Freedom Sounds" (Tommy McCook) as opener in the first show, or "Ska Boom" (Maroon Town), "Jesse Jackson" (Floyd Lloyd), "True Stuff", "Stream In The Meadow" or "Cleopatra Flute" (all by Tommy McCook) the legend lives on. In 1995 the band had their final year. But first they grewed up a little with Marc da Silva (vocals) and Nonsi (guitars). They played 13 shows in one year. Opened up the shows for House Of Rhythm, The Trojans or played as backing band for a Bob Marley memorial with a chorus. By the end of the year the ideas for the future steps became too far from each other, that only a break of the band was possible. René Frey, René Hort, Nonsi, Marc Piano and C-lector C became members of The original Shame & Skandal Family (see here). After Shame & Skandal, there was without René Hort & Marc Piano another band under the name: Skata-Leicht. And finally in 1999 again with Simon Gut on drums, René Frey & Nonsi built DER TRANSFORMER (see here). And the story still goes on...

Peacestreet ist nicht bloss eine Musikgruppe, sondern viel mehr eine Lebensart. Ausgehend von René Frey's Wohnung in der Friedenstrasse 5 im Zentrum von Luzern, ist der Name eine eigenwillige Übersetzung. Anfang der 90er Jahre hat René zusammen mit Saxophonist und Jugendfreund René Hörtu und Guitarrist Reto eine Gruppe gegründet, die sich jeweils einmal die Woche in seinem Wohnzimmer zum Musizieren getroffen hat. Da ich oft dabei gesessen bin und meine kritischen Kommentare abgegeben habe, hat mich René gebeten, doch selber mitzuspielen. Schon bald hat uns René mit Simon Gut nicht bloss einen exzellenten und talentierten Drummer vorgestellt, sondern unser Probelokal in Simon's Raum verlegt. Dort sind verschiedene Musiker dazu gekommen und wieder weg gegangen. Schliesslich 1993 das erste Konzert. Die Besetzung:
- René Frey: doublebass
- Simon Gut: drums
- René Hort: tenor saxophone
- C-lector C: flute, trombone
- Jonas: trumpet
- Alex: vocals, guitar
- Marc Piano: keyboards

Das Programm beinhaltet neben Stücken von The Skatalites und Tommy McCook einige klassische Reggae Nummern und die Combo macht auch vor einem Bossa Nova und Funk keinen Rückzieher. Alex bringt eigene Kompositionen ein. Die Partyband ist derart aufstrebend, dass sie 1995 bereits über die ganze Schweiz verteilt auftreten und Gruppen wie House Of Rhythm oder The Trojans einwärmen. Selbst vor einem Bob Marley Tribute machen sie keinen Halt und begleiten tapfer einen Ebikoner Chor als Backingband. Ende 1995 ist es dann allerdings geschehen. Die Band bricht zusammen, die Ansichten, Auffassungen und Einstellungen haben sich auseinander gelebt. Selbst die Auffrischung mit Nonsi (Guitar) und Marc da Silva (vocals) kann das Ende nicht abwenden.
Nach der Shame & Skandal Family (mit René Frey, René Hort, Nonsi und Marc Piano als Überbleibsel von Peacestreet), einem Abstecher mit Skata-Leicht (C-lector C, René Frey, Nonsi) haben sich schliesslich zwei der ersten Stunde endlich wieder gefunden: Bass&Drum René&Simon. Zusammen mit Nonsi, der nach seinem Engagement bei Peacestreet auch wieder zu den Ganglords zurückgefunden hat wird DER TRANSFORMER losgeschickt mit der Reggae-Botschaft auf der Strasse des Friedens. Peacestreet forever.
Weiterführende Links:
- The original Shame & Skandal Family (see here)
- Skata-Leicht (see here)
- DER TRANSFORMER (see here)
- House Of Rhythm event (see here)
- The Trojans event (see here)