rTc event gallery

-------------------------------------------------------------------------------------------------------------------------
Radio 3 Fach presents Rotation with The Roots Connection:
*** Rico special***

NEWS US DE WÄLT VO DE SKA MUSIG
18.00 start
18.30 pm concert dates
19.00 pm finish

1 RICO Jingle Rotation Roots Connection
2 RICO Mix mit Teilen vom Interview hier vom 25. March 2000
3 RICO Mix "From the beginning to the present" 1961 bis 2001 in 40 Minuten
4 RICO in Luzern 1981 + 2001
5 RICO Ticket Verlosung (3x Ticket zu gewinnen)
6 RICO - "runaway" vom neuen Album "Get up your foot" - released 5. März 2001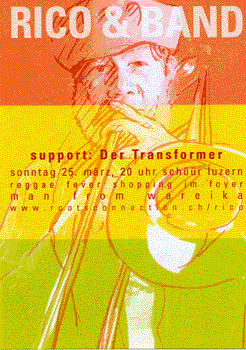 Als Promotional Sendung für Rico Konzert geplant - aber wegen kurzfristiger Absage durch das Mosikto-Tourmanagement (weiss immer noch nicht genau wieso Rico nicht gekommen ist? Soviel ich verstanden habe, hat ein zusätzliches Konzert in Italien gebucht werden können und da wäre der Abstecher nach Luzern zu aufwändig geworden.) Tja, ich hätte wohl eine Konventionalstrafe einfordern sollen.


Ich habe praktisch jede Sendung aufgezeichnet, falls du interessiert bist, melde dich einfach...