rTc event gallery

-------------------------------------------------------------------------------------------------------------------------
Radio 3 Fach presents Rotation with The Roots Connection:
*** Rico Interview ***

NEWS US DE WÄLT VO DE SKA MUSIG
18.00 start
18.30 pm concert dates
19.00 pm finish

Mit dem exklusiv Interview vom 25. März 2000 in Neuchatel (drei Teile des Interviews sind hier)
und mit Musik von 1959-2000 - und der Aussicht: RICO kommt nach Luzern - mehr dazu in der "Rotation" auf Radio 3x 97.7 mHz - exklusiv für Luzern (hoffentlich bald wieder über Internet):

1. Mad Lighters - Shine 2000 - #5 - "Oh Girl"


2. Count Ossie - First gone ca. 1959 - Harrie Moodie
3. Rico - Soul of Africa 1963 with Prince Buster in London
4. Prince Buster - Al Capone - Rico on tb? - 1964 - London?
5. Rico - Soul man 1968 - PAMA 7'' 45
6. Specials - A message to you Rudy 1979
The Specials - Guns of Navarone Live 1980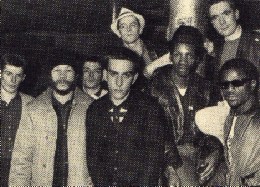 7. Linton Kwesi Johnson - Don't fight back 1979
8. Paul Young - Love of the common people 1981
9. Heartbeat Band - Crossroads 1988
10. Mad Lighters - Play on Mr. Music 1991
11. Mad Lighters - Shine 2000 - #9 "Sugar Sugar"
dieses Programm ist ohne Gewähr, es handelt sich um eine Live Sendung - Überraschungen möglich...
Wettbewerbe sind lustig, deshalb gibt es in jeder Sendung eine RootsConnection-CD zu gewinnen...ob sie jemand gewinnt, das hängt von den Zuhörern ab...
logisch gibt's diese CD nicht zu kaufen!!!...aber zu gewinnen. Also nicht verpassen, zuhören am Sonntag, 16. April 2000 zwischen 6 - 7 am Abend auf 97.7mhz in Luzern und Umgebung
Radio Drü Fach präsentiert die ROTATION mit THE ROOTS CONNECTION - THE SKA NEWS - zum 4. Mal.

mehr Infos zu Rico
mehr Infos zu Mad Lighters
9 september 2000 at Rotefabrik Zürich Live in Italy: 4 july 2000 at Udine 6 july 2000 at Roma
Hi! This one goes to all Music Lovers and to everyone this message may be of interest ! Rico Rodriguez, the legendary trombone player, is available for concerts on the old continent. The repertory that the band has prepared contains Ska, Roots Reggae, Blue Beat and Dub. We start with Dub. Carry on with our best songs...and then call on Rico and play his own tunes and some more of ours until you want us to. We are currently seeking concert dates for Rico and the MadLighters Band. In the meantime, If you are interested, please contact us for further information and we'll provide you with some very solid promotion material. we send you lots of musical notes, our best vibes and our love (that's all we've got! but we've got lots in store if you want some more). Anton Lubello For The MadLighters featuring Rico
The Mad Lighters ANTON LUBELLO BASS CRISTINA LUBELLO BACKING VOCALS PATRICK BADER KEYBOARDS AND ORGAN RAFAEL PEDROLI DRUMS DIDIER LANDOLT LEAD AND RIDDIM GUITAR DJILB NOVELLI LEAD AND RIDDIM GUITAR CESAR AMADOU EVORA PERCUSSIONS FRED LETTE SAXAPHONE DAMIEN TRUMPET PHIL SANTSCHI LEAD VOCALS & PERCUSSIONS featuring RICO RODRIGUEZ TROMBONE
CD mit der kompletten Sendung ist exklusiv verfügbar unter


Ich habe praktisch jede Sendung aufgezeichnet, falls du interessiert bist, melde dich einfach...